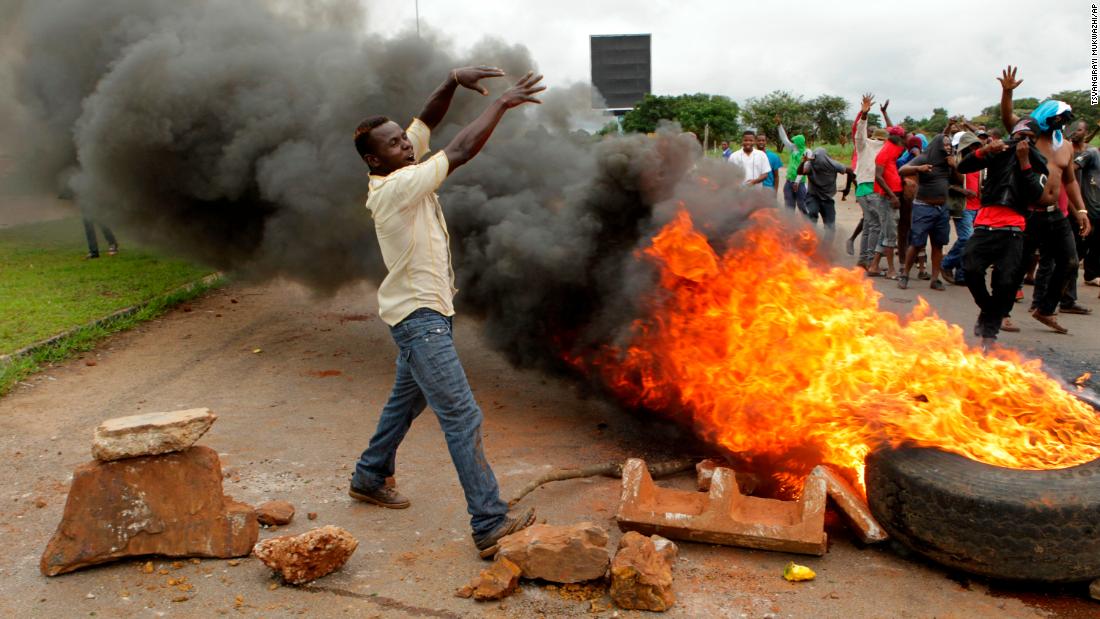 [ad_1]

After a few hours, the network is restored, but social media platforms remain blocked, Econet Wireless said in a notification to its customers.
That means that people in Zimbabwe have not been able to access social media sites like WhatsApp, Twitter and Facebook all week.
The closure was made when the military was accused of human rights violations during a brutal crackdown on protests this week due to a massive increase in gas prices.
A UNHCR spokesman, the United Nations Refugee Agency, Ravina Shamdasani on Friday expressed concern over reports of "excessive use of force, including direct ammunition" by security forces, and called on the government to "find ways to engage with residents about their legitimate complaints. "
The US Embassy in Harare also criticized "disproportionate use of force" in a statement on Thursday, saying it was "concerned by credible reports that security forces are targeting and defeating political activists and labor leaders."
The days of deadly protests were triggered by the announcement of President Emmerson Mnangagwa about a 150% increase in fuel prices.
Despite calm returning to several areas in Harare on Friday, most shops and businesses remained closed with soldiers and military patrolling the streets.
Meanwhile, activist and pastor Evan Mawarire, who started the popular movement "This Flag", appeared in court again on Friday after his arrest two days earlier for allegedly "inciting violence on social media," his lawyer told CNN.
"I can't tell you how heartbreaking it is. We think we have a new country and a new way of doing things. None of what I accuse is what I have done," Mawarire told reporters before he appeared on a judge's court in Harare on Thursday.
"I don't do things like that. If we have true justice, let's see the game."
On Wednesday, security forces shot dead five people and injured 25 others as they fought protesters in Harare, Human Rights Watch reported, citing Zimbabwe's Association for Human Rights for Human Rights.
Police also opened fire on demonstrators after they set fire to the police station and barricaded the road with stones. There were also looting in three cities on the first day of anti-government protests, Human Rights Watch said.
"Zimbabwean authorities have a duty to safeguard security during protests, but they need to do so without using excessive force," said Dewa Mavhinga, director of South Africa's Human Rights Watch. "Those responsible for using lethal force that violates the law must be immediately investigated and held to account."
Zimbabwe's junior information minister, Energy Mutodi, has dismissed the agency's allegations as "wrong."
"We have seen the fake report. The government will not glorify them with any response," Mutodi told CNN on Thursday.
Zimbabwe's ailing economy has been struggling with money shortages and fuel shortages for months. Mnangagwa said the increase in fuel prices was intended to alleviate the impact of fuel shortages.
But residents, already caught up in the high cost of living, took to the streets, where they met with Zimbabwean security forces in Harare and in the southwestern city of Bulawayo on Monday and Tuesday.
Eyewitness Keith Frymore told CNN that a soldier slapped his face with the butt of his gun while protesting in the town of Warren Park in Harare on Tuesday.
"He broke my lips and teeth in the process. I hope to improve it because most of the hospitals I visited yesterday were closed," he said. "I did nothing to get this."
Frymore said he was recovering in a private medical center along with several protesters who were attacked by soldiers.
James Chunga, an IT specialist, told CNN that he and his family members fled from Harare to neighboring South Africa on Wednesday after riots erupted in his neighborhood.
"My family cannot continue to live in a place where security officers beat and arrest civilians at random," Chunga said. "They are everywhere in the area, and you don't know what will happen to you if you make them angry."
The CNN again included specific allegations about the brutality of the army to the government on Friday.
Mutodi, junior information minister, said: "We have heard and read about alleged military attacks, but no one came up with reliable instructions to follow. As a government, we want to investigate such reports but that only happens when we get details that better. "
Zimbabwe's state minister for national security, Owen Ncube, confirmed there were casualties on Monday but blamed non-governmental organizations, civic groups, youth and individuals who worked with the opposition MDC Alliance for triggering violence.
Columbus Journalist. Mahvunga reported from Harare, CNN's David McKenzie wrote from Johannesburg and Bukola Adebayo wrote from Lagos, Nigeria. Brent Swails from CNN contributed to this report.
[ad_2]

Source link