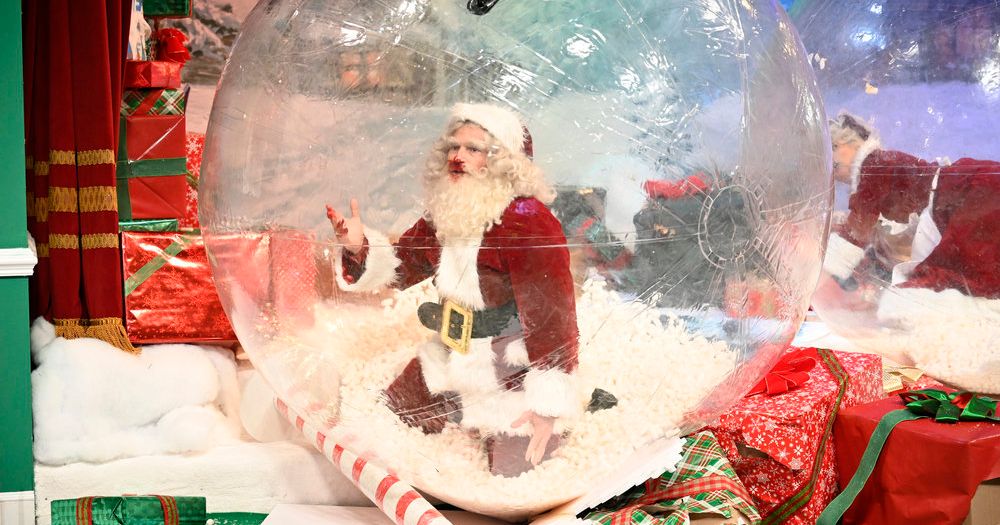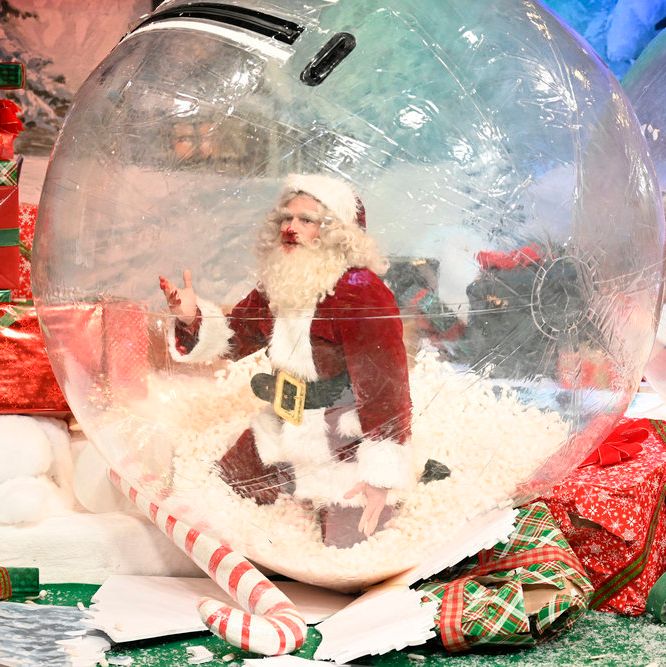 Photo: NBC / Will Heath / NBC
Remembering the murder and gloom of Jason Bateman's (HBO's) latest project The Outsider and Netflix Ozark), he must appreciate the speed changes offered by SNL. He's hosted only once before – in 2005, amid critical success Arrested Development—But right now feels like a good and safe choice. While Bateman likes to play against everyone's often bright and overwhelmed image, he is also prepared to anchor any weirdo before him with a fatherly frown and gentle nods. And as he proved tonight, Bateman is a solid utility host. While he doesn't find a moment to stop the show, he's ready to play with anyone and everyone, including musical guest Morgan Wallen. (It's worth noting that Lorne Michaels followed through on a promise to find a slot for musical guest Morgan Wallen; it wasn't a given, considering Wallen was cut from the October episode after being caught booing. SNLCovid-19 restrictions in an Alabama bar.) Plus, she's gotten the extra mile from her Santa impression, playing a jovial jolly in not one but two vignettes in this holiday-centric early December episode.
As is customary, this week's sketches are presented here from best to worst.
Three young women, in three separate Facetime calls with their mothers, are trying to talk about (inadvertently) holiday travel in 2020. Real-world antecedents are well chosen here, and there are plenty of well-observed details that will ring a bell. bell with lots SNL audience. The sketch is an opportunity for the actors to dig into their characters, and each brings out a great talent for their respective mother. Heidi Gardner doesn't care whether her mother in red in the suburbs is vengeful or a victim; Punkie Johnson issues stern accusations while maintaining unquestionable control over her kitchen and her husband (Kenan Thompson); and Kate McKinnon show the overly dramatic fragility of a mother when her husband (Jason Bateman) throws fuel on the fire.
Following in the laid-back footsteps of Joe Biden, Update is taking Trump's ongoing 2020 elections without warning. Colin Jost said he would believe the stupid idea Trump wanted, as long as Trump was gone – shrugging the unfavorable shoulder, given where the other half of the country appears to be with him. Michael Che's fare is better, with one sly funny thing about why he's got a chance to get a trustworthy vaccine, and another one that's hilariously funny about Jared Kushner's potential amnesty fee. Pete Davidson appears as himself to talk about the ruckus over Mac's Public House in a Staten Island bar breaking restrictions. Always happy to slam his home territory, Davidson takes a few giddy punches on his fellow Staten Islanders before talking through the rest of his online woes.
The stray joke that opens the second half of the Update is rather straightforward, a bit harsh, or just a little bit. Surprisingly, the joke that seems to be drawing audiences back is about Michael Che killing an ancient COVID survivor with his car. Heidi Gardner returns as her teenage film critic, Bailey Gismert, who, with theaters closed, is forced to watch old films like Forrest Gump. Her usual millennial triggers apply, but there are some fun and unexpected things – like the time she was let down by not Kevin Spacey in American Beauty, but with a plastic fly film bag. Her crush on Buffalo Bill from Silence of the Lamb followed his usual pattern, but again, Gardner's portrayal of a prickly, primed teenager is excellent.
In response to the opinion that the internet has been compared to a SNL sketches, shows gave Alec Baldwin, Jim Carrey, and Maya Rudolph a week off. Anyone who has followed the headlines featuring Rudy Guliani in the last few weeks can guess where this scene is headed: not only will Melissa Carrone (Cecily Strong) appear, but other conspiracy theorists who swear they've seen aliens neither vote nor they force-fed ballots. There is a certain logic in the dogpile, that the president's legal strategy is nothing but a mess of baseless accusations. In this sketch, which runs for nearly 10 minutes, the more-is-more strategy feels overwhelming. Carrone's strong play with every ounce of confidence one would expect, and the writer slid in a few malaprops just for her. And, of course, Giuliani brings out McKinnon's bug eye, the best bloated eye.
This parody of Eminem's "Stan" finds Stu (Pete Davidson) obsessed with Santa and the possibility of getting a PS5. It's incredibly detailed, with some solid rap from Stu (in an era-appropriate Slim Shady drag style), drop-ins from look-alike moms Dido (Kate McKinnon) and Elton John (Bowen Yang), and a bunch of terrified elves at the Arctic. Yes, the darkness may be a little overkill for a Christmas sketch, but the hard work is being done to parody the show. The flow of Davidson's impersonator is on point, and he leans toward the psycho element with glee. McKinnon and Yang sold their cameo, Eminem's appearance was a pleasant surprise, and it's not without reason, Chloe Fineman has a fantastic fairy voice.
Sweet and sad Kyle Mooney – uh, Kyle Mooney's character – is his own biggest enemy. When hanging out with friends, watching football and doing a little, he was always half a step. Unlike some of Mooney's more elaborate works, this longing lament is easily applied to anyone who finds the crumbling conversation around them. The candy-colored fantasy world where Mooney steps back and licks his wounds is well-designed, and Mooney himself hits all the right notes, literally and figuratively, as an awkward man trying to play together and a heartbroken soul seeking redemption. Thanks to his straightforwardness, this one is probably one of Mooney's best attempts at the show.
A father (Jason Bateman) faces his daughter's slumber party after she finds a wild closure involving embarrassing menstrual stains on a sofa pillow; the clear guilty party, Megan (Kate McKinnon), will not confess. Beat by beat, this is basically the same sketch as the first "Sleepover", but instead of the toilet being smashed, it's a sofa. Some intrigue in disguise, and Megan's elaborate denials, use fine detail, and are always fun to be around SNL women enjoy the disgusting jokes usually aimed at men. That said, without the surprises attached to the first look at the sketch, it doesn't quite work out.
It's really nice to look at SNL not only discussing, but also recreating, the rowdy bar scene that sealed Morgan Wallen's fate in October. Of course, there's a twist: future versions of Wallen (Jason Bateman, Bowen Yang) show up to convince him to leave to secure the home show. Wallen looks beautiful, as one would expect, but her willingness to do so shows that she has a sense of humor. As well as Bateman and Yang sporting a mullet and a Southern accent, what's best is the idea that, knowing what they know, future Morgans are tempted to party. There is a pause, but it's worth waiting for Wallen's charming little tune at the end.
As an actor for life, Bateman has never seemed too influenced by the ups and downs of his Hollywood career. This humility – one of the most attractive elements of his character, at least from afar – is beautifully emblazoned in his comments about the time that has passed since his last show as host. After polling the audience to find out who else in the studio received the COVID-19 vaccine, Bateman recalled the trauma of being attacked by a chimpanzee on his last visit to SNL. (During the cast's farewell, the monkey used in the sketch "Monkey Throws Poop at Celebrities" tries to bite Bateman's nose.) After Bateman's story of interspecies reconciliation, his narration of "The monkey is crushed tonight," demonstrates his mastery in the throw line.
At the West Village's famous Duplex, customers keep their distance as they enjoy the al fresco cabaret action of Charlie Vig (Bowen Yang) and Billie Moon (Cecily Strong, in Liza mode). The sketch mimics the feel of real cabaret action, to banter with a clever pianist (Jason Bateman). While Charlie and Billie are lovable characters, the scene isn't really built for anything; it's more of a slice of life with a few comments about a beloved ritual that isn't what it used to be. The song has energy, and there's an underlying drive to make it through the pandemic, but the humor doesn't have much room to develop.
From hand sanitizer to protective "snowball" to separating visitors from staff, security is the order of the day at the mall's Santa domain. While the scene is meant to be about Santa Claus (Jason Bateman) and Doris (Cecily Strong) destroying characters and upsetting every kid near hearing, it really is about a joke. Despite the satisfaction of seeing Santa Claus roll around on the set of the cold Arctic, once this happened the sketch had nowhere to go. With all the physical pieces, some of the jokes are gone. And while there have been more failures, the novelty has faded. That said, Bateman and Strong are to be commended for their commitment to the falls; either they practice this and sell well, or they'll wake up bruised in a few days.
As host, Bateman was just as steady when they arrived. She was committed to the part she gave and she didn't disappoint, but she didn't make a significant mark during the show either. It's great to see Cecily Strong return to the show in a big way, and appear exactly as the nation imagined – as the dangerous Melissa Carrone. Still a few weeks from Christmas, and two weeks to go SNL the show remains, so who knows how many more Christmas sketches there will be between now and then? If everything has to be holiday-themed, here's someone's hope at least trying to make Hanukkah happen. Next week: Timothée Chalamet hosts, and meets his alter ego in Chloe Fineman.
Source link