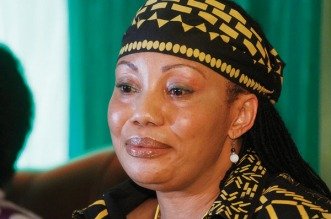 Chair of the Zimbabwe Election Commission (ZEC), Judge Priscilla Chigumba has complained about the abuse she suffered in the hands of opposition leaders and supporters of the Democratic Change Movement (MDC) in the July 30 general election.
Making delivery before the Commission of Inquiry into the August 1 violence of today, Chigumba narrates how he and other female ZEC commissioners punched the bags of both emotional and sexist abuse at the hands of Nelson Chamisa leading the MDC Alliance party, before, during the elections.
Chigumba said on three separate occasions, he and other commissioners, felt that their lives were threatened when supporters and leaders of the MDC Alliance continued to threaten them both on social media and directly.
"In two separate efforts, these other political parties threatened to attack our office and they wanted to confront us about their demands they wanted to address several days before the election," he said.
"We ask our departments to accept political parties and fulfill their demands that we have heard before. We have around 10 or 17 demands but they still continue to insist on hearing them further, "Chigumba said.
"Political parties will fill our office and will return with the same demands. On our side, we feel that nothing needs to be discussed because of the demands they want, not in the election action. The law is clear, and our position is also very clear, there is nothing we can do to help them, "he added.
The former High Court judge said that his personnels were slandered in public and in most demonstrations by MDC-A, the pictures were torn and labeled with words that could not be written.
"On the third occasion, through social media they informed me that they would take over our office, and that was when we sought service if the Republic of Zimbabwe Police (ZRP).
"You can see that before the election, for about 10 days, there were many police in our office because we were afraid of our lives. We cannot carry out our duties at the office because we do not enter, "said Chigumba.
He further acknowledged that the Zimbabwean population had little confidence in the commission because the previous election was running.
"Zimbabwe does not trust ZEC because of what happened in the past and what happened in the 2018 election," he said.
He accused MDC-A of not knowing the law despite the party housing lawyer.
"We engaged in engagement with these political parties and there was no consensus because they could not understand what the law said.
"We finally compromised so that everyone would be served. What I would urge political parties is that they have to take this time while in Parliament to change the law they don't like so we don't have the same situation again in 2023, "Chigumba said.
He lamented the continued abuse he still faced at the MDC-A general meeting together with other commissioners.
-263Chat
If our services have helped you, our work will be much safer with your help –

For as little as £ 5, you can support ZimEye – and only takes one minute.
Source link