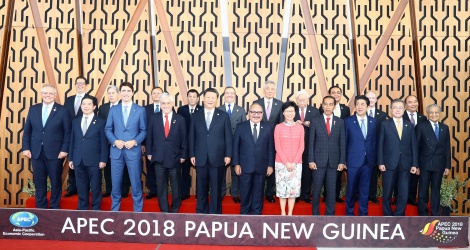 Vietnam is active and responsible, developing regional economic relations
On November 18, Prime Minister Nguyen Xuan Phuc and high-level Vietnamese delegation arrived in Hanoi and succeeded in ending their visit to the Asia-Pacific Economic Cooperation (APEC) Summit. APEC) is held in Papua New Guinea.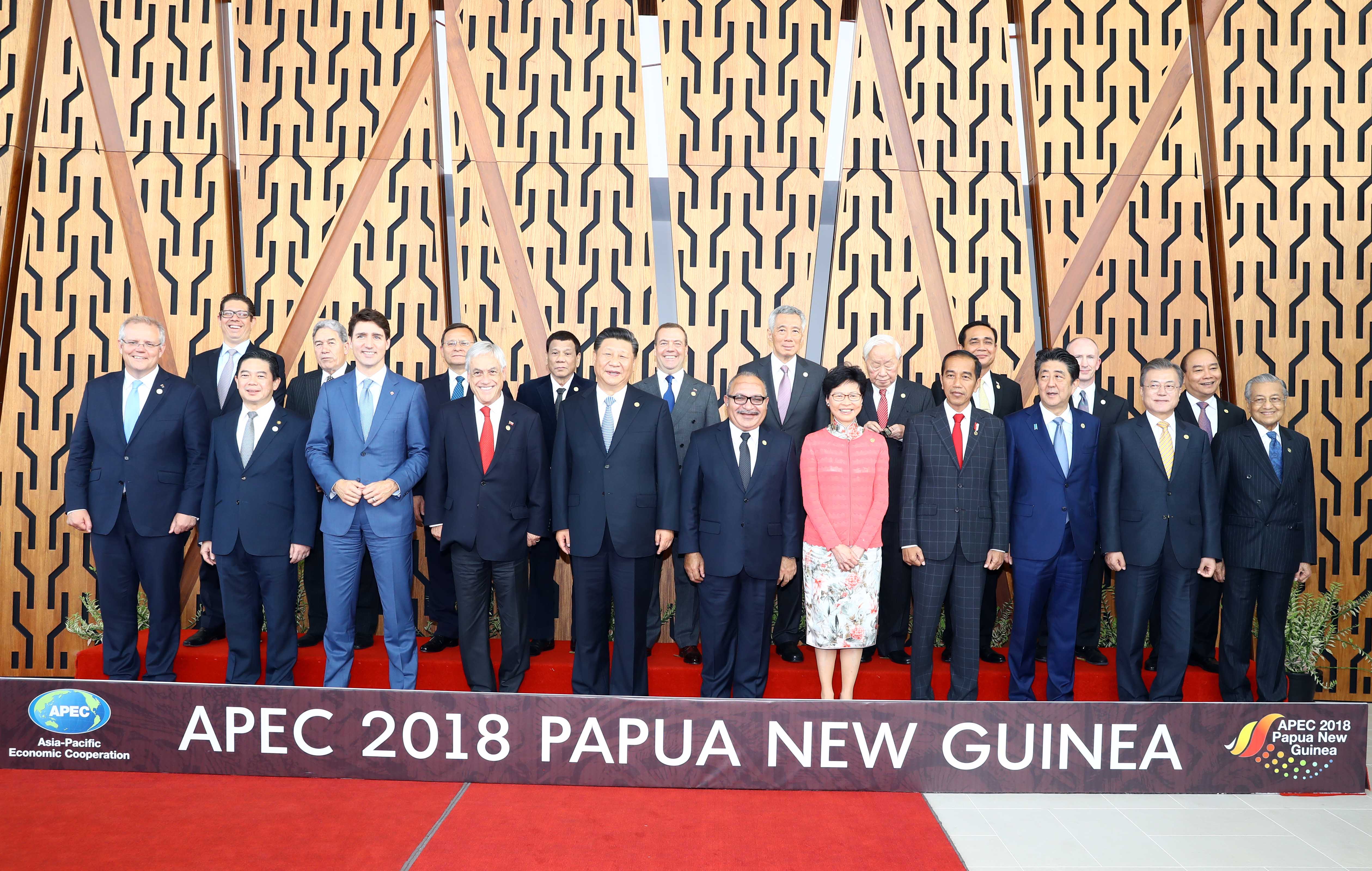 Prime Minister Nguyen Xuan Phuc posed with APEC leaders
For two days, from November 17 to 18, the Prime Minister has a high-intensity work program, including: attendance, exchanges, sharing ideas at closed sessions, having lunch with leaders of the APEC Leaders, APEC leaders for the International Monetary Fund (IMF), leaders 14 Pacific Islands, APEC Business Advisory Board (ABAC) and bilateral contact meetings with the Prime Minister of New Zealand, Vanuatu, Thailand, leaders of several Pacific Islands, Head of the Hong Kong (China) Special Administrative Region; US business alliances in APEC, including several large companies investing in Vietnam …
At the meeting, the Prime Minister made a strong statement promoting trade and investment liberalization, supporting the WTO, economic integration, sustainable development, encompassing and transforming the digital economy..
Since the APEC Summit in Da Nang, the international situation has changed rapidly and is more complicated than expected; The global economy shows signs of instability, new challenges, unprecedented precedents, threatening the stability of the global trading system. It requires effort, cooperation, close relationships from members.
Looking back on almost three decades, APEC, with 21 member countries, has succeeded in creating "nurseries" for regional economic relations. More than ever, APEC must play a starting role and continue as a "nursery" for innovative ideas. APEC needs to be the foundation for the Asia-Pacific to become a global technology center.
The PM said that APEC must continue to create new impetus for growth, trade, investment, connectivity and development, so that no one else would be left behind, enjoying the fruits. globalization and economic integration in the digital era. However, APEC has affirmed its position as a leading regional economic forum. The 2018 APEC summit must demonstrate the main role of APEC in supporting multilateral trading systems that are open, transparent, inclusive, fair and rule-based. In the new context, it is necessary to continue to consolidate, reform and enhance the role of the WTO.
As a leading regional economic integration mechanism, APEC must actively promote economic cooperation and coordination mechanisms such as the ASEAN Economic Community, CPTPP and RCEP Agreements towards establishing Asia-Pacific Self-Regulating Trade Areas (FTAAP), on the basis of ensuring completeness, balance of interests and complementarity between connecting mechanisms.
The Prime Minister suggested that the APEC economy would appreciate their cooperation, including: (i) Strengthening structural reforms to bridge the gap between the APEC economy. Thus, it needs to be integrated "New APEC Agenda for Structural Reform" on the agenda in the member economy. (ii) Promoting the effective application of the "APEC Cross-Border Facilitation Facility Facility", "APEC Economic and Digital Economy Roadmap" and "Number Economic Action Program". (iii) investment in digital infrastructure and rapid implementation of digital conversion. Building and efficient exploitation of the country's "large database" must be increased investment towards a comprehensive, reliable and safe. At the same time, focus on digital commercial infrastructure, develop financial technology (fin-technology), connect innovation centers and promote start-up … (iv) Improve organizational and management skills in both the private sector and the public sector, to absorb knowledge and absorb advanced technology. (v) Support, cooperation to develop together in a digital economy. Developed economies with profits are ahead and also to increase their profits must strengthen policies that support developing economies in structural change policies, and technological advances to improve connectivity in the digital revolution.
At the summit, leaders agreed to take advantage of opportunities to promote digital futures and digital economic action, enhance cooperation in capacity building, develop skills and access to infrastructure. numerical order to narrow the digital divide; emphasizing the participation and creativity of companies, especially small and medium enterprises and all social sectors.
The conference agreed to further encourage open and free trade and investment, structural reforms related to the digital economy, and increase competitiveness in the service sector, with special emphasis on education, training in creating human resources, increasing public awareness about the development of the digital economy. They promised to maintain the momentum of regional economic integration and cooperation, welcoming negotiations for the completion of a comprehensive, high-quality free trade agreement, such as CPTPP, RCEP and trade agreements. free trade in the Asia-Pacific (FTAAP). Members are committed to promoting sustainable inclusive growth that places the interests of the community at the center of all policies; Implement the 2017 APEC Action Plan on Comprehensive Economic, Financial and Social Development until 2030 in connection with the implementation of the United Nations Sustainable Development Goals (SDGs).
In the context of the conference, together with senior leaders in dialogue with representatives of the APEC business community, the PM announced that the Vietnam National Assembly had just approved the CPTPP agreement on 12 November, which affirmed Vietnam's determination to continue to innovate comprehensively, actively and actively integrate into the international market , supports open and free trade, based on law and high standards. Vietnam's economic relations are moving into a new phase with large scale and high quality, the Prime Minister encourages the business community to actively contribute to policies, increase investment and share experiences for Vietnam. Develop a digital economy and mutually beneficial cooperation.
Many ABAC members congratulated Vietnam on approving CPTPP, emphasizing that this was a great opportunity for foreign businesses to gain more trust and excitement in investing and doing business in Vietnam.
It can be said that attending the 26th APEC Summit of Prime Minister Nguyen Xuan Phuc on the occasion of the 20th anniversary of Vietnam's accession to APEC (1998-2018) continued to improve status, Vietnam's role in this important regional forum, emphasizing active, active and responsible participation Vietnam's answer in shaping regional economic integration, continues to contribute to the Olympic general future. Look at the Asia-Pacific Economic Community that is peaceful, stable and prosperous.