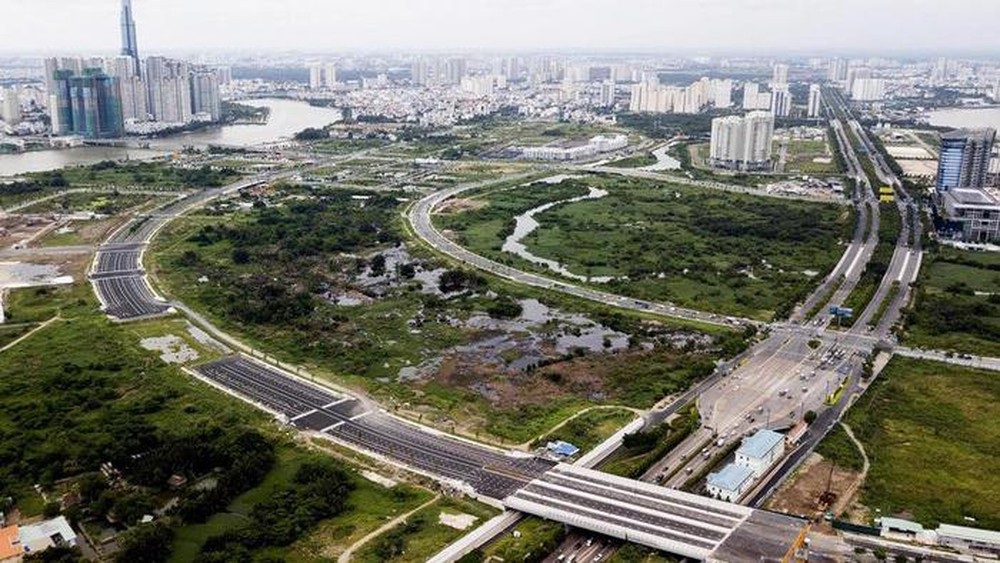 Specifically, according to the report plan, in the area of ​​construction investment and project programs, the State Audit is expected to audit BT projects in the Thu Thiem New Urban Area in Ho Chi Minh City (the 4 main roads are crossing lines). through urban areas – Reporter); ring road construction project II, III city of Hanoi; route on National Highway 1A; North – Southeast highway routes in the 2017-2020 period; Hanoi city railroad project.
In addition to the transportation project, the State Audit also paid attention to irrigation projects (Dong Mit reservoir; Tan My irrigation system; Song Luy Reservoir, North Chu river – South Ma river; salty dam from the Hieu river, My Lam reservoir, Cho I water reservoir), the project environmental sanitation in Ho Chi Minh City; 500kV Long Phu – O Mon transmission line; Long Phu 1 thermal power plant, Song Hau 1 …
In the field of companies and financial-banking organizations, State Audit will select state-owned companies and companies of an appropriate size to audit financial statements and related activities. management and use of state capital and assets in 2019. Including, companies directly under the Vietnam Oil and Gas Group, Ho Chi Minh City Power Corporation …
This block audit will be combined with evaluations of restructuring of state-owned enterprises, with a focus on state-owned companies and corporations. Assessing the situation of financial management, equity and divestment of State investments in the units being audited. Assessment of management activities, ensuring the healthy development of the domestic market for goods and services such as adherence to legal provisions regarding prices, taxes and fees, especially for essential consumer goods and services …
2020 The State Audit also plans to audit financial statements, activities related to the management and use of state capital and assets in 2018 from State Banks and a number of large-scale banks. (Agricultural and Rural Development Bank, Joint Stock Commercial Bank for Vietnamese Foreign Trade …) to assess the unit's financial status and the effectiveness of monetary policy management and administration.
The General Audit states that, through auditing activities, the State Audit also assesses financial market restructuring activities, focusing on commercial banks and credit institutions. Another objective is to identify the situation of cross-ownership, bad credit, especially the implementation of measures to deal with bad credit and control, improve credit quality under the project "Handling bad loans from the credit institution system" approved in Decree No. 843 / QD-TTg dated May 31, 2013 from the Prime Minister; The project "Restructuring the system of credit institutions related to the handling of bad loans in the 2016-2020 period" and the implementation of a pilot in handling credit institution bad loans based on Resolution 42/2017 / QH14 dated June 21/2017 from the National Assembly.
With the above objectives, in the field of companies and financial institutions – banks, the State Audit is expected to conduct 16 audits, including the State Bank, 12 companies, state companies and 3 banks. trading
Regarding thematic audits, in 2020, the State Audit is expected to select a number of large and large scale audits for the audit organization to comprehensively assess all management and utilization of audit subjects. use public finance and public assets to improve management efficiency and use of public investment capital, contribute to reducing public debt and socio-economic development.
In the list of expected audits on the management and use of Government bond capital in the Ministry of Planning and Investment, the Ministry of Finance, the Ministry of Agriculture and Rural Development, the Ministry of Transportation, and so on. Management audit and investment capital use in accordance with Politburo Resolution No. 49 / NQ-TW 2 June 2005, on the strategy of justice reform to 2020 Supreme Court, Attorney General's Office and Ministry of Justice in 2019 and public debt management in 2019 …
Phưảng Thảo