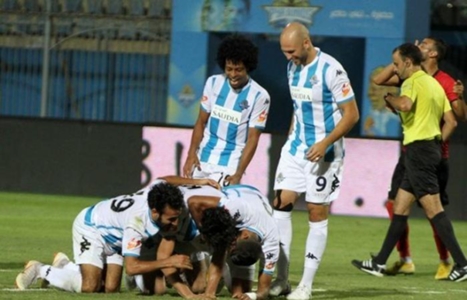 Battalion Hossam Hassan returned to victory after the final draw against the Tigris valley
---
Zahira Adel Facebook Twitter
---
The pyramid returned to victory after a draw in the Egyptian Premier League final on Wednesday.
Pyramid attacks are held in front of the block to defend the stars in the first half of the match. The most dangerous blow came in the 31st minute, after Mohammed Magdy sent "Efsha"; Pyramides, a cross in the penalty area on the right, was received by Kino Brasil with a shot that hit the opponent's defense, In the penalty area, the ball hit Ahmed Saad, the star's keeper, and on the way to without defender Ahmed Jamal, picked it up from the line , obstructing the Pyramid from the aim of the investigator.
In the second half, the stars dominated and began to put pressure on the pyidzawi defense, but without serious danger, in the midst of the failure of their players to end the attack well, especially Salah Amin, who had more than one chance, but missed the goal every time
The Pyramid scored the winning goal in the 78th minute of the match, from a powerful midfield shot with Nabil Imad's "Dunga" foot netting the net to the right of the keeper.
The fourth minute of injury time, Carlos Eduardo added the second goal from the Pyramid after receiving Keno's beautiful corner, placing him in the personal star guard, to pay them on his right.
The win lifted the Pyramid to 26 points, finished fourth in the table with four points from the top, while the stars were trapped at 16 points in 11th place.