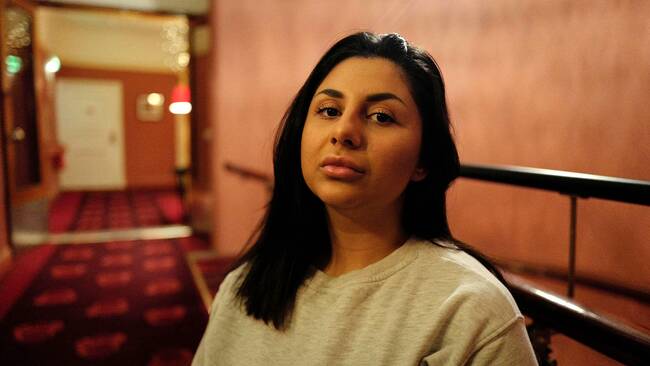 The debate about asylum seekers is apathetic depart again after magazine Filter revealed about two young adults, who stated that their parents forced them to play sick when they were children.
"My chance to speak"
One of them is Anahit Arakelyan. Today he is 20 years old, working as a personal assistant and working in a public high school, where he is trying to take over all the schools he has missed.
He said that he still had mental health but after childhood he described himself as characterized by threats and abuse.
– This is my chance to finally speak up, to say what it is and to be able to change this too, he said.
The family came to Sweden as asylum seekers in 2004 but did not get a residence permit and were threatened with deportation. At the same time, a wave of children seeking asylum became sick with abandoned syndromes, some of whom received residence permits.
Intensive care contact
In the fall of 2009, a school curator warned that he had not been to school since the fall holidays. BUP and the mobile asylum team in Stockholm (MasT) are connected. On November 23, Anahit Arakelyan's investigation of resuscitation syndrome began in children and adolescent psychiatry from a municipality in the Stockholm area. The journal entry read that he was getting deeper, eating very little and just wanted to be alone in his room.
The following months were marked by countless home visits and treatments.
– So they come to me, weigh and measure me, try to talk to me, check my heart rate, blood pressure. I remember every time I did it, my heart beat very fast. It feels really like the heart will jump out. That fear is always … Is this the day I was exposed.
Six months later, something happened.
In May, the school curator suddenly saw him with his family. He looks happy. The father was confronted by MasT in an extra meeting, but refused. He said he did not understand why anyone would say that, that they must have seen mistakes.
Start talking and playing
But after that, Anahit recovered quickly. A few weeks later, he played with pearls and made bracelets during a visit to child and adolescent psychiatry.
In a journal entry from 22 June 2010, an employee wrote:
"When I asked how he decided to get out of bed and start playing and even talk, he said 'father said I would get out of bed'."
Suspicion of child abuse through falsification of symptoms must be reported immediately by health care professionals who work with children, and criminal reporting must be considered.
So what exactly does the treatment do? Can they do more?
Child and adolescent psychiatry in Stockholm says – apart from SVT permission from Anahit Arakelyan – that every patient's case cannot be commented on. But in an email, the Deputy Head of Business wrote that no specific steps had been taken and that no plans were planned for Anahit's disclosure.
However, they have ongoing discussions about how to prevent children from being forced to simulate disease, and that they report suspicions that children are sick.
"Relevant steps are continuing to develop treatments for children with mental illness, through clinical experience, published research and by following advice and guidance from the National Health Council."
Looking forward to
That Anahit's truth is now out, he hopes to influence the debate about children with hate syndrome. In the future, he wants to work to help vulnerable children in various ways.
– The only thing I want to do now is do this and help others, to show that they are not alone. I was there and I would always open the door, that was what I wanted to do.
SVT News was unable to find Anahit's father to give him the opportunity to comment on publications.
Source link