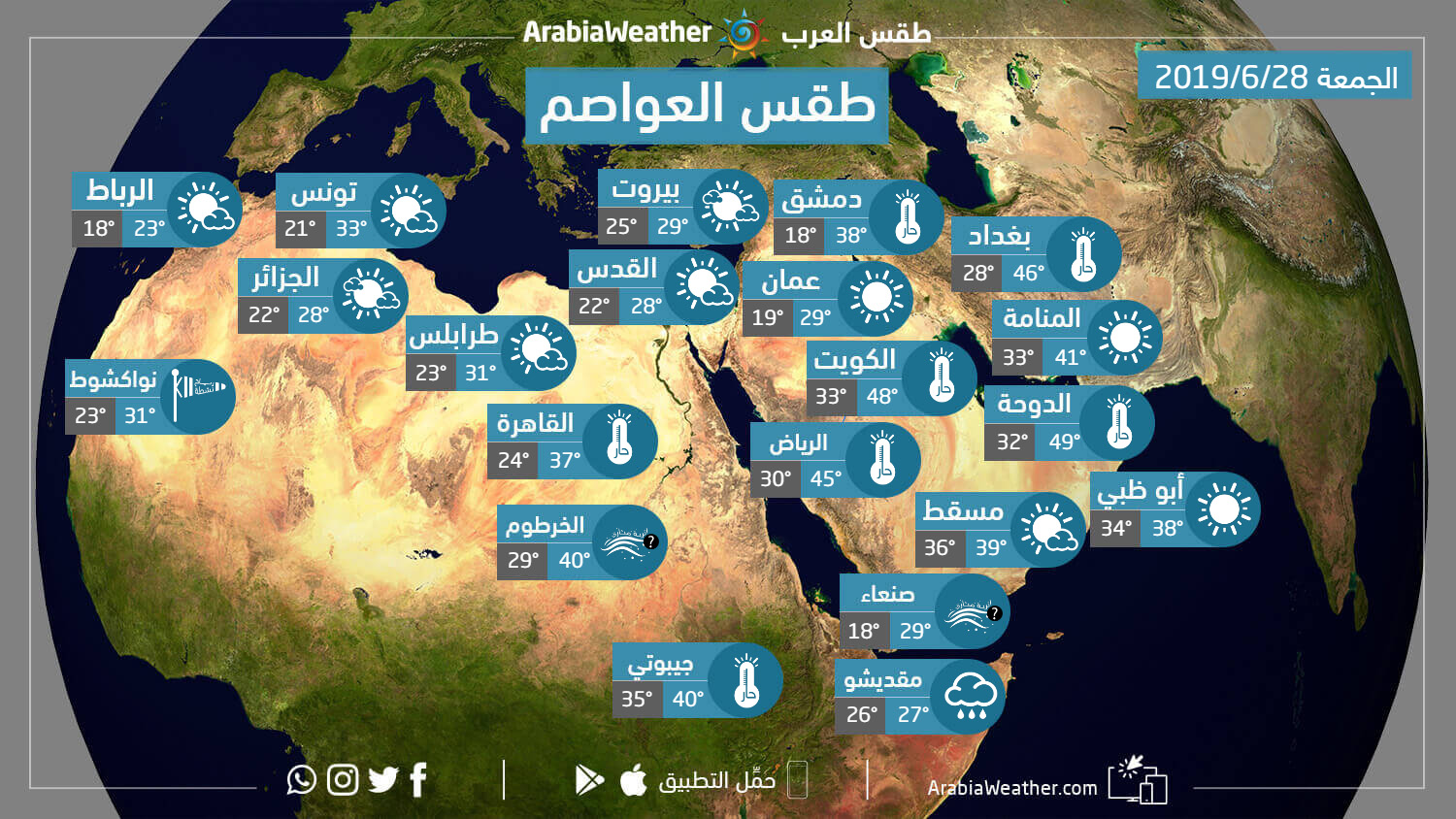 Weather in Arabia – Weather and temperature expected in Arab capitals and cities on Friday 28-6-2019:
Weather in Levant and Egypt:
Friday … The decline is full of heat waves from most parts of Palestine and Jordan. With a relatively warm atmosphere in the interior of Syria
It is hoped that the heat wave will completely recede from most of the Palestinian and Jordanian regions where the summer weather is normal again

.

The weather remains relatively warm to hot in Damascus and the interior of Syria

.

Weather remains moderate on the northern coast of Egypt while warm in other regions

.

Indicators of normal summer environment domination in the region in general over the next few days

.
Weather in Gulf Countries:
Constant heat from the heat in Iraq and much of the Arabian Peninsula
The weather on Friday continues to be very hot in much of Iraq, the Arabian Peninsula and all Gulf countries with temperatures between the mid and late 1940s Celsius.

.

Active wind on the coast of the Red Sea and disturbing the sea

.

Temperatures are much lower in the northernmost part of Saudi Arabia with extraordinary wind activity during the day, which causes dust in these areas

.

The opportunity to form thunder clouds in the Hajar Mountains in the Sultanate of Oman during the day and evening

.
The opportunity to form thunder clouds in the mountains of western Yemen and the southwestern highlands of Saudi Arabia during the afternoon and evening

.

The weather is wet and cloudy with drizzle in and around Salalah

.
Weather in the Maghreb:
The impact of the heat wave on Tunisia and eastern Algeria has declined and its influence on western Algeria has increased
Temperatures were lower than in the previous period in various parts of Tunisia and eastern Algeria, although they remained relatively hot in some regions

.

Temperatures rose in western Algeria compared to the previous period, and the weather was very hot in these areas

.

Temperatures remain moderate on the Libyan coast, northern Tunisia, Algeria, and the Mediterranean and Atlantic coasts of the Moroccan Empire

.
Weather around the world:
The influence of strong heat waves on Spain and France, especially the southern part, continues to be a four-day temperature in the coming days in Madrid and southern France.

.

The weather is very hot in Italy, especially the coastal areas in the north and west of the country, where temperatures are close to 40 degrees Celsius in some areas

.

Low temperatures in most Eastern European capitals

.

Low deep air with a block of cold air affecting western Russia including the capital of Moscow, which works in heavy rain and sometimes low temperatures

.

A strong but widespread thunderstorm is in the northern part of the United States, especially in North Dakota and around the Great Lakes

.
Estimated weather and temperatures in the capitals and Arab cities on Friday 28-6-2019: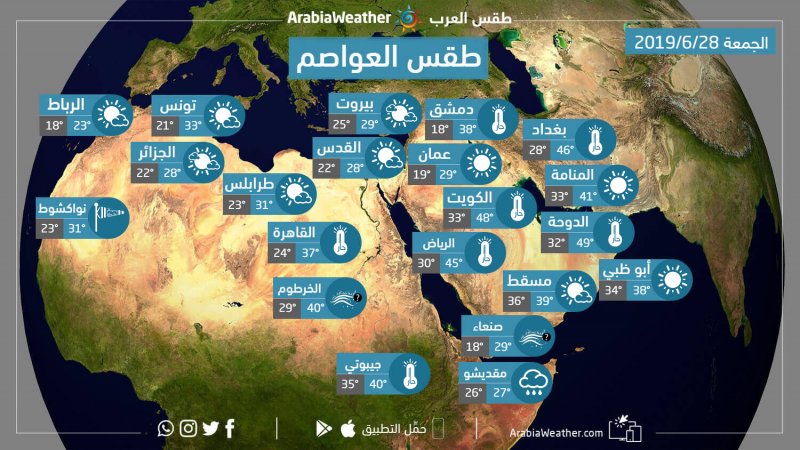 Weather Today in Amman – Jordan:
Sunny weather.
Great temperature in Oman: 29 °
Minimum temperature in Oman: 19 °
Weather Today in Al-Quds Al-Sharif – Palestine:
Weather is often clean.
Great Temperature at Al – Quds Al – Sharif: 28 °
Minimum temperature in Al-Quds Al-Sharif: 22 °
Weather Today in Riyadh – Saudi Arabia:
Hot weather.
The maximum temperature in Riyadh: 45 °
Minimum temperature in Riyadh: 30 °
Weather Today in Beirut – Lebanon:
Clouds scattered.
Great Temperature in Beirut: 29 °
Minimum temperature in Beirut: 25 °
Weather in Damascus – Syria:
Hot weather.
Great temperature in Damascus: 38 °
Minimum temperature in Damascus: 18 °
Today's weather in Baghdad – Iraq:
Hot weather.
Great Temperature in Baghdad:
The minimum temperature in Baghdad: 28 °
Weather Today in Kuwait City – Kuwait:
Hot weather.
Great Temperature in Kuwait City:
Minimum temperature in Kuwait City: 33 °
Weather Today in Manama – Bahrain:
Sunny weather.
Great Temperature in Manama: 41 °
Minimum temperature in Manama: 33 °
Weather Today in Abu Dhabi – UAE:
Sunny weather.
The temperature is great at Manama: 38 °
Minimum temperature in Manama: 34 °
Weather Today in Doha – Qatar:
Hot weather.
The temperature is great in Doha: 49 °
Minimum temperature in Doha: 32 °
Weather Today in Muscat – Amman:
Weather is often clean.
The temperature is great in Muscat: 39 ° C
Minimum temperature in Muscat: 36 °
Weather Today there – a – Yemen:
The possibility of land increasing.
Temperatures are great there: a: 29 °
The minimum temperature there is a: 18 °
Weather Today in Cairo – Egypt:
Hot weather.
Maximum temperature in Cairo: 37 °
Cairo Min. Temperature: 24 ° C
Today's weather in Mogadishu – Somalia:
It's raining rain.
The temperature is great in Mogadishu: 27 °
Minimum temperature in Mogadishu: 26 °
Today's weather in Djibouti – Djibouti:
Hot weather.
Temperature in Djibouti: 40 °
Temperature in Djibouti: 35 °
Today's weather in Khartoum – Sudan:
The possibility of land being lifted.
Maximum temperature in hoses: 40 ° C
Minimum temperature in Khartoum: 29 ° C
Weather in Tripoli – Libya:
Weather is often clean.
The great temperature in Tripoli: 31 °
Minimum temperature in Tripoli: 23 °
Weather Today in Tunis – Tunisia:
Weather is often clean.
Good temperature in the city of Tunis: 33 °
Minimum temperature in the city of Tunis: 21 °
Weather Today in Algiers – Algeria:
Clouds scattered.
The temperature is great in Algiers: 28 °
Minimum temperature in Algiers: 22 °
Weather Today in Rabat – Morocco:
Weather is often clean.
Great temperature in the city of Rabat: 23 °
Minimum temperature in the city of Rabat: 18 °
Today's weather in Nouakchott – Mauritania:
Active wind.
The temperature is great in Nouakchott: 31 °
The minimum temperature in Nouakchott: 23 °
Find out about the weather on your site for a week by applying Weather Al Arab