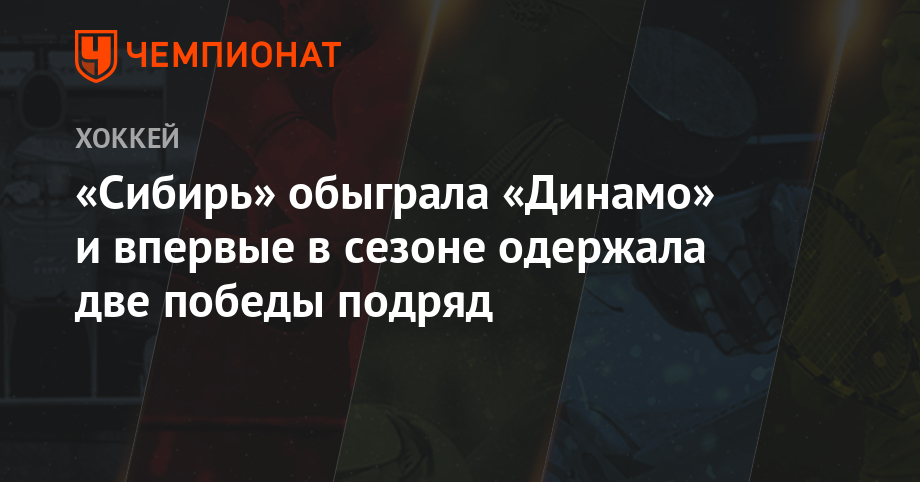 Siberia defeated the Dynamo and for the first time this season won two consecutive wins
Siberia beat Dynamo Moscow with a score of 6-4 in the regular season home game of the Continental Hockey League.
Scoreboard and results of all KHL matches
In the first period, teams exchanged pucks – the Novosibirsk club responded to a goal from Mix Indrasis's goal with an accurate throw from Vladimir Pervushin. In the second dvadtsatiminutke ward Alexander Andrievsky three times angered the visitors through efforts by Jukka Peltola, Nikita Mikhailov and Jordan Karon, and blue and white were able to answer only with a goal from Vyacheslav Kulemin. In the middle of the third period, Gleb Zyryanov strengthened the hosts' lead, but Vladimir Krikunov's team managed to reduce the backlog thanks to a goal by Vadim Shipachyov. In the 53rd minute, the guests distinguished themselves in the "five-three" format with Dmitry Kagarlitsky's effort, but in the end Alexander Sharov put the points in the game, which hit an empty goal.
The Dynamo interrupted a series of two defeats, and the Novosibirsk club won their second win in a row.
Highlights of match videos are available on the official KHL website.
The Moscow Dynamo is placed on the injured Daniil Tarasov list
Source link