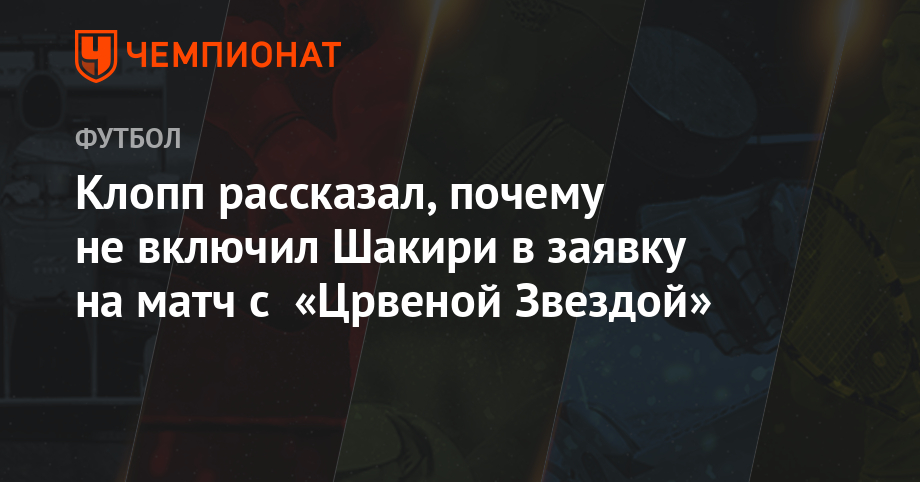 [ad_1]
Klopp tells why he didn't include Shakiri in the application for the match with "Red Star"
Liverpool head coach Jürgen Klopp talking about the reason for the decision not to enter a midfielder Sherdana Shakiri in the application for matches of guests with "Red Star" in the fourth round of the Champions League group stage.
"We will go to the amazing city of Belgrade as a football team and will play football. We have heard and read many reasons about accepting what Shakiri can accept in Serbia, and even though we don't know what will happen, we want to go there and focus one hundred percent on football without thinking about anything else.
We are Liverpool, a big club, a football team, we have no other message. There are no political ideas, of course. We must show respect and avoid factors that can reduce our concentration during the game. Therefore Shakiri is not included in the application, and he treats this decision with understanding and accepting it. He is our player, we love him, and he will still play for Liverpool many times, but not on Tuesday, "Liverpool's press service quoted Klopp as saying.
The "Red Star" – "Liverpool" match will be held tomorrow, November 6, at the Mitic Raiko stadium in Belgrade, the beginning is at 20:55 Moscow time.
Shakiri will miss the guest match with "Red Star" in the Champions League, Keita again bid
[ad_2]
Source link