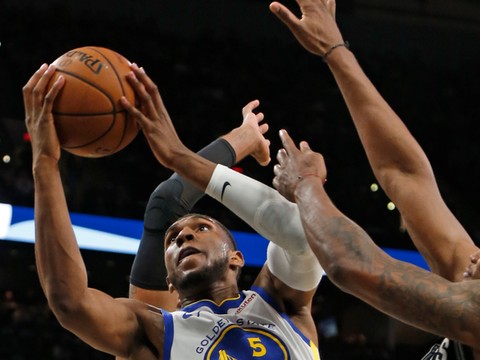 A trip to Texas failed to survive the crisis of the Oakland Warriors. After the defeat with the Houston Rockets (86: 107) and the Dallas Mavericks (109: 112) on Sunday they also lost in San Antonio.
In team matches, which in the last 16 years won the most championship rings (Spurs – four, Warriors – three), the title defenders emerged without injury to Stephen Curry and Draymonda Green. The most effective in their rankings were Kevin Durant and Klay Thompson, scoring 26 and 26 points. Spurs headed for victory led by LaMarcus Aldridge – 24, DeMar DeRozan – 20 and Rudy Gay – 19.
Since 2014, when coach Steve Kerr began working with the Warriors team, he lost three consecutive league games for the third time.
"We are in a difficult period, but this season is still long. In recent years everything has happened as if in a dream. Now we find ourselves in the real NBA dream. The dream is over and we are faced with real difficulties. get out of this "- said the coach after losing in San Antonio.
Warriors with balance (12-6) fall to second place in the Western Conference. The first promoted the Portland Trail Blazers (11-5) after Washington Washington Wizards victory 119: 109. Damian Lillard scored 40 points for guests, and CJ McCollum 25. The most successful among the hosts were John Wall – 24 and Kelly Oubre Jr. – 19.
After an away win over the Minnesota Timberwolves 100: 87, the Memphis Grizzlies finished third in this conference. The team leader from the city of Elvis Presley is Marc Gasol, who scored 26 points and 13 rebounds. The Spaniard was the best collector in the history of the club in the previous meeting. In the team "Leśny Wilków" distinguishes backup quarterback Derrick Rose – 18.
The program of a series of Sunday meetings was also the return of LeBron James to Miami. In the match against the Heat, his former club, with whom he won the first two of his three championship titles, the famous basketball player scored 51 points for the Los Angeles Lakers, and his team easily won 113: 97.
Hit the game with more than 61% effectiveness, "King James" for the 12th time in his career across the 50-point barrier in the match. He is supported by Kentavious Caldwell-Pope – 19 and Kyle Kuzma – 15. Wayne Ellington – 19 and Josh Richardson and Tyler Johnson are on the team – 17.
The Lakers have won five of the last six meetings and advanced to seventh in the West.
The Eastern Conference is run by the Toronto Raptors (13-4), ahead of the Milwaukee Bucks (11-4) and Indiana Pacers (10-6).
NBA Sunday basketball match results:
Minnesota Timberwolves – Memphis Grizzlies 87: 100
Miami Heat – Los Angeles Lakers 97: 113
Orlando Magic – New York Knicks 131: 117
Washington Wizards – Portland Trail Blazers 109: 119
San Antonio Spurs – Golden State Warriors 104: 92
table:
EAST CONFERENCE
ATLANTIK DIVISION
With P .roc
1. Toronto 13 4 0.765
2. Philadelphia 11 7 0.611
3. Boston 7 9 0.563
4. 7 10 0,412 Brooklyn
5. New York 4 13.252
CENTRAL DIVISION
1. Milwaukee 11 4 0.733
2. Indiana 10 6 0.625
3. Detroit 7 6 0.538
4. Chicago 4 13 0.235
5. Cleveland 2 12 0.143
SOUTH DIVISION
1. Orlando 9 8 0.529
2. Charlotte 7 8 0.467
3. Miami 10 0.375 6
4. Washington 5 11 0.313
5. Atlanta 3 13 0.188
WEST CONFERENCE
NORTH DIVISION
1. Portland 11 5 0.688
2. Oklahoma City 10 5.667
3. Denver 10 0.625 6
4. Utah 8 8 0.500
Minnesota 5. 7 10 0.412
PACIFIC DIVISION
1. LA Clippers 10 5.667
2. Golden State 12, 6, 667
3. LA Lakers 9 7 .563
4. Sacramento 8 8 0.500
5. Phoenix 3 12 0.200
SOUTH DIVISION
1. Memphis 10 5 0.667
2. New Orleans 9 7 .563
3. San Antonio 8, 7, 533
4. Houston 8 7 0.533
5. Dallas 7 8 0.467
Source link