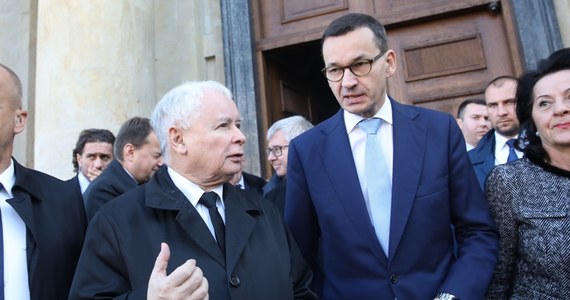 "PiS and the Independent Party The Local Government signed a coalition agreement in the Lower Silesia," said Michał Dworczyk. "We thank President Jarosław Kaczyński and Prime Minister Mateusz Morawiecki for supporting the region," he added. Meanwhile, the head of the Lower Silesia structure and PiS vice president Adam Lipiński said at the RMF that "until signed, there is no coalition."
PiS President Jarosław Kaczyński and Prime Minister Mateusz Morawiecki
/Andrzej Iwańczuk /reporter
"I have to sign it" – Lipiński assured in the RMF. And he added that he had not submitted a signature like that. Minister Dworczyk replied that this was a misunderstanding and a contract was signed.
Previously, Michał Dworczyk wrote on Twitter: "Law and Justice and the Local Government signed a coalition agreement in Lower Silesia." We would like to thank President Jarosław Kaczyński and Prime Minister Mateusz Morawiecki for support for the region. The above agreement is possible in the OT. "Together for Lower Silesia"! "
After announcing the results of the local government election, PiS obliged some of its members to negotiate on the ground about the coalition's conclusions at a regional level, where the party did not win an independent majority. Their work is supervised by Dworczyk.
In this year's election for Lower Silesian Seym, the Mandiri Women's Independent Government won 6 seats and became a key party for a possible coalition, because PiS won 14 seats on the 36-seat regional council, and the Citizens Coalition had 13 council members. The remaining seats are: KWW Z Dutkiewicz for Lower Silesia – 2 and PSL – 1.
Last week, President Lubin, Robert Raczyński of the Non-Partisan Regional Government, who negotiated a coalition in the Lower Silesia parliament, together with the Lower Sileses Cezary Lineage Przybylski met with Prime Minister Morawiecki and Dworczyk.
Also last week, Mirosław Lubiński, a elected councilor from the Polish People's Party on the Lower Silesian regional council, admitted last week that he was willing to cooperate with the PIS-Non-Party Local Government coalition.
In local elections, which took place on October 21, PiS obtained an independent majority in 6 kilometers from the following provinces: Lubelskie, zódzkie, Małopolskie, Podkarpackie, Podlasie and Świętokrzyskie. The Civil Coalition has an independent majority in one regional council – the Voivodeship Committee.
Assuming the possibility of cooperation with farmers, KO coalitions and PSL will have the opportunity to govern also on regional councils: Kuyavian-Pomeranian (18 seats out of 30), Masovian (26 of 51), Warmian-Masurian (19 of 30) and Wielkopolska (22 of 39).
In Lubuskie and Zachodniopomorskie Voivodships, building coalitions will depend on the decisions of the SLD council members and the Non-Party Regional Government, and in the province. Opole – from a member of the German minority council. In turn, in the provincial regional council of Silesia – from the decision of the SLD board members.