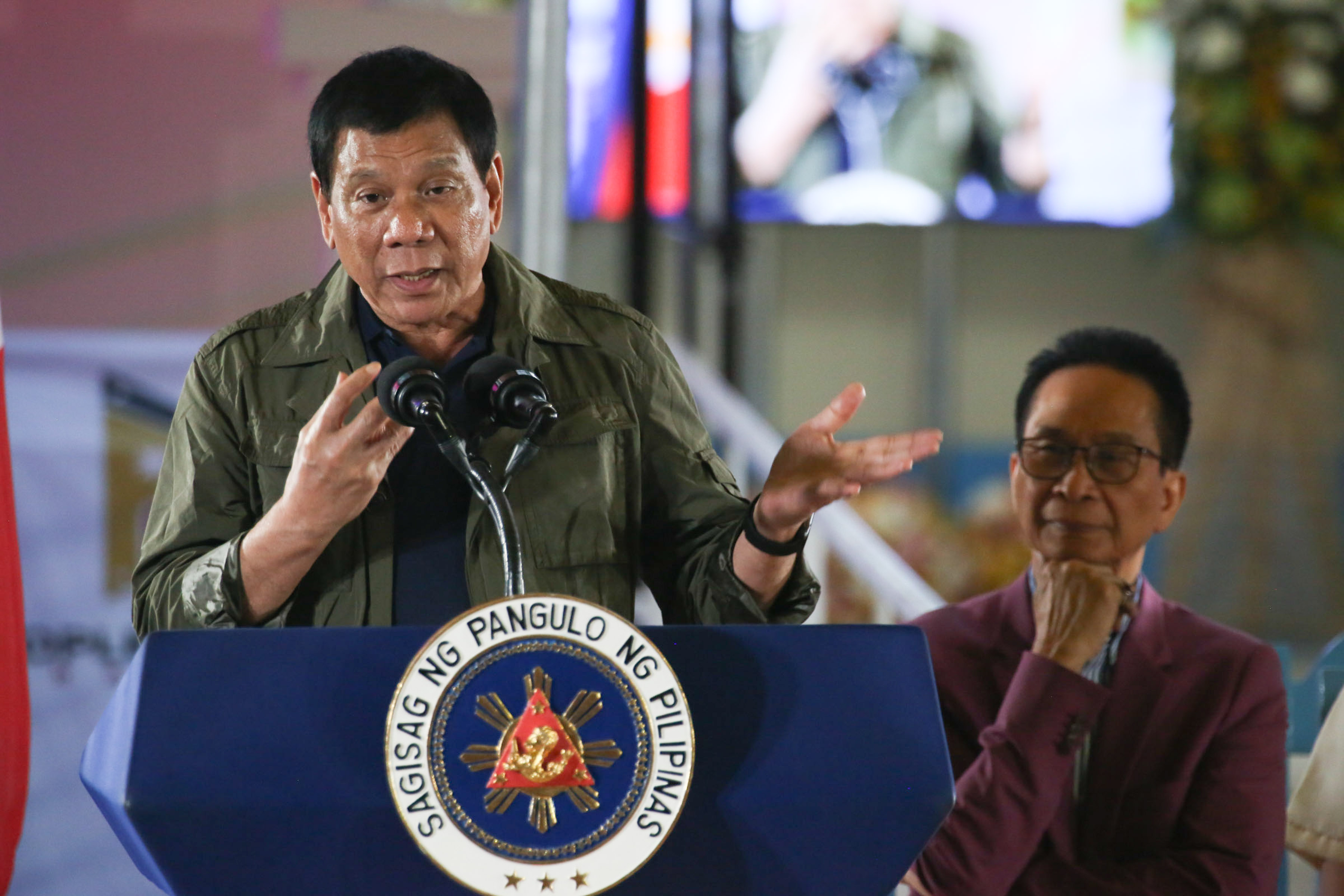 & # 39; Kung ako & # 39; yung civil, matutuwa ako, & # 39; said spokesman President Salvador Panelo, although human rights defenders indicated that the government could not maintain a hit squad

MANILA, Philippines – Presidential Spokesman Salvador Panelo confirmed President Rodrigo Duterte's plan to make killer forces to kill communist rebels, saying they were lawful because they were intended to defend soldiers and civilians.
He even said that civilians must be "relieved" because this killer team would protect them.
Panelo has responded to the statement of the Chair of the Human Rights Commission Chito Gascon that under international humanitarian law, the government is prohibited from maintaining death squads.
The state can only have "regular armed forces under strict military discipline," Gascon said on Wednesday, November 28.
Panelo replied to this on Thursday, November 29.
"IIf you say death squad, the intention is only to kill, but not to kill in self-defense, he is right. You created it right to prevent the killing of these people, civilians. His outlook is too narrow, "said a presidential spokesman.
But Duterte's description of his "death squad," which he called his "sparrow unit," involved target killing.
In creating such a hit team, Duterte said he would "match their (New People's Liberation Army) talent to kill people."
When asked whether the target of the death squad would be given legal proceedings before they were killed, Panelo said the target was too dangerous.
"We have a situation here where there is a group of people who will kill with impunity. What do you want the country to do, just sit still and watch? We cannot do that," he said.
Asked whether this meant that Duterte already had solid intelligence reports that the target would commit their own murder, Panelo seemed uncertain.
"I should. The President will never do anything without foundation. He has all the resources in the world to support him, "said the spokesman.
Relieved civilians?
Panelo was also roasted about how the government could prevent death squads being tortured by soldiers who would use it as a tool to kill their personal enemies or critics of the government.
The death squad might also encourage a culture of impunity in which civilians might take the law into their own hands and use an army of murderers to kill their enemies.
Panelo dismissed this concern, saying that civilians might be "relieved" that the death squad would be there to protect them.
"We must be relieved that we have a President who does everything in his power to stop all criminal acts, all acts of terrorism against civilians," he said.
Then, he said: "People will be relieved that there is such a thing if this idea becomes a reality. & # 39; Maybe the message may be on the same page, but it's not possible. & # 39; Kung ako & yung civilian, matutuwa ako (& # 39; Someone oversees people who want to kill us. & # 39; If I am a civilian, I will be happy). "
Just an idea & # 39;
But at the same press conference, Panelo played down the planned "death squad", saying it was only an idea at this stage.
"First, I think the President only brings ideas, and if that idea becomes a reality, as Defense Minister Delfin Lorenzana said, the Army will be responsible for that," Panelo said.

Lorenzana had told Rappler on Wednesday that the division commander of the Philippine Army would be responsible for the death squad, to be officially called the Anti-Sparrow Unit, and that Duterte's proposal would be carried out "as soon as possible."
Panelo also stressed what sounded like a proposal from the President to use the NPA submission to identify current NPA members for targeted death squads.
"There is also the idea that maybe if you set it up, consisting of men in uniform, then you need people who give up coming from the NPA to join so that these people know who are members of the sparrow unit so they can easily point," Panelo said .
But does this suggestion endanger the lives of NPA publishers and hinder their return to normal life and mainstream society?
Panelo said their lives were in danger since they gave up.
"Their lives are already at risk when they surrender. They are the first target of the sparrow unit," he said in Filipino.
Duterte and the military have launched a national campaign to seduce NPA rebels to surrender and surrender their weapons to the government.
The President even promised to help pay for their children's school fees and give them housing. – Rappler.com
Source link