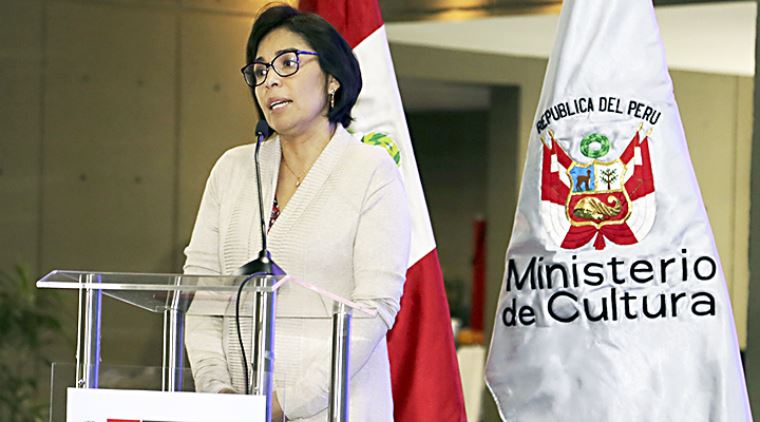 11/15/2018
The Minister of Culture, Patricia Balbuena, today held a working meeting with representatives of the private sector to join efforts to develop the Bicentennial Agenda and achieve national goals set as part of the commemoration of Peru's Independence.
The purpose of this meeting is to invite companies to develop, from the field of intervention, initiatives to commemorate and change the country, and position the Bicentennial Flag (Without corruption, Dialogue and reconciliation, Integration and competitiveness, Equality of opportunity, Sustainability and Identity and diversity ), a big goal to be achieved as a nation.
The Cultural Sector is responsible for leading the agenda to commemorate the bicentennial celebrations and articulating agents with the Republican Congress, regional and local governments, as well as with civil society, to carry out large infrastructure projects and policy reforms needed by the country in 2021.
On Saturday, November 10, Republican President Martín Vizcarra and Minister of Culture presented the Bicentennial Agenda at the Plaza de Armas in Huamanga City (Ayacucho), where they announced the promotion of more than 100 symbolic works in 25 countries, with the aim of improving the quality of life of citizens and close the gap.
On this occasion, the Head of State urged all Peruvians to take a commitment to free the country from the yoke of corruption in 2021, to reach a large and dignified Peru.
Call to young people
"This is the time when, as Peru, we consider the commitment to be independent of the yoke of corruption. Together we will win this battle," he said.
The president called on young people to join this struggle and believe "in the possibility of making Peru a decent country", because they will be the people who will assume the responsibility of leading the third century of our Republic.
Heritage
The Bicentennial Agenda represents the Executive commitment to provide in 2021 a legacy for the new generation: airports, infrastructure for science, hospitals and others.
Source link