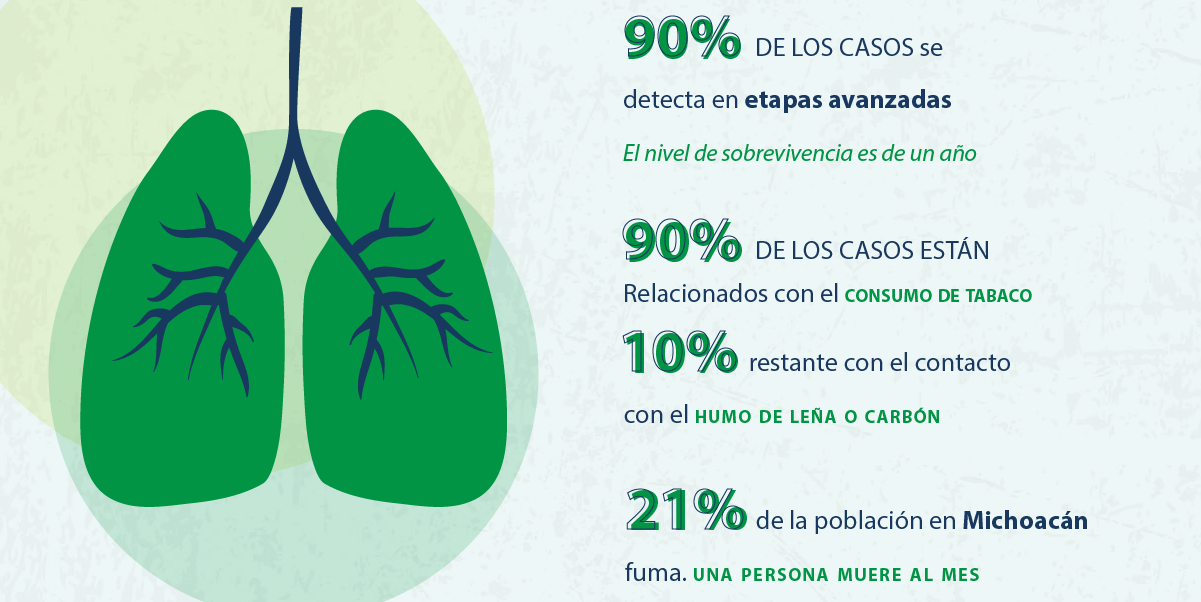 MORELIA, Mich., November 17, 2018. Nearly 90 percent of lung cancer cases are detected at an advanced stage, when the disease has attacked other organs and the survival rate is one year.
This is what lung experts Jesús Alejandre García, deputy medical director of the National Institute of Respiratory Disease of Mexico City, warned during World Lung Cancer Day, which is celebrated every November 17th.
"All smokers must have chest x-rays at least once a year, and heart and lung studies to see if they have emphysema, chronic bronchitis or myocardial infarction, because they have this risk," said the specialist.
An estimated 21 percent of the population in Michoacán smokes, and one person dies a month from lung cancer, although three die every day due to diseases related to tobacco use, the specialist said.
Professor of Medicine at UMSNH, stressed that lung cancer is the second most frequent in men, after prostate cancer; whereas in women is the third, preceded by breast and cervical cancer.
In addition, he explained that more than 90 percent of lung cancer cases are related to tobacco consumption and the remaining 10 percent are in contact with wood or coal smoke, although genetic factors can also interfere.
It is also estimated that one in nine smokers will develop lung cancer, although it has been detected that this occurs every time at a younger age, perhaps because of a favorable diagnosis or because it becomes more progressive.
"Thirty years ago, lung cancer began after 80 years, 20 more often in 70 years, 10 years ago at the age of 60, and since five years ago it was 50 or 55 years old," he warned.
Alejandre García explained that during the first three stages this cancer had no symptoms, and that was until the last two out of five when the airways began to clog, with symptoms such as coughing, bloody phlegm, chest pain, weight loss and shortness of breath.
Although previous statistics show that it affects men more than women, it is currently presented to two men by a woman, said pulmonologists.
Although a diagnosis of lung cancer can be done at a health institution, the treatment is not considered in the basic table of drugs, except for a few in the State Oncology Treatment Center (CEAO).
Therefore, the proposal, which has been launched into three government orders, a member of the March 13 Civil Association, Non-Smoking Michoacan Day, is to conduct a free test that will diagnose early lung cancer.
"Patients with cancer come to us in a very advanced stage, when there is metastasis, which is when it enters the central nervous system, liver, bones or kidneys, and chemotherapy treatment with basic drugs runs around 7,000 pesos every month for a year, "the lid.