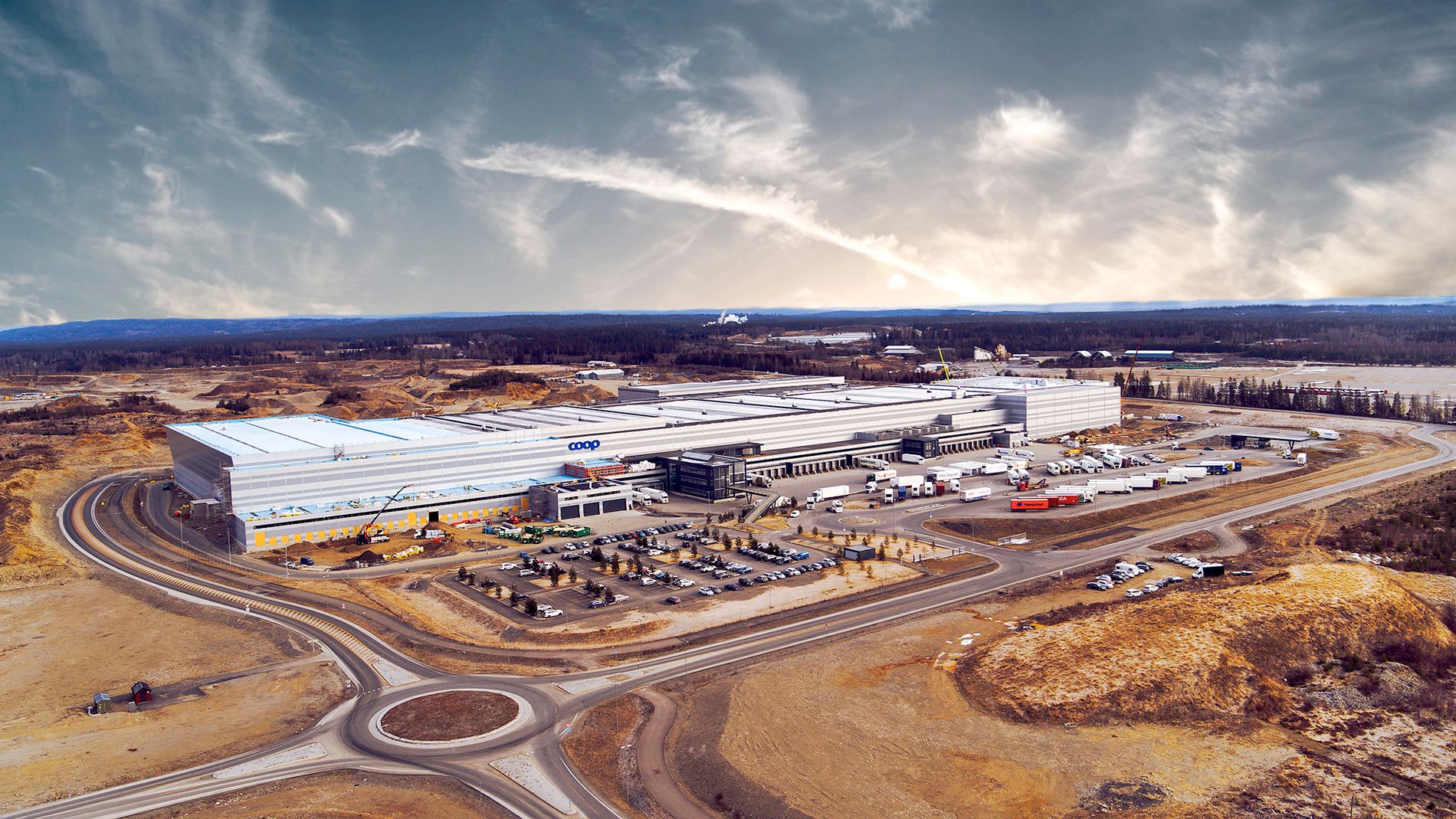 Real estate player NREP turned over three billion dollars for Coop's warehouse in Gardermoen. According to Pangea's advisers, this is the highest purchase price ever for a Norwegian logistics property.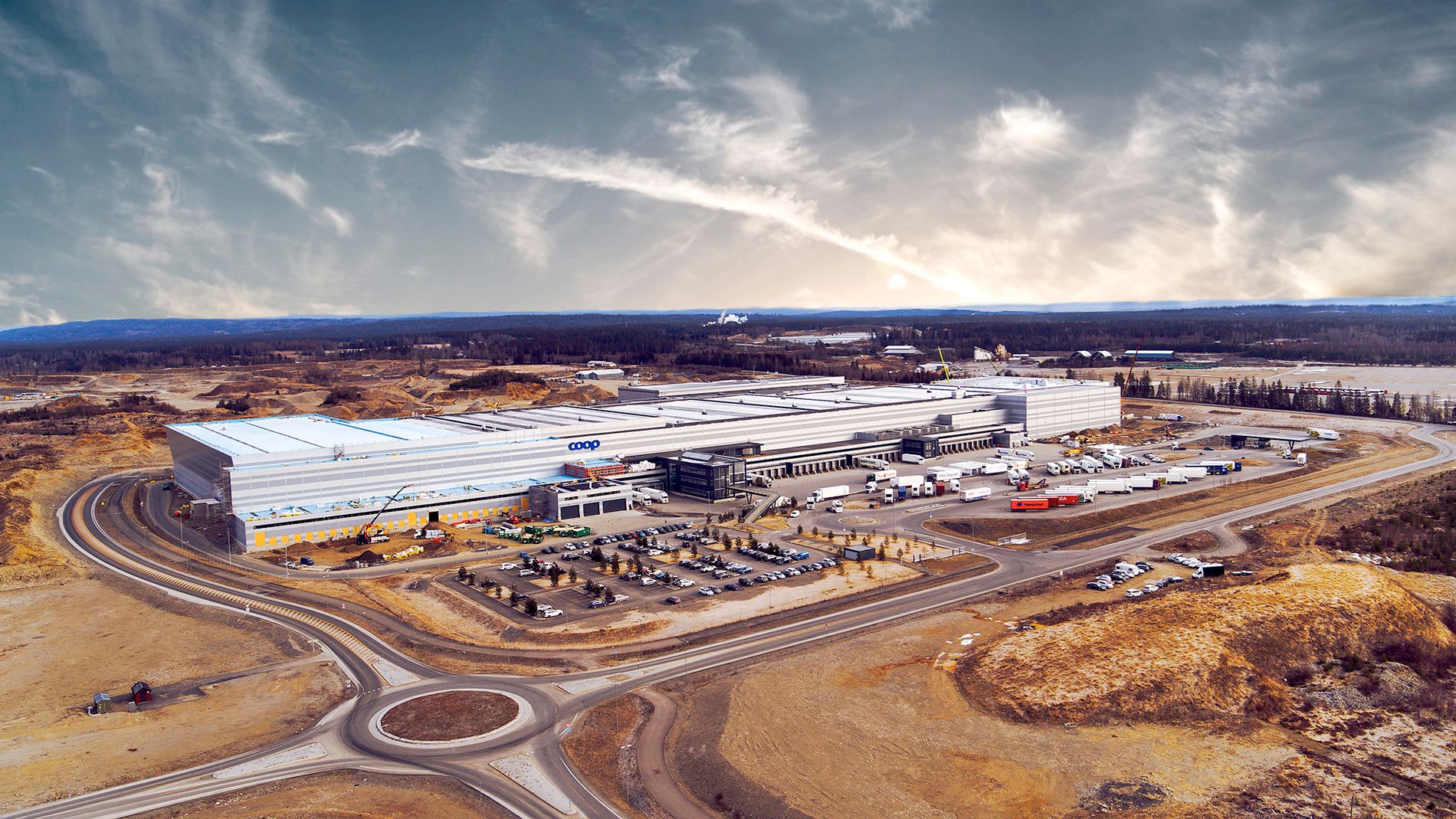 Published:,
Each day, several hundred trailers arrive to load and unload goods at Coop's giant warehouse in Gardermoen. The store chain has 20 years left to lease on the building, which has an investment framework of NOK 1.5 billion and goes into use from 2014.
The warehouse building has now been purchased by NREP Logicenters. The sellers are Møller Eiendom and family-owned Stokke Industri, who bought the property from Coop in 2014.
– We're both excited and proud of this purchase, of course. Logistics is one of our core businesses, and we are one of the largest logistics property owners and developers in the Nordic region, the head of Norway's NREP, Jens Petter Hagen, told E24.
– In Norway, we are a little behind the NREP family in the rest of the Nordic region, so we try to catch up. This is a big step in that direction, he said.
NREP is a Nordic specialty fund that owns and operates everything from senior and student housing to shopping centers, apartments and logistics buildings. Through their Logicenter business, they own about 70 logistics properties used by players such as DHL, Postnord, DSV and Bring.
Read also
Deichman sold for 245 million kroner
– This is a record price
The automated warehouse building at Ullensaker can handle 15,000 to 20,000 different products and about 600,000 boxes of food per day on behalf of the Coop chain of around 1,200 stores. Following the planned expansion next year, the building will have a gross area of ​​84,800 square meters.
– Are you paying a sticky price?
– It's no secret that this is a record price. This is a huge transaction price in billions, we comment about three billion kroner. This is a sharp price measured against cash flow, that is, at the rate of return as we call it in the industry. No doubt about it, said Hagen.
– But it's also a unique product, very modern, in the right location and with a good tenant. In addition, there are still development opportunities on the site. That justifies setting a record price. That said, there is a price level on par with other countries when it comes to super logistics properties like these. But in a Nordic context, this is a record, he added.
According to Pangea Property Partners, rental income is around 3.9 percent of the purchase price. In the real estate industry, this is called "yield," and is a measure of how expensive a property is.
Read also
Stordalen sold the Stockholm hotel to NREP for 1.54 billion
Satisfied seller
– We agree, so we're very excited, investment director Thomas Sletten at Møller Eiendom told E24.
The argument against property sales is that the property has become one of the anchors in the portfolio for Stokke Industri and Møller Eiendom, he points out.
– Having a solid partner like Coop and a contract that is so long means we can take development risks in other parts of the portfolio. So that has helped reduce the motivation to sell, he said.
For Møller Eiendom, it has become important that the company has secured a long-term tenant at Harbitzalléen 5, where Hafslund E-Co is now headquartered.. This property can now become a new anchor for the company.
– We've added other buildings to our portfolio that take on the role of anchors, so it doesn't really matter to us. And this is a fairly large building for our portfolio, which is a huge burden for Møller Eiendom and Stokke. We also have an organization of nearly 40 employees who have broad expertise in development, and we might be able to get a bigger return on development properties, Sletten said.
Møller Eiendom has more than enough money to spend. The company recently purchased the Deichman main library in Oslo for NOK 245 million.
– We've started a little, and bought a library in central Oslo, which may be a black belt in development. And we are in the process of looking at other development properties both alone and in partnership. We were involved in the process of buying NRK plots in Marienlyst, and the motivation now may be greater to take up this type of urban development project, said Sletten.
Read on the E24 +
This year's giant acquisition still cannot be canceled
Read also
The Swedish real estate giant offered 30 billion to Entra
– Largest in Norway and Nordic countries
Mitra Properti Pangea has been a financial advisor to the seller in the process. Law firm Thommessen has assisted salespeople in the process, while law firm Wikborg Rein has been a legal advisor to NREP.
The sales process started nine months ago. Despite the coronavirus pandemic, there is great interest, according to CEO Bård Bjølgerud at Pangea.
– More than 100 investors have shown interest in this property, and about 40 have been actively working with this unique investment opportunity, which shows how attractive the property itself is and how attractive the Norwegian real estate market is now, he said.
– This transaction is the largest transaction of a single logistics building in Norway and the Nordic countries and one of the largest Europe has ever made, said Bjølgerud.
Read also
Storm Real Estate buys real estate company: The Witzøe and Bekken families become big owners
Will invest more in Norway
NREP Logicenters is also developing a logistics building in Vestby outside Oslo, where Barnas Hus (BH Nordic AS) will be one of the tenants. It will be 12,000 square meters and will be ready in 2021.
Hagen is open to investing more in Norwegian logistics properties and homes in Norway. But at current price levels, developing a property is more relevant than buying an existing property.
– We are looking at several investment opportunities in logistics. The challenge is that prices are sometimes a little fuzzy. Perhaps some would argue that this was the case here too. We feel that is wise, but there are other properties that we think may not be quite right. So then we go to the other end of the value chain, and think about active property development, says Hagen.
– We will definitely make more logistical investments in the future, and also want to expose capital to real estate, for example in housing, both for sale and for rent, he said.
Read also
False high prices for refugee housing – collected 86 million in state banks
Billions of war coffers
Behind the NREP are a number of international investors, such as North American, Nordic and European pension funds, as well as Asian government funds.
– So there's a lot of pension money behind this purchase, says Hagen.
– How big a battle box do you have?
– We announced a month ago that we are raising about 1.8 billion euros in new funds in equity, which will be invested in the Nordic region. Additionally, there's a slightly smaller war chest next door with slightly sharper ammunition, which is where this investment comes from, Hagen said.
– There we have the ambition to fully subscribe to under one billion euros for a month. So we have an equity war fund of just under three billion euros, he added.
Read also
Norwegian property raised NOK 557 million to buy Telenor headquarters
Read also
Real estate billionaires lost money in 10 out of 11 hotels
Source link