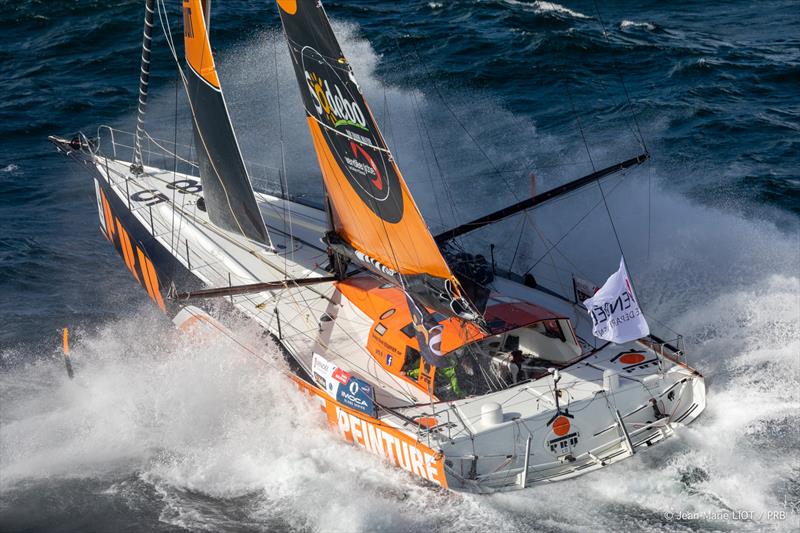 Vendée Globe: Kevin Escoffier (PRB) rescued in the Southern Ocean by Le Cam
by Vendée Globe Dec 1 03:23 UTC
1 December 2020
PRB – Kevin Escoffier – Vendee Globe 2020 © Jean-Marie Liot
Kevin Escoffier (PRB) – 2020 Vendee Globe © Yann Riou
Jean Le Cam | © DR
At 0018 UTC, the PRB Team was notified that their Vendée Globe racing captain Kevin Escoffier (PRB) had been rescued by fellow Vendée Globe competitor Jean Le Cam (Yes We Cam!).
Escoffier had to leave his IMOCA 60 PRB after sustaining damage yesterday afternoon around 1346 UTC and boarding his liferaft about 840 nautical miles SW from Cape Town.
The rescue mission is coordinated from Les Sables d'Olonne by Vendée Globe Race Direction in collaboration with CROSS Griz Nez and MRCC South Africa. PRB president, Jean-Jacques Laurent was at Race HQ with race director Jacques Caraës and the race steering team helping out throughout the process.
"She agrees with Jean!" These brief words are a huge relief to the entire team, to the Escoffier family and all those involved in and following the Vendée Globe.
Kevin has so far only been seen on YesWeCam via live video because Jean Le Cam is connecting his video system during all search operations. No one was yet able to speak to the DRR skipper who only appeared to be smiling, bundled in survival clothes with Jean Le Cam.
Vendée Globe racing director Jacques Caraës elaborated, "We sent Jean back to the position received by CROSS Gris Nez, the position sent by the EPIRB's onboard distress flare. Simulated Météo French drifts also provide a trail. Jean departs at 00h15 UT (1h15) French Time) at our request to reach this point at a reduced pace. He did not find anyone at the specified location. He then continued his journey southeast for three quarters for between 45 minutes and one hour – one hour. As he made progress on 1.5 knots in a wind speed of 20-25 knots under the greatly reduced sails (3 corals on main screen and no engine), he disappeared from the screen when suddenly we heard him speak. We no longer saw anyone. Then, a few minutes after 1:06 UT or 2:06 French time (the time when he had to take Kevin right away), Jean came back to the chart table and then we saw Kevin arrive at the back Kang her back in survival clothes. They both looked fit seconds before the cut of the video. He is fine. Everyone's all right. They recovered! "
Video from Kevin Escoffier on the YesWeCam board: (WARNING: contains swearing)

On January 6, 2009, during the 2008-2009 Vendée Globe, Vincent Riou, then the captain of the PRB, rescued Jean Le Cam from the overturned IMOCA 60 on Cape Horn.
This time, the 61-year-old five-time Vendée Globe racer, Le Cam, is reversing the role that took Escoffier, the 40-year-old captain from Saint Malo, from a potentially lethal situation.
The entire DRR TEAM and the Vendée Globe community sincerely thank Jean Le Cam and three other skippers, Boris Hermann, Yannick Bestaven, and Sébastien Simon for working bravely and tirelessly to find Kevin, as well as race director, CROSS Gris Nez. and MRCC Cape Town, which coordinated the search
More information to come.
Find out more …