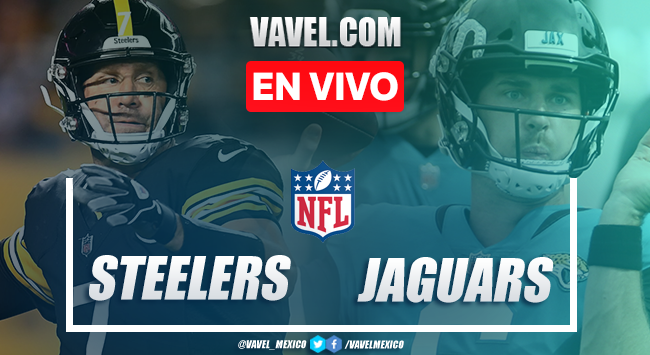 3Q 7:14
McClound fell within a yard of moving the chain. Steelers for cleaning
3Q 08:34
The Snell hit two yards on the ground to move the chain
3Q 10:08
In the third down, the Steelers made their first catch of the day and Jaguar in midfield took a shot
3Q 11:50
Luton with complete bait to move the chains
3Q 13:34
Big Ben's bait stays away and the Steelers are three in and out, to clear up
3Q 15:00
The third quarter begins. Pittsburgh about offense
TD Steelers 17-3
Half the time
Steelers 17-3 Jaguar
2Q 00:00
The pass was intercepted in the red by Ben Roethlisberger and the Steelers went pointless
2Q 00:09
Interrupted passes against Claypool and Steelers are already in the field's goal zone
2Q 00:15
Conner with takes to get yard and burn second time out
2Q 00:29
Luton shoots very high and Edmonds intercepts the ball
2Q 00:36
Long passes from Luton and Jaguar were already in rival territory
2Q 00:44
2Q 00:55
Johnson with a double reception on the 1 yard line. First and goal
2Q 1:08
Johnson with the reception to put the Steelers already in the field goal zone
2Q 02:00
Take a two minute break
2Q 2:46
Conner with a run to the right when the game looks broken. Gains 13 yards
2Q 02:57
Fitzpatrick intercepted Luton in the red after a deflection and returned the ball near midfield
2Q 4:20
Cole by the reception to enter the red zone
2Q 05:06
Be prepared with single receptions to place the ball on the 25 yard line
2Q 6:12
Robinson stunned by bringing on and coupled with a 15-yard penalty, Jaguar was already in rival territory
TD Steelers 10-3
2Q 07:00
2Q 08:12
Washington with the painful acceptance of moving the chains when they were loaded onto Big Ben
2Q 09:38
They punished Jaguar with a personal foul and gave him 15 yards
2Q 09:57
Luton threw hard and could have been caught and intercepted. Jaguar three and go to clean up
2Q 10:45
2Q 10:50
Once again Big Ben made an incomplete throw and they had to make do with the field goal
2Q 12:53
Screen pass for Conner working 12 yards
2Q 13:34
Despite a detour, Claypool makes a reception to move the chain
2Q 14:52
Johnson emerged with a long hail for the first and ten
End of the first quarter
Steelers 0-3 Jaguar
1Q 00:13
Once again they hit Luton and he threw it incorrectly. Three and set out to clean
1Q 01:12
Big Ben's imperfect pass is intercepted
1Q 3:06
Claypool with prized acceptance in third place for moving chains and settling in enemy territory
1Q 05:03
Johnson with the reception a yard ahead of the mark to move the chain
1Q 6:15
Explosive carry from Conner who turns the corner and gets 20 yards to get out of the infiltrated zone
1Q 6:36
The pressure fell on Luton, who threw his feet hastily and incompletely. In the middle of the field, to clear
1Q 07:19
Robinson put himself in third to move the chain, which was already approaching the midfield
1Q 08:48
Boswell failed to score from 46 yards and the Steelers couldn't score
1Q 08:51
Jaguar uses their first timeout
1Q 08:51
Johnson couldn't catch and the Steelers had to settle for field goals
1Q 10:12
Conner cuts the target and moves the chain for the first time in the game
1Q 10:57
Jaguar surprised with a short kick, but the Steelers reclaimed the ball
1Q 10:50
1Q 11:02
Luton's pitch is incomplete and Jaguar will be satisfied with 3 points
1Q 12:20
Robinson for left-sided carry for 12 yards
1Q 12:53
Robinson with acceptance in the third down to move the chain and into rival territory
1Q 14:52
Luton finishes with Cole in an action game play to move the chains
1Q 15:00
Starting the match. Jaguar attacks
Minute
We're just minutes from the Steelers vs Jaguar kickoff. Don't miss the match
Another level of defense
The Steelers defense is in the top 10 in the league by being fifth best by air, ninth place on the ground and third best in points allowed.
The offense wasn't that great
Although they are unbeaten, the Steelers' passing attacks are 18th in the league, while on the field they are 24th, however, scoring the fourth-best goal with an average of 30.1 per match.
What a season
Despite being 38 years old, Roethlisberger continues to have a great season with 2,267 yards, 22 goals and only 4 interceptions.
No problem
Break losing streaks
It looks like Jaguar will have a much better season when in week 1 they beat the Colts, however, since then they have added eight defeats in a row and will look to put an end to that poor streak.
With clear support
They remember …
They've heated up
Birthday child
Cloudy, but in good condition
Not active
Many victims
So they arrived
We started
The Steelers are looking to maintain their unbeaten streak against Jaguar in Week 11 of the NFL. We started with coverage via VAVEL
Don't get out of here
In a moment we'll be sharing all the details about the Pittsburgh Steelers vs Jacksonville Jaguar as well as the latest information emerging from EverBank Field. Don't miss the minute-by-minute match details and go straight online from VAVEL.

Background
The all-time series supports Jaguar 14-12, although the Steelers have won three of the last five games.
Where and how to watch the Pittsburgh Steelers vs Jacksonville Jaguars online and in person
Be careful with this Jaguar player
Watch out for these Steelers players
Jaguar's latest results
The Steelers' recent results
Jaguar: slow down air attacks
The key for Jaguar is to have a long offense so Big Ben stays on the bench and, when he's on the field, constantly presses him due to his lack of mobility.
Steelers: continue to build up pressure
The Steelers defense continues to be one of their best and will seek to suppress the rookie Jaguar midfielder, noting that they have more than 65 games with at least one sack.
The game against Jacksonville gets complicated
Historically, the Steelers have suffered in the face of Jaguar, which is why Mike Tomlin this week admitted the team is not going to be overconfident.
welcome
Good afternoon to all VAVEL readers! Welcome to the live broadcast of the Pittsburgh Steelers vs Jacksonville Jaguars, which corresponds to the 11th week of the NFL. The meeting will take place at EverBank Field at 12 noon.
Source link