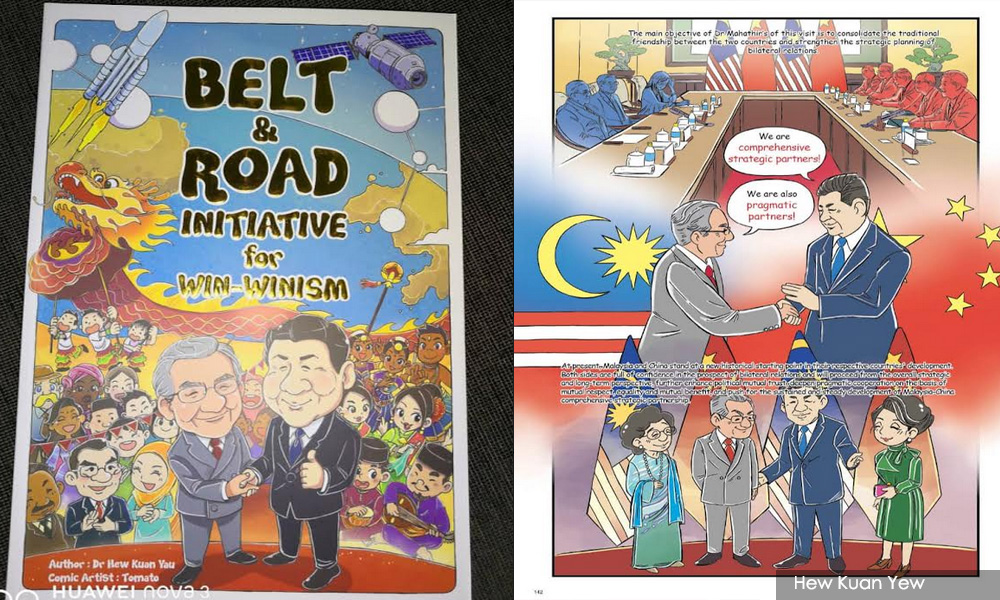 Prime Minister Dr. Mahathir Mohamad did not hand over comic books to Chinese president Xi Jinping as an official gift, according to the Prime Minister's Office.
"The PMO wants to clarify that the book was not an official gift during the meeting (with Xi in April).
"It was (submitted to Xi) in a way that did not comply with the protocol," the PMO said in a statement tonight.
The PMO added that the prime minister had never been involved in publishing the comic book and was also not familiar with its contents at the time.
"(The Prime Minister) never agreed to use his drawings for any purpose or (whether he) approved the distribution of comics in schools," the PMO said.
The comic book is titled "Belt and Road Initiative (BRI) for Win Winism" and is published by the Asia Comics and Cultural Museum which is supported by the Penang state government.
This book was written by Hew Kuan Yew, who is also the head of the museum and the Malaysian-Chinese Business Council.
Although the book has long been circulating, controversy erupted after former prime minister Najib Abdul Razak published an attempt to distribute the book to schools.
Najib alleged that the book contained pro-DAP propaganda while vilifying it. Hew argued that this was not true and that the book was intended to explain the Belt and Road initiative.
Meanwhile, Interior Minister Muhyiddin Yassin said there was "something wrong" with the book and his ministry would ask the publisher immediately.
"Initial report (by my ministry shows) there is things aren't right (something's wrong), "he said in Pontian, Johor today, according to Daily News.
Muhyiddin said political content – including matters regarding foreign policy – could not be distributed in schools without government approval.
"I am sure that the comic does not have minister's approval. If that Upin and Ipin, no problem. But if it is a story about politics, foreign policy or an ideology like communism, then nothing, "he said.