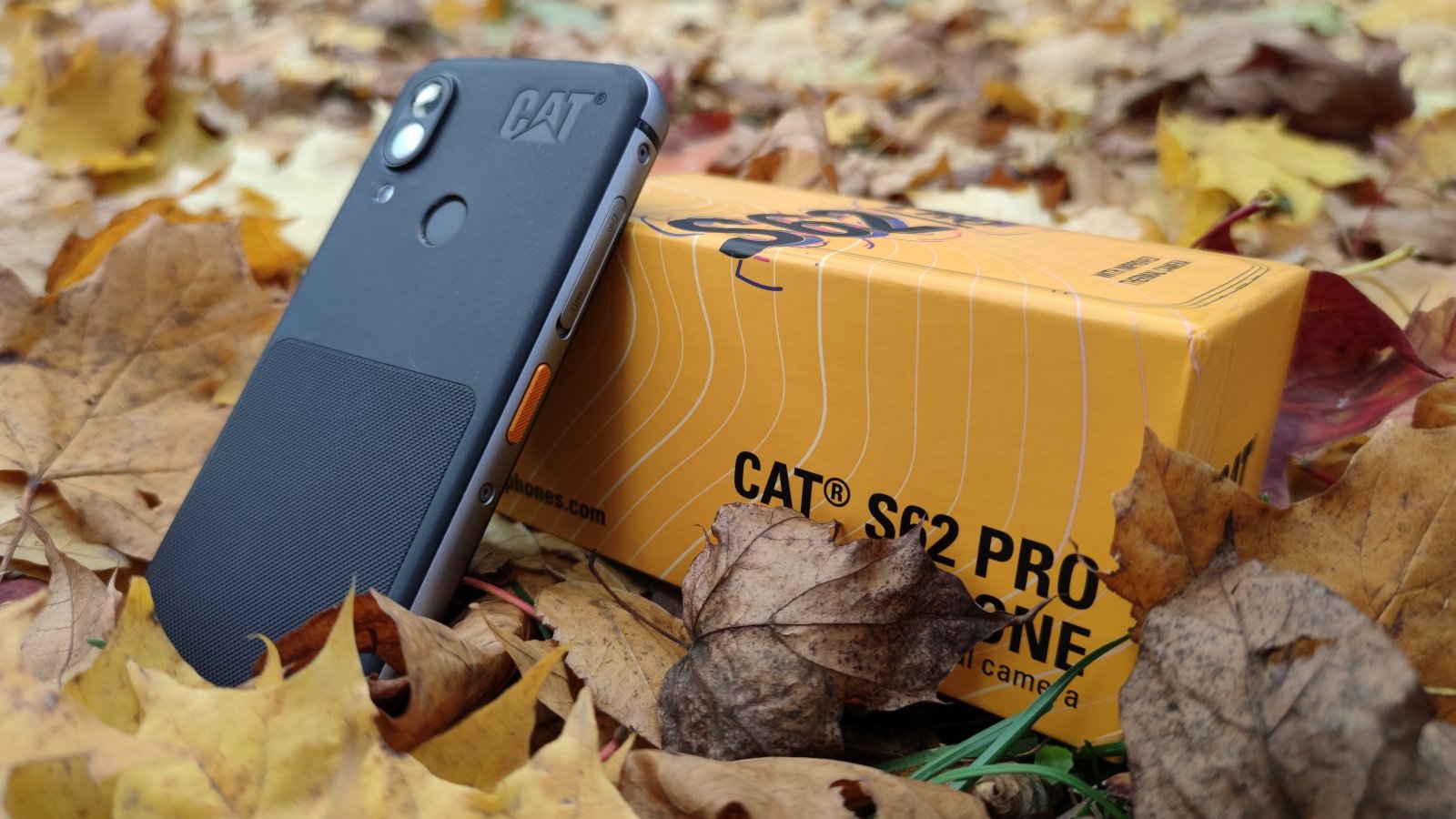 The hero of the day – the company's newest product CAT S62 PRO – the most powerful CAT phone with Android software released to date.
Like any CAT – the phone case is bright orange, and on the back we will find an image of a bulldozer track, which reminds us of a device that is not afraid of any kind of test in our hands. In the box, apart from the phone itself, we'll find a USB-C cable and an 18W charger.
Appearance
In fact, I didn't expect a tough phone to be so elegant. To this day, almost all sturdy savages look like walkie-talkies: small screens, a symphony of brightly colored plastic on all sides. It seems that CAT is aiming to make a phone that won't be shy about walking out of the bar after a hard day in construction. On the one hand we will find a very noticeable click sound button, and not at all confusing the notched power button.
On the other side is a hybrid SIM / Micro SD slot protected by a closed cover and an orange programmable PTT (Push-to-talk) button that lets you use your phone as a walkie-talkie or call up any app you want – camera, call logs. , calculator or whatever. continue.
At the bottom of the phone is a USB-C connector and a speaker. There is no headphone jack. On the back – one camera with flash and thermal imager, but about them later. Here and there we will also find the classic (perhaps a bit out of date) finger reader.
Screen
Despite the small screen size – 5.7 inches, this phone is heavy, very heavy – 248 grams, bigger than the largest Apple 11 Pro Max, which weighs 226 grams. Such heavy loads are caused by the thick aluminum body, back cover made of plastics such as anti-slip rubber, and protective glass on the front for better screen protection.
The screen resolution is good – 1080 x 2160 pixels, single pixel is not visible at all. The maximum brightness is sufficient even when working outdoors when the sun is shining, and here the minimum brightness is too high when surfing before bedtime "hungry eyes".
Parameter
The CAT S62 PRO is equipped with the old Qualcomm Snapdragon 660 processor, 6GB RAM and 128GB internal memory. This smartphone comes with a "naked" Android 10 with some CAT branded features. The manufacturer also guarantees an upgrade to version 11. The speed of the phone will be sufficient for daily activities and unnecessary games, but miracles are not worth expecting. The purpose of this phone is different – it is protected from environmental influences according to IP68, IP69 and MIL-SPEC 810H protocols. He is not afraid of water (even salt), mud or sand, or falls from a height of 1.8 meters. You may agree with the manufacturer's words – "as strong as a CAT phone should be".
The phone has a 4000 mAh battery, and is enough for two days of very active use. So if you're going on a hike, take an external battery too.
Sound
The speaker is here alone. You will definitely hear the call even in a noisy environment, you will also hear the other person perfectly, but this is an example from life: you have to fix one little thing in the car once. On the windy page, I went to Youtube to see instructions on what to do, and I only heard the recorded sound when I heard it to its fullest. And this is not a construction site.
Connection
There are nuances of connection. Compared to the cheap Redmi Note 9 PRO, the WiFi signal of the latter is stronger – Redmi shows the entire signal sharing behind one wall, while the CAT S62 PRO phone drops a division or two. After checking the WiFi data speed received by the mobile phone, the CAT S62 PRO reaches 42-45 mbps. Redmi shows the results of 75-80 mbps. It is possible that the weaker signal is caused by the metal body of the phone, which does not allow you to reach the maximum speed. I have no complaints about the 4G connection quality
fingerprint reader
As I mentioned, you will find a finger reader on the back of the phone, and I have no complaints about that. It works almost always, reads the two fingers assigned the same, the phone vibrates when it recognizes the stamp. Maybe only the screen can turn on faster.
Thermal imaging
The manufacturer is very proud to have a better thermal imager installed on the CAT S62 PRO. This feature allows you to capture hot objects in photos – useful for heaters or builders to view heat leaks, car service personnel to diagnose hot engine parts, and much more. Thermal images can be combined with ordinary photos to produce a clearer image. For me, this feature can come in handy unless you keep an eye on which windows are giving off the most heat. However, such a feature of a mobile phone will not change professional equipment, so how much will it benefit future buyers.
Camera
The phone has two cameras (which, to be honest, is a bit unusual in the context of modern phones) – a 12 megapixel back and an 8 megapixel front. And I won't spare any criticism here – I wouldn't call the photo quality mediocre. The color of the photos taken with the main camera is very unnatural – green grass looks lush, white faces turn pink, blue skies turn purple, and slightly pink flowers turn bright pink. This camera is suitable unless you are recording construction progress, taking pictures where the screws still need to be purchased, but nothing more. And it's weird because the phone is recording halfway through. When shooting in FullHD, electronic image stabilization works too. So, if you work in construction – you probably wouldn't complain about cameras, but if you're a constipated hiker and you carry your phone instead of a camera when you go to the mountains – you'll need to look elsewhere.
Summary
And here we come to complicated generalizations, because the CAT S62 PRO is a very controversial device.
First of all, the view. On the one hand, I fully support the manufacturer's desire to make the phone not only durable but also slim, but the aluminum edges (and aluminum is a soft metal) are not protected at all. So whenever he fell on concrete, stone or gravel, the edges of the phone would get scratched.
The phone will survive a hit, I'm sure, but its commercial appearance will be lost, so what's the point of making it beautiful if the animal's natural environment isn't appreciated? You will say – buy a tray and you will be calm. Are there any durable phones in a durable case? "Sorry," this is no longer logical.
Second, remember, phones that were previously resistant had a special loop on the strap? That's right, it will be very useful. Imagine you're hanging from a crane, or climbing a mountain, pulling out a cell phone, and being out and falling in free fall, and I'm already talking about 1.8 meters in height here. If the cell phone is tied to the waist with a safety strap, there is no such danger. Would such a loop really spoil the elegance of the phone? Vargu.
Third, the camera. Although I fully understand the target audience for this camera, by 2020, a phone that costs three times cheaper will produce better photos, even with one camera. So I'm not justifying the manufacturer's savings here. Maybe not the camera sensor itself is to blame, but the software that processes the photos? All you have to do is wait for the system update.
Fourth, the battery. 4000 mAh is not low, the processor is not "cranky", the screen is small, so why not enough battery for one active weekend? Maybe an inadequate software optimization error. Again, we were expecting even better results after the promised update.
Fourth, it is the thermal imager from FLIR, which the manufacturer places great emphasis on as a selling point. FLIR manufactures professional thermal monitoring equipment, and I would find it hard to believe that this feature can replace specialized, certified equipment. Rather, it already has a better camera and better body protection from scratches.
And the fifth – price. A good phone should be priced accordingly. Paying more than 600 euros for the phone, I hope it will do everything well, not the best, but good – it will take great photos and videos, will not only have a large rechargeable battery but also be durable and fast, it will be equipped with the relevant processor and maybe even stereo speakers.
And for protection against shock and water, here's something to think about: You chose last year's flagship product with a great camera and IP68 resistance, you bought a quality shockproof case, you sealed protective glass for a few euros, and and there it is – complete set. Do not give up.
Don't get me wrong, I love this phone, it's assembled perfectly, I'm not afraid the device will go out of control, it doesn't slip at all. I like the compact dimensions, which are already rare. I like the good volume and power buttons. It works pretty fast (thanks to "naked" Android). But the product appears to be unfinished, and the lousy camera, quiet speakers and mediocre battery make it questionable whether the asking price is reasonable.
It is strictly forbidden to use information published by DELFI on other sites, in the media or elsewhere, or to distribute our material in any form without consent, and if consent has been obtained, it is necessary to cite DELFI as the source.