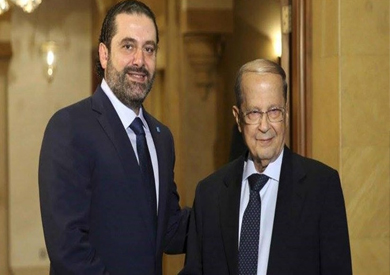 Beirut – a


Posted in:
Thursday November 22 2018 – 16:20
| Last Updated:
Thursday November 22 2018 – 16:20

Lebanese President Michel Aoun, Prime Minister-appointed Saad Hariri and Speaker Nabih Berri held closed talks at Baabda Palace this morning, less than 15 minutes before the start of the reception for the 75-year-old Lebanese delegation.
On the occasion of singer Fayrouz's songs in the Baabda Palace corridor, three Lebanese presidents, Aoun, Hariri and Berri marched to congratulate former president Amin Gemayel and General Michel Sleiman, former prime minister Fouad Siniora, Najib Miqati and Tamam Salam, interim minister of government at present, the current and former House of Representatives, the leadership of the Lebanese state in all institutions, the heads of diplomatic missions accredited for Lebanon, the leadership of the Lebanese army, the mission of UNIFIL, the heads of Lebanese, Yeh, spiritual security agencies and managers of foreign organizations operating in Lebanon.
It seems that Saad al-Hariri shook hands with six Sunni lawmakers, whose party insisted on appointing one of them as a rival quota for Hariri's Future Movement ministers, creating a major crisis over the past three weeks and disrupting the formation of the government that the prime minister – In the last week of last month .
On the other hand, most ministers and officials in the Lebanese state avoid talking about the crisis disrupting the formation of the government, saying only that the opportunity today as a independence day should not involve controversial or controversial issues as a holiday for all Lebanese.
Deputy Prime Minister Ghassan Hasbani and Deputy Chairperson of the House of Representatives Elie Farzli told reporters that the situation in Lebanon requires understanding and cooperation between all parties and facilitation, and that sacrifice is a way to achieve Lebanon's stability, which is above all considerations.