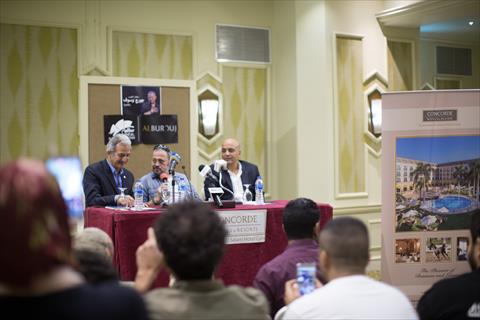 [ad_1]

Mohammed Abbas


Posted in:
Thursday, November 8, 2018 – 20:48
| Last Updated:
Thursday, November 8, 2018 – 20:48

Mohammed Abdul Moneim Al-Sawy Culturewheel held a press conference for Sultan Al-Tarab George Wassouf, as part of the preparation for his concert at the Al-Borouj Theater in Sakia.
The conference began on the third this afternoon, at the hotel chosen by «George» for its founding, before Engineer Mohamed Abdel Moneim El Sawy.
He thanked «George» at the beginning of the interview, the organizer for allowing him to be the center of the audience in Egypt, and expressed his joy to revive the ceremony at the opening of the Albrouj theater.
He continued: "Egypt is in my heart … If Egypt is stable, get everything done."
He continued: "I like to sing Egyptian dialects like in most of the songs that I present, such as Mother World and Mother of Art", hoping Egypt will have more prosperity and successful projects.
George revealed that he would finish shooting a new video which would be released a week later, and that he would prepare six songs that would be released soon, but he had not yet decided on the album.
As for new singers, George commented, "Many of them are good, but they have to work harder. The most important thing in art is" sweet words and beautiful melodies. "
"I don't sing anything," he said. "Words have beautiful meanings and melodies, because art is not a game."
George stressed that the music industry was over, and that music was now being carried out, because of the influx of trade and social networking sites in all respects.
"I didn't share it," he said.
Asked if he would collaborate with Egyptian artists in his songs, he said: "I am honored to deal with Egyptian artists and with them the second line."
He said he wrote his autobiography, but he had not yet decided to ask it, refusing to comment on his political views. "I am an artist, respect my Republican Party, and keep my opinion for myself," he said.
[ad_2]

Source link