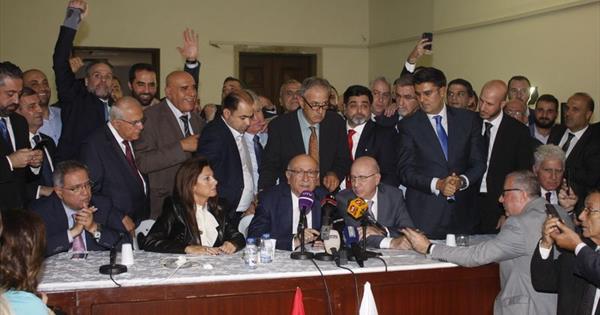 Special – «General»:
The Beirut Bar Association Council will receive a membership of four people who have completed their term of office, the first union in 2019. Next year will witness the election of a new president. Lawyers who join the union calendar will pay their annual contributions to say the words in the candidates. It was nine o'clock in the morning and did not close until one in the afternoon.
The Justice Palace page filled the missing courtroom with the lawyers who wanted to vote. Voting on the general objection budget by the lawyer's segment, after raising hands with some agreements, and after a four-hour vote, the boxes are closed and start counting results after the candidates have been active for one year, including more time, in arranging meetings and the mobilization of views and convincing parties through programs that have become routine and not yielding results under stable councils at certain organizational speeds of political efforts by party cadres through their candidates to shake slogans that are difficult to achieve because of the fundamentals trade unions are based on the laws of science and law.
The parties united in the results that came to the union council candidate candidates. Commissioner Elias Basherli won 1,482 votes, Elias Al-Hashash with 1,474 votes, Fadi Fawzi Al-Haddad with 1405 votes, and Emad Yousuf Merninos with 1,305 votes. His lawyer, Mohammed Jamil Mahmoud Qambris, was replaced by 1,267 votes, the Union Fund after the resignation of a member of the lawyer disclosing Wajih Mosaad in the application of the charter held between lawyers and the distribution of doctrines at the union council.
14 lawyers were selected after withdrawal number 15. Five lawyers for the union pension fund management committee were attorneys Sa ʻAlamah, 1689 votes, Youssef Khatib 1181 votes, Raymond Dhoury 1122 votes, Maurice Diab 1054 votes and Suad Shoaib won 1018 votes Giving votes , and nominated for 13th Pension Fund lawyer membership.
Fadi Fawzi Haddad, party supporter, Elie Bazarli, Lebanese Forces, Elie El-Hashash, independents, all party and union factions, lawyer Emad Martinez, and reserve member Mohamed Jamil Mahmoud Qambres from the Future Movement.
The candidates are: Ad al-Din Wassim al-Khatib (1140 votes), As & # 39; Sa Sa 'Saeed id (1073 votes), Arlette Assaf Bajani (741 votes), Gilbert Najib (709 votes ), Gilbiz Antoine Abi Aboud 217 votes (independent), Hussein Ismail Jaber 195 votes, Rashid Fouad Qabbani 162 votes, and chose 85 lawyers with white paper.
Source link