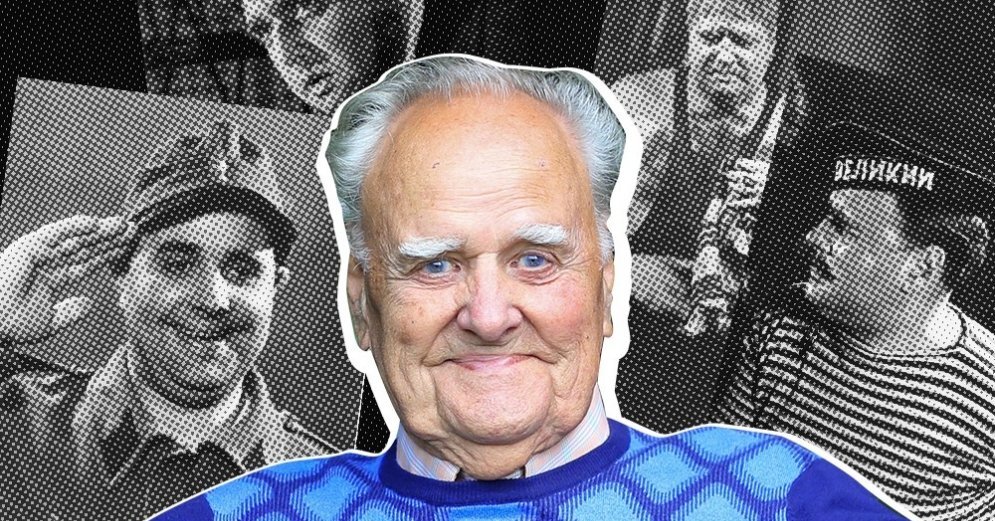 Gunnar Placen, the oldest actor in Daile theater, who won the hearts of the audience with a comic and sincere depiction of drama characters, the role of playwright for his lifelong contribution to theater art, gave each part a role for him – Latvian accuracy, tireless love of the people interesting human and innocence and they will eat it, because it includes more than what is said with words and visible to the eye.
Gunars Placens was born on August 31, 1927, at the Kristīne Baltrūtina guesthouse and Karlis Placēns, a family of Zemturu households in the villages of Sausnees, Madona district. "We – three children – for the older generation every two years. The first light of the day was seen by dsvalds, against whom unfortunately fate was cruel – he disappeared during the war when he was evacuated from Russia to the Rezekne School," the actor was found in Gunnar theater scientist Treiman.
"Parents, as rural people, are not afraid to work, and starting today, they also created me. I want it or not, I don't like it or not, but every job must be done accurately and accurately. I don't like to step on step on the wall, but every wall in the chair I rushed to make ivory at the top. I want everything to be clean and neat! "Parents have brought up this kind of pedantism."
The actor studied at the Dryland Secondary School, spent two years at the Vestiena School of Agriculture and Livestock, then studied at Vecbebru Beekeeping and Horticulture Technique. "After school, a lot of things can happen to me – milk monitors, educators, agronomists, kolkhoz leaders in the end!" Placens revealed.
True, with theater, the actor started "getting friends" already in elementary school when he was in a theater group, while Latvian language teachers encouraged him to read in front of other stories. He also played theater at Vecbebru beekeeper and horticulture technician, therefore in 1947 he entered the Latvian Theater and Middle School Choreography, during which time he became the LPSR State Theater Institute. He completed it in 1951 and immediately began working at Daile Theater, while Placens debuted in 1958 in the film "The Story of the Latvian Riflemen". In general, until now, actor accounts have around 150 dramas in theaters and 30 cinemas.
Gunars Placens, as a warm and colorful joker in the heart of Latvian theater audiences, also admitted that without jokes and laughter, he could not live: "If I didn't hear a little joke for a few days or I became nervous about something not funny."
The Gunnar Treiman Placen work, "From Switzerland to His Majesty Caesar Francis Jozef I," calls the actor a comedian who does not use his paintings. "He lets you laugh at his hero, but never – laughs. He hides behind a monotone of the complex nature of the image. He can touch, and the audience laughs at these small and naive people, but they love them. a different trap – and in the end, with a long nose, there are others. "
In turn, director and actor Karlis Aushkāps Gunārs Placēns has been likened to world-renowned comedians Luis de Fines, Charlie Chaplin, Rovanam Atkinson, and Luy Schmid, Rein Birzgal and Augustam Mitrēvics, who "laughed at us out of trouble".
His first role was in 1951 – in the production of "Three Sisters" by Fedotyk Daile Theater (directed by Felicita Ertnere), and finally by Reinis Ēriks Hānbergs "In the Moments of Comfortable Living".
The most important role of Gunnar Placen in the theater is Dr. Watson Arthur Conan Doile at Sherlock Holmes, Sacho Pansa Miguel de Cervantes in Don Quixote, father of the Latvian theater Adolf Alunan on the "Up!" Program, And, of course, legendary Switzerland, Jaroslav Hašek, "The Little Soldier" Happy in production Smilgis Eduards.
The cinema series is also quite extensive and expressive – Gunnar Placen is featured in Latvian cinema works such as "Gifts for lonely women", "Death Shadow", "Surveyors" Times "," Captain Zero "," Vetra "," Small Robbers " c. The actor has also participated in funny television broadcasts – such as isanis Vieplis in the "Hugo Diegs Drive to Pampals" program, "TV Bath", and also played the children's program Lācīti, Mēnestiņu, Ruki Čammu u. c.
"Masterpiece was his insurance agent in the film" Gifts for Lonely Women, "where he himself was an insurance agent, but no one wanted to insure his life, so he remained in a situation where he moved across the Volga, but left him alive. everyone immediately wants to ensure life, "said Janis Silins, Museum director of the Eduards Smiļģis Theater.
However, Gunnar Placen's greatest performance in theater was the recognition of Switzerland's role in production in 1961 by Czech literary critic Jaroslaw Hašek from the famous novel "The Great Soldier of Switzerland" towards Smilgis Eduards, which became more than popular in the country – it was played until the year 1976, in general, for viewers giving 161 shows. True, the unfortunate tragedy of the legendary "Switzerland" – before the theater transfer Dailes to the new building on Brivibas Street in 1977, the scene of the drama ruined the fire, so the show was not restored.
When asked about the role of Switzerland, Gunnar Placen remembered that it was complicated, because Smiļģis was only assigned the role of actors who had proven themselves. In the beginning, Switzerland was entrusted to Eduard Pavel, but, after playing unacceptable performance, the Pope rejected that role. "The first attempt was tragic, we all went into the room, I have a terrible father so I can't talk, it's new and crazy." Smiļģis then called me to his office and read morale. Since then, I have never used a palace at work. , "he was blind to Gunnar Treiman.
Jānis Siliņš describes Placēne as someone who is able to work with everyone, so he does not have a definite role for the director, whose talent is most visible. He had never been "hampered" the show or lost his job with a lot of responsibility and responsibility, but even though he claimed that a sign of equality could be drawn between theater and home, he never let him take over all of his essence. "He is a phenomenal actor, who, in my opinion, is in some ways similar to Evald Valter, who does not tolerate different picture psychology in his life, therefore, he is protected from psychological trauma, which is a very good characteristic. psychological peculiarities, "said Silins.
Pēteris Liepiņš's colleagues described Placen as an enthusiastic actor: "He will immerse him, he will take the rope from him, give the Gunnar seeds, he will grow from a well-maintained and strong baobab, and will enjoy it for everyone." Right, at the same time, he is "sensitive like fresh leaves." "This person's insults are very deep and profound. He dodges because he is careful with other people."
Also, actress Venta Vecumniece, in a conversation with Gunnar Treimani, highlighted Placin's good character: "Gunnar is related to nature, Biteans cannot be a bad person at all, he is the best player among the best actors and actors among beacons." This characterizes Gunnar like. He doesn't even think that jokes say what's important. "
With nature – like the theater – Gunars Placens is forever connected throughout his life. To escape the daily stress, he wanted to visit his two-year-old brother, Gaidu, who lived in the rural municipality of Ergli, a farmhouse in the middle of the forest. Sister admitted that Gunnar was a real Latvian: "He was crazy in all his work, thinking ten times – doing that or that?"
"Gunar, with all four on the ground. Maybe sometimes, two of them are immersed in beehives or garden holes, and the common sense of the Eagle will never release hundreds of hundreds of thieves, so there will still be dust in the air like Don Quixote or Lieutenant Lukash ! " directed by Juris Strenga by Placen.
Gunārs Placēns was awarded an honorary title from Latvia's National Scout Artist in 1987, honorary title from Latvian Merit Performing Arts Artist in 1971, received the Order of the Three Stars in 2011, was accepted at the Theater Gold Fund in 2012, and was awarded the Barricade Medal and a number of Posts honor by the Republic of Latvia.
Source link