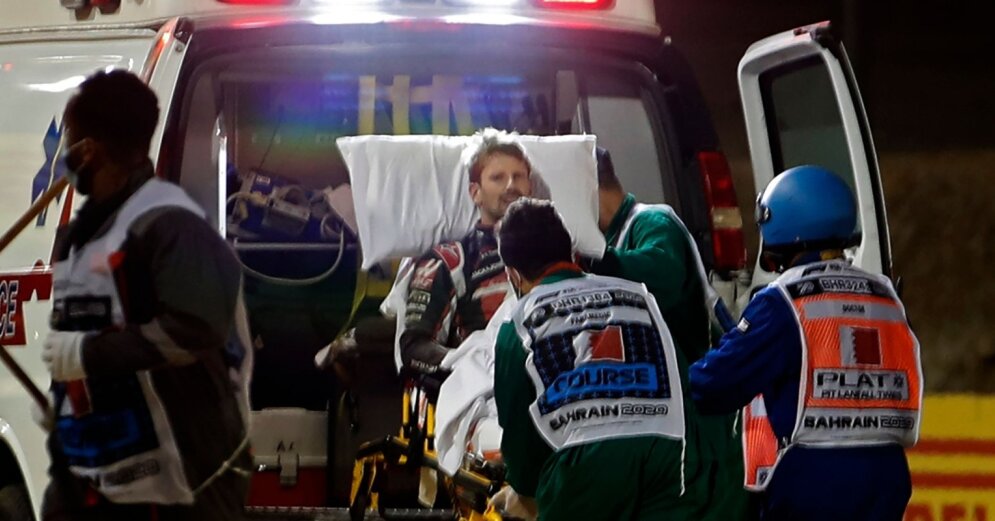 French driver Roman Grozan of the F-1 team "Haas" gave his first interview after a serious accident at the Bahrain track, admitting he had seen death approaching and that he felt as if he had experienced his second birth.
Content will continue after advertisement
Advertising
On Sunday, November 29, at the Bahrain track, 220 kilometers per hour hit the edge of the track at high speed. As a result of the severe impact, the car caught fire and broke into two parts. The rider himself is in good health with burns to his arms and back. He is due to be discharged from hospital on Tuesday, but for safety reasons, the driver will remain under medical care for another day.
"I don't know if I can use the word miracle in this situation, but I would say this is not my time to die," Grožan said in an interview with French television channel TF1, but he was quoted as saying by motorsport.com.
After the crash, Grožāns was out of the formula in 28 seconds, but he admits that things just felt a little longer. "I saw my glasses turn orange, I saw flames on the left side of the car. I thought about a lot of things, including Nikia Lauda and the fact that it's impossible to get into a situation like this lately. I can't close the F-1 story. I like that. "
"I told myself I had to get out because of my kids. I put my hand on the fire, I felt the car's chassis burn. I got out, then I felt someone pull me out, then I knew I was out., "continued the French.
Grožan also revealed that his five-year-old son, Simon, believed that he had magical abilities, and that he protected his father with his magical love shield. "These are very strong words," said Grožāns. "My oldest son, Sasha, is seven years old, he is more rational, he is trying to understand," said Grožāns. "I'm more afraid of my family and friends. Of course, my children are my greatest source of pride and energy. I think of myself in the end."
Grožāns opened up – this experience had serious consequences for him, so he was already thinking of seeking help to organize his thoughts.
"I thought I had to work with my psychology because I really saw death approaching. Even in Hollywood, there was no way to make a shot like that. This was the biggest accident I have ever seen in my life. The car caught fire, exploded. The battery exploded. also burned. "
"I would say that I am happy to be alive. Now I see things differently. This is my second birth. Getting out of the flames will impress for the rest of my life. But I want to go back to the car to start in Abu Dhabi. I want to end the F story. -1 me differently, said Grožāns, whose contract with Haas will be signed after this season.