"Japanese professional baseball experience will be very helpful … I watched Jimenez's match"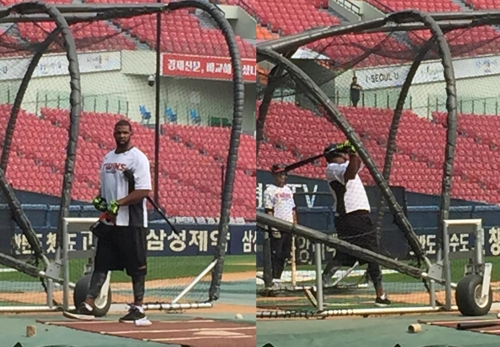 Peguero practices bats at Jamsil Stadium[촬영 최인영]
(Sports Network) – A new foreign player, Carlos Pegero, of the LG Twins, joined forces on the 14th.
Pegero, who is from the Dominican Republic, arrived at Jamsil Stadium in Seoul, wearing a uniform and hit training.
Before the training, Pegero met with LG coach Ryu Jung-il and said, "I'm happy." Ryu asked, "You have to do it well."
LG Tommy Joseph (28), who has struggled with injuries before entering the second half of the season, has signed a contract worth $ 180,000.
"I want you to get a home run."
Pegero, who is 196 centimeters tall, said, "My strength is strength," expressing the belief that I can fulfill my expectations.
"We have to focus on getting the right ball," he said. "We haven't set our personal goals to numbers, but if we try to win, it will be natural."
Baseball Pro LG recruits Pegero as a new foreign lefty playerSEOUL, December 10 (Yonhap News) – LG Twins has signed a contract with baseman and first player Carlos Pegero from the Dominican Republic for $ 180,000, including an annual salary of $ 150,000 and a $ 30,000 incentive.
At 196 centimeters tall, Pegero has made his debut at the Seattle Mariners of the US baseball league in 2011 with an average left foot strike, hitting .194, 13 homers and 37 RBIs in five seasons. October 10, 2019 [LG 트윈스 제공] photo@yna.co.kr
Pegero made his debut in the big leagues at the Seattle Mariners in the US in 2011. He scored 0.194, 13 homers and 37 RBI in five major league seasons.
In three years since 2016, he has fought 0.256 with 53 home runs and 145 RBI in the Japanese Golden Eagles.
He said he would adapt to Korean baseball based on his experience in Japanese professional baseball. "I think we can know the difference between Japanese baseball and Korean baseball by playing and adapting, but I don't think there is a big difference."
"I heard that Korea is aiming for traditional baseball."
Pegero said he had seen LG through Dominican Republic boss Luis Jimenez from 2015 to 2017.
"I've been in contact with Jimenez for a while," Pegero said, "but I've seen Jimenez play for a while."
Pegero, who mostly plays as an outside player, is expected to play at first base at LG.
"I don't really care about having a first baseman," Pegero said.
"I want to maintain health so that I can play for a long time in Korea, it will be a good opportunity and a good experience, I want to play every day and help the team win," Pegero said.
Ryu plans to add Pegero to the first team entry on the 16th next Tuesday, and will try to run three matches on the 18th in the first half of the season.
abbie@yna.co.kr
<저작권자(c) 연합뉴스, 무단 전재-재배포 금지>
07/19/2014 16:45
Source link