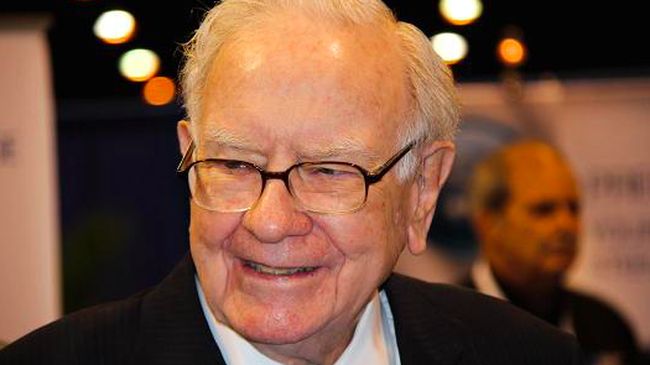 Jakarta, CNBC Indonesia – Conglomerate company owned by renowned investor Warren Buffet, Berkshire Hathaway Inc. Until the end of June 2019, it had disbursed its investment and managed to raise total cash of up to US $ 122 billion or equivalent to Rp 1,732.4 trillion (assuming an exchange rate of Rp. 14,200 / US $).
To note, the cash position of Berkshire Hathaway, which is listed on the New York Stock Exchange (NSYE) with the BRK code, in semester I-2019 is equivalent to 60% of the company's total portfolio with a value of US $ 208 billion.
Bloomberg noted that in the past 32 years, the amount of cash that had dominated the company's portfolio was only recorded in the years leading up to the 2008 financial crisis, quoted from Market Insiders.

The high liquidity of BRK is now a warning for market players because indirectly investing in the stock market is considered too expensive and can also be an indication of financial difficulties in the near future. In other words para fund manager seen starting to put on a cautious attitude in managing their funds.
But the cautious attitude of investment managers does not mean that there has been a recession in the land of Uncle Sam.
"This is an alert attitude fund manager alone, does not mean recession is coming in the near future, the word recession is rather far [bagi AS]. Especially for Indonesia, "said Senior Vice President PT Royal Investium Sekuritas, Jansen Nasrial, in the Power Lunch program, CNBC Indonesia, Monday (10/14/2019).
Furthermore, here are a series of shares released by Berkshire Hathaway in the last 2 years.
1. International Business Machines Corp (IBM)
IBM is a US-based technology company founded on June 16, 1911 with the main business activity of producing and selling computer hardware and software. At the close of trading yesterday, IBM was valued at US $ 143 / share or equivalent to Rp 2.03 million / unit.
In early 2018, BRK was known to have sold all of its shareholdings, where in 2017 it was known that BRK had around 2 million IBM shares. This portion is reduced from the initial position in 2011, where the company bought 64 million units of IBM shares at a price of US $ 170 / share with a total investment of US $ 10.7 billion.
2. Charter Communications Inc. (CHTR.O)
Charter Communication is a cable operator in the US and a communications service company broadband. The company was founded in 1993 and currently serves around 28 million customers (households) with 98,000 employees.
Until the end of June 2019, BRK was recorded to have released around 1.61 million units of CHTR.O. At present CHTR shares are valued at US $ 432.92 or equivalent to Rp 614.75 million / unit. Since the beginning of the year until Tuesday (10/15/2019) the company's stock price has gone up 51.92%.
3. Phillips 66 (PSX)
In the first quarter of this year, BRK sold 6.34 million units of ownership in Phillips 66 (PSX), which made the company's shareholding in PSX only around 1.24% or equivalent to 5.55 million shares. To note, Berkshire first bought PSX shares in 2014.
Phillips 66 is an energy company with more than 140 years of experience. The company's business activities are quite diversified which includes refining, midstream, chemicals and marketing.
4. Verizon Communication Inc. (VZ)
BRK also sold 928 shares or all of its shares in Verizon Communication Inc. (VZ) in the first quarter of 2019. At the close of trading on Tuesday, VZ shares were sold at US $ 60.55 / share with a market capitalization of US $ 250.42 billion.
VZ was founded in 2000 with the company's main business focus providing communication, information and entertainment products and services to consumers, businesses and government agencies.
5. Wells Fargo & Co. (WFC)
Wells Fargo & Co. (WFC) is the largest bank in the US which was founded in 1852. The business activities of the company are divided into three operating segments including community banking, wholesale banking, and wealth & investment management.
Until the end of March 2019, BRK has sold around 16.97 million units of WFC shares, making the current portion of ownership at 9.3%. Yesterday the WFC share price was at the level of US $ 50.11 / share.
CNBC INDONESIA RESEARCH TEAM
(dwa / bag)
Source link