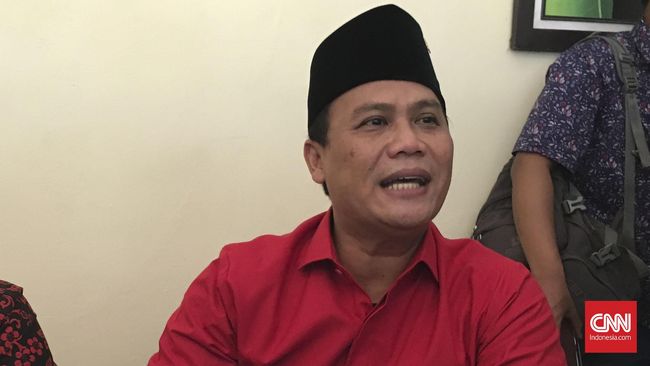 Jakarta, CNN Indonesia – National Campaign Team (TKN) Joko Widodo-Ma'ruf Amin submit a case investigation poster 'Raja Jokowi' in the Banyumas area, Central Java, to the Regional Campaign Team.
"So far we have submitted it to friends in Central Java for the investigation process to find more detailed information," said Jokowi-Ma'ruf TKN spokesman, Ahmad Basarah, at the National Museum, Jakarta, Saturday (11/17).
Basarah said that currently there are no plans to report the installation of the poster to the police. However, it is possible that the team will report to the police.
"Yes, if it turns out that there is a criminal element in it, we ask the law enforcement officers to act, because it is downgrading Pak Jokowi's position as a presidential candidate," he said.
Basarah also called the poster not from his side. This was confirmed after coordinating with the Central Java PDIP which had never decided to make a poster or campaign props (APK) with the content of Jokowi wearing traditional Javanese clothing.
"Because philosophically the Indonesian government system is a republic and Mr. Jokowi is well aware that he is being promoted as president rather than as a candidate for the king. So I make sure the poster is not from the internal TKN, TKD, or PDIP," he said.
Earlier, Central Java PDIP DPD Chair Bambang Wuryanto said based on information gathered by his party, there were around 10 Jokowi Raja posters in each village in Central Java. While the number of villages in Central Java is 8,559 villages.
"This is an analysis, subjective analysis is not a fact. It means that there are 85 thousand more posters installed. Once installed, the one who gets Rp. 5,000 per poster plus bamboo and rope Rp. 5, so the total is Rp. 10,000 per pair," Bambang said.
The opposition politician, Fadli Zon, then uploaded the issue of the king Jokowi's poster and linked it to the possibility of changing the system of government into a kingdom. "This is the danger of 'Petruk Becoming a King'," he said.
(swo / arh)