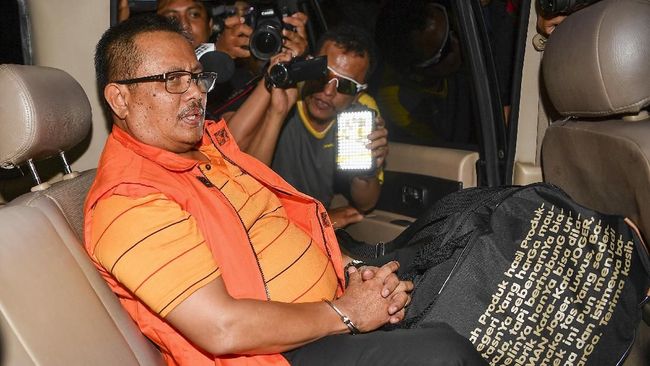 Jakarta, CNN Indonesia – Corruption Eradication Commission (KPK) hold back Regent of Indramayu, Supendi after the examination as a suspect, early Wednesday (10/16). Supendi was immediately taken to a prison car that had been waiting in the lobby after being questioned.
When asked by the media crew, Supendi conveyed his apologies to the Indramayu community for not being able to bring about change.
"I apologize to the people of Indramayu for this action and I have not been able to bring changes," Supendi said at the KPK Building, Jakarta, Wednesday (10/16) morning.
Supendi hopes that Indramayu will change after he is detained in a detention center. He hopes it will happen thanks to the leadership of others.
"God willing, with me in this KPK there will be many changes that occur in Indramayu," he said.
KPK Spokesman Febri Diansyah said Supendi was detained in the KPK branch detention house in C1. Supendi was arrested after the KPK officially named him a suspect in connection with alleged project arrangements within the Indramayu Regency Government.
"The KPK made a detention for the first 20 days of SP [Supendi] detained in the KPK Branch Prison in C1, "said Febri.
The KPK also arrested three other suspects for the same time. They are the Head of the Indramayu Regency PUPR Office, Omarsyah, the Head of the Indramayu Regency PUPR Office, Wempy Triyono, and the Company Chief CV Agung Resik Pratama, Carsa ES.
Omarsyah and Wempy were detained at the Central Jakarta Metro Police detention center. While Carsa was detained at the East Jakarta Metro Police detention house.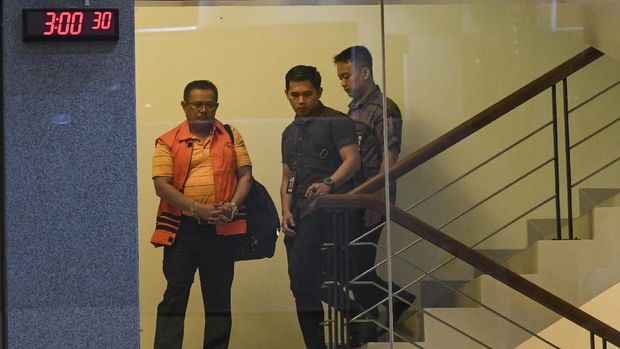 Regent Indramayu Supendi after the KPK examination.
(BETWEEN PHOTOS / Nova Wahyudi)
KPK deputy chairman Basaria Panjaitan said Supendi was suspected of receiving Rp. 200 million from partners as part of a promise of compensation for seven projects in the Indramayu Regency PUPR Service.
While Omarsyah allegedly helped receive Rp350 million in the period July-September 2019 and NEO bikes for Rp20 million. Then, Wempy allegedly received Rp560 million five times in August and October 2019.
"The gift was made by CAS [Carsa] on SP [Supendi]"The regent and PUPR officials are believed to be part of a commitment of 5-7 percent of the project value," Basaria said.
Basaria said the money was given to smooth CV Agung Resik Pratama, a company led by Carsa, obtained a project in the Indramayu Regency Government.
Carsa, he continued, got seven employment projects in the Indramayu Regency PUPR Service with a total project value of approximately Rp. 15 billion from pure APBD.
The seven projects in question are: Rancajawad Road Construction, Gadel Road Construction, Rancasari Road Construction, Pule Road Construction, Lemah Ayu Road Construction, Bondan-Kedungdongkal Road Construction, and Sukra Wetan-Cilandak Road Construction.
Supendi, Omarsyah, and Wempy are suspected of violating Article 12 letter a or b or Article 11 and Article 12 B of Law Number 31 of 1999 as amended by Law Number 20 of 2001 concerning Eradication of Corruption in conjunction with Article 55 paragraph (1) 1 st Criminal Code for allegedly accepting bribes.
While Carsa as the giver of bribery is suspected of violating Article 5 paragraph 1 letter a or b or Article 13 of Law Number 31 of 1999 as amended by Law Number 20 of 2001 concerning Eradication of Corruption.
[Gambas:Video CNN] (ryn / bmw)