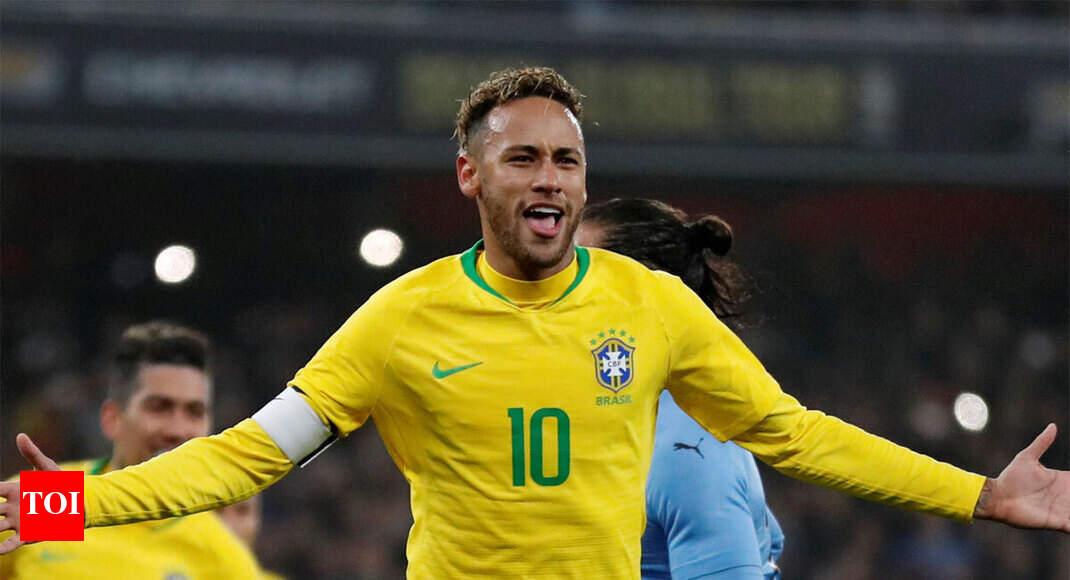 [ad_1]

LONDON: Neymar scored a contested second-half penalty to give Brazil a friendly 1-0 victory over Uruguay and bring joy to their fans on a dismal Friday at Emirates Stadium in London.
The forward was again a prominent Brazilian player and he coolly put aside his 60th international goal in the 76th minute after Diego Laxalt dropped Danilo, although Uruguay claimed there was a handball build-up.
Until then Brazil looked more vulnerable than two sides with Alisson making three good saves, including a great stop from Luis Suarez's free kick early in the second half.
This is Brazil's fifth successive victory since they were eliminated from this year's World Cup in the quarter-finals by Belgium.
"It's a difficult match. Uruguay is always strong and very competitive," said Brazilian midfielder Walace. "We are patient and when opportunities arise from the penalty spot we deserve a goal."
On a dark and drizzling night on the Arsenal pitch in London, the match matched the weather with some bright moments.
Many players who know each other well from the football club and their familiarity are clearly seen in their arms and smiles before, during and after the match.
There is no lack of commitment, however, because the tackle was flying in a clash featuring eight yellow cards, including one for Luis Suarez who thought Uruguay should have been given a handball against Danilo before he fell in the box.
Although the fans did not cheer too much, the two managers had reason to be happy with young players Bruno Mendez and Matias Suarez who started defense for the first time for Uruguay midfielder and Napoli Allan who made his second-half debut for Brazil.
The strength of South America continues their European date next Tuesday, when Brazil play Cameroon in Milton Keynes and Uruguay face world champions France in Paris.

[ad_2]

Source link