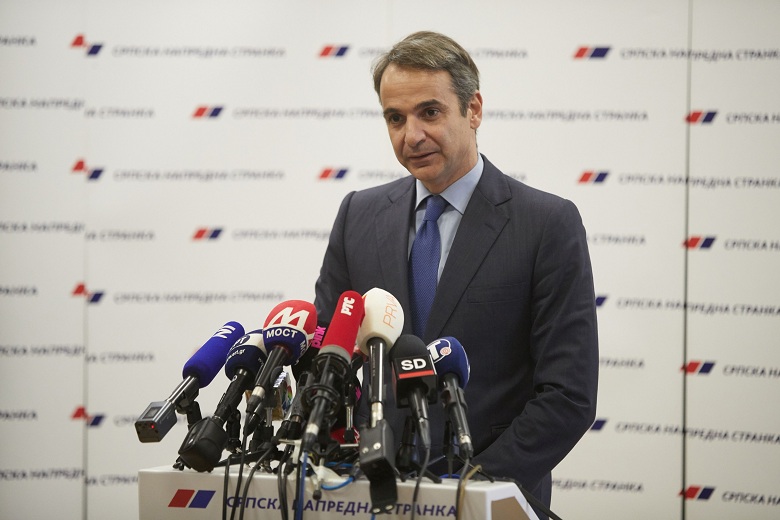 [ad_1]

ND President attacked the government, accusing him of pursuing a selective benefit policy for those considering his electoral client
Serbian public television (RTS) broadcast a wide-screen interview with New Democracy president Kyriakos Mitsotakis who visited Serbia tonight.
"Election battles will be difficult"
Mr. Mitsotakis expressed hope that the Greeks would trust ND in the next election, and he would do so when he visited Serbia as Prime Minister. "We will hold elections in 2019, we try to build broader agreements and persuade people who have never chosen before New Democracy to trust us to bring Greece back on the road to sustainable development, to strengthen institutions and to improve public administration But I am well aware that this battle will be difficult, and however pleasant it is for us to track the number of investigations, this battle will be difficult, but I have faith in the Greeks and I believe that when I visit Serbia, my visit will have different quality, "Mitsotakis said.
"Liberal reforms bear fruit for all citizens"
Commenting on the economic situation in Greece, the head of ND pointed out that the Tsipra government was a major disaster for the Greek economy. He noted that the government's performance was sad, and he was referring to the first period when – as he said – a wrong choice was made in the economy that Greeks now pay dearly. "Unfortunately, we currently have a government that does not understand the importance of private sector support and attract investment for growth. Instead of making the environment in Greece more attractive, by reducing taxes and making public administration more effective, the government is limited to selective benefit policies for those who consider their electoral client, "Mr. Mitsotakis pointed out.
The main opposition president praised Aleksandar Vukic's policies in the economy, emphasizing: "Liberal reforms pay for the benefit of all citizens, not just for a handful of people. This is the only way to create jobs, increase wages and ensure that, especially in the case of Greece, people young people will not leave the country to seek a better future abroad. "
"Prespa Agreement Issues"
In RTS reporters' questions about the Prespa agreement, Mr. Mitsotakis complained that the way Nomenclature was handled by Prime Minister Alexis Tsipras as a problem was the Agreement. "I refer specifically to the combination of names chosen by the recognition of" Macedonian "and" Macedonian "tribes. We consider this combination to be very problematic: it can restore nationalist tendencies, which should not be part of the Balkan stability effort. best to ensure that this agreement is not ratified. I want to be very clear with you, we will not support this agreement every time the government takes it to parliament to vote, "said Mr. Mitsotakis is firm.
"Albania must comply with European regulations"
Referring to Albania and in the latest developments, Mr Mitsotakis described the tragic events as Constantine Katsifa's death and said that ND from the beginning encouraged the government to ask Albanian for an explanation of what had happened. He criticized the Albanian leadership for the way he faced the incident, considering he tried to use tragic incidents to strengthen his image internally.
The ND leader warned Tirana that his non-constructive behavior was being assessed in the process of European integration. "Albania is trying to become a member of the European Union, but it must also be aware that its path to the European Union also depends on its respect for the Greek minority from Albania," Kyriakos Mitsotakis said.
For the Greek minority in Albania, Mitsotakis said he faced many problems that must be addressed in the spirit of good cooperation and asked Albania to fully comply with European regulations on minority rights.
"We Do Not Recognize Kosovo's Independence"
Regarding the Kosovo issue, Mitsotakis said that Greece's position on the country's independence remained firm and assured that this attitude would not change even when he became prime minister. At the same time encourage dialogue and call for avoidance of unilateral actions that cause climate and negative tensions.
RTS journalists remind Kyriakos Mitsotakis of the positive role played by Konstantinos Mitsotakis's father in the former Yugoslavia, who moved the leader of the New Democracy. "He is a very, very good friend from Serbia and a politician who plays a very constructive role in a very difficult time for the Balkans but also in a very difficult time for your country. I know that Serbia mentions it, and that gives me personal satisfaction If I choose a prime minister, I intend to further strengthen the relationship between Greece and Serbia, which I consider to be a strategic interest for Balkan stability, "the leader of the New Democracy noted.
In a reporter's statement that he was a descendant of another great politician, Eleftherios Venizelos, Mitsotakis stressed that "he is the most important politician in the 20th century. He is a visionary, he is a brave man who knows when to act." ND President said today that challenges for politicians have different characteristics.
He pointed out that he would try to contribute to strengthening Greek-Serbian friendship and cooperation. "I want to act as a catalyst to strengthen Serbia's political perspective and Serbia's ability to reach the European Union. […]Serbia can always rely on Greece and can always rely on me personally to help the country on a difficult path to the European Union, "Kyriakos Mitsotakis said in a Serbian public television interview.
[ad_2]

Source link