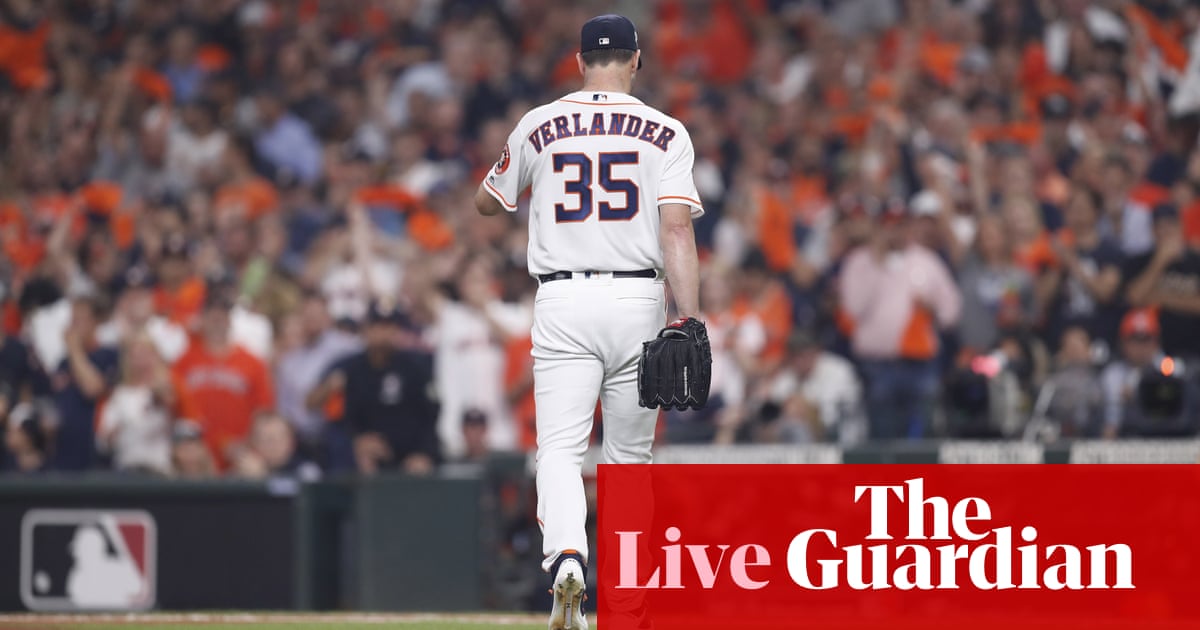 Opening Pitch
Nationals 0-0 Astros, top 1st
Justin Verlander is up facing Trea Turner. His first pitch is way upstairs for a ball and Game 6 has begun!
Possibly relevant: by all accounts Max Scherzer is ready to go for tomorrow's Game 7 if there happens to be a Game 7. The FOX analysts are desperately trying to will a Nationals victory tonight by hyping up Strasburg and talking up Scherzer's availability. Okay, except David Ortiz who would rather not cancel his plans.
While this goes against my earlier prediciton, I do want to re-use some of my earlier content here just because I think this would be hilarious:
National anthem
Clay Walker performed a tasteful, country rendition of "The Star Spangled Banner." I dug it, but I just watched the whole Ken Burns "Country Music" miniseries so I'm in the right state of mind for it. 8/10.
Email from Roger Kirkby:



I never get how they come up with viewing figures, having lived in America for over twenty years, my experience is the World Series is on every bar, restaurant, airport lounge, prison, bus station, old folks home and sports fans house. How they came up with a figure of only 12 million watching is beyond me. Now people can watch on mobile devices the figures are even more unbelievable P.S. I only know about prisons from watching movies.
And it's even more complicated in the streaming era, I imagine.
Email from Neil Zimmerman:



After listening to the latest Ringer MLB podcast I am well and truly rooting for the Nationals after hearing the full story in relation to the Brandon Taubman issue and the Astros "attempt" at a response.

Thanks for the coverage.
You are very much not alone in this sentiment. It should be noted that Astros owner Jim Cramer eventually apologizes for the organization's attempt to defame Sports Illustrated's Stephanie Apstein for breaking that particular story.
Washington Nationals starting lineup
It looks like catcher Kurt Suzuki isn't available to start, Gomes is in his place.
1. Trea Turner, SS
2. Adam Eaton, RF
3. Anthony Rendon, 3B
4. Juan Soto, LF
5. Howie Kendrick, DH
6. Asdrubal Cabrera, 2B
7. Ryan Zimmerman, 1B
8. Victor Robles, CF
9. Yan Gomes, C
Predictions
My pessimistic take? I think it's over. The Nationals had a golden opportunity to win this series and they blew it and now it's Houston's time to put them out of misery. The only hope left is that there's at least some drama here today before the postseason comes to a close.
I predict that Washington will find a way to score of Verlander and take a lead into the late innings before the bullpen, which manager Dave Martinez has been trying to avoid using (to a fault) finally blows things late. Look for this one to be decided on a Houston home run hit by an unexpected player on an 0-2 count with two out in the innings. Astros 6, Nationals 5. Final.
Agree, disagree, just want to vent or gloat about how the series has gone so far? Send us your thoughts via email (to hunter.felt.freelance@theguardian.com) or Twitter (to @HunterFelt).
Not great news for the MLB
So far, it's looking like this could be the least watched World Series of all time. It's not hard to imagine why: neither the Astros or the Nationals have national interest, the sport has taken a noticeable dip in popularity over the last few years and (perhaps most important) the games themselves have mostly been dreadful. With the exception of the Dramatics of Game 1, most of these games have been decided around 2/3 rds of the way in and have ended up being blowouts one way or another.
Perhaps the MLB needs some drama today and a potential Game 7. Maybe casual and potential fans don't care one way or another. Oh well, we'll always remember the "lock him up" chants at least.
Preamble
Let's not mince words. The Washington Nationals blew it and now they're a game away from being eliminated. The Nationals beat the Houston Astros on the road in the first two games of the series, scoring victories despite the fact the other team started Gerrit Cole and then Justin Verlander. They had their next three games at home at Nationals Park where all they had to do was take two out of the next three to win the 2019 World Series.
Instead the Washington offense faltered badly. The Nationals couldn't get their scoring going in what was supposed to be a Bullpen Game (which ended up becoming the Jose Urquidy Game). Then Max Scherzer was scratched from his Game 5 start, not that it mattered much since the Nationals hitters were absolutely stymied by Cole in what ended up being a 7-1 loss.
So, now the Nationals are a game away from elimination. The good news is that they have Stephen Strasburg, who has gone 4-0 with a 1.93 ERA in the postseason, on the mound for Game 6. Meanwhile, the Astros can't be 100% certain about what they will get from Verlander, who has been less than stellar ever since Houston tried pitching him on short rest earlier in the postseason.
There's no real need to manufacture drama here. This is an elimination game, which means the MLB season either ends right here and now or we get a dramatic Game 7. The stakes don't get any higher.
So, will the Astros close things out or will the World Series "home field disadvantage" trend continue? We'll find out in a few hours. This also means it could be your last chance to contribute to a World Series liveblog this year, so get in your thoughts, questions or jokes if you have them. You can either email them to hunter.felt.freelance@theguardian.com or tweet them to @HunterFelt.
It's Game 6 of the 2019 World Series featuring the Washington Nationals against the Houston Astros at Minute Maid Park. First pitch is scheduled at 8:08 pm EST but we'll be back well before then with all sorts of updates, predictions and random trivia.
Hunter will be here shortly. In the meantime, here is what happened when the President turned up to Sunday's Game 5: