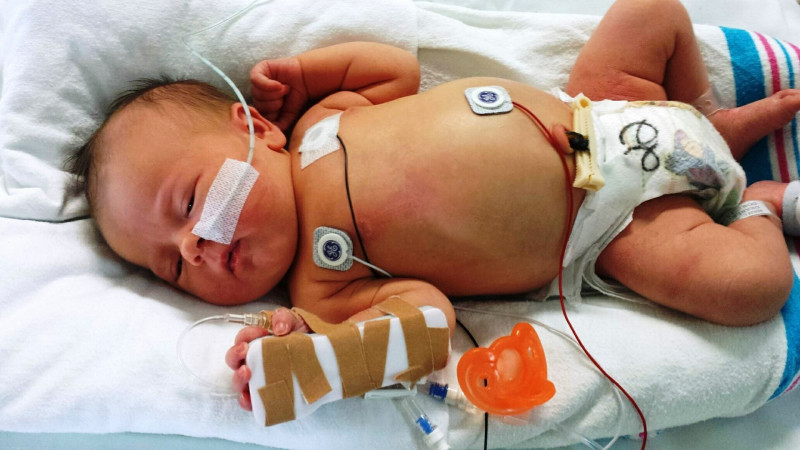 Recurrent vomiting, diarrhea, fever – this is a typical symptom of rotavirus infection that causes about one in ten children to end up in hospital – most often in infants, toddlers, and preschoolers. Viral infections can remove fluids for hours, thus weakening the infusion needed to give the body strength to fight the infection. Only the symptoms can be treated. So what?
The only protection against rotavirus is a preventive vaccine, which can be given to children between only six weeks and six months, with the first dose given to children from six to twelve weeks.
"We see rotavirus quite often in surgery. They are very contagious and can be dangerous for young children. Because it is a viral infection, we only treat symptoms such as fever or try to stop vomiting, diarrhea. Unfortunately, most children, especially young children, end up in hospitals because parents cannot get enough fluids to prevent dehydration, "MUDr said. Ilona Hülle, Chair of the Association of General Practitioners for Children and Youth.
There is no thorough vaccination
About 4,000 children under the age of five end up in hospital each year, with around 30,000 children undergoing outpatient treatment. Insurance companies don't pay for the rotavirus vaccine, which is given to children in the form of a sweet solution in their mouths, parents usually show interest when their first child has been infected and ends up in a hospital bed.
"Every parent wants to avoid this," Dr. Hülle. Experts estimate that if general vaccination starts as in other countries, half of them will be vaccinated for the second year and most children are at the highest risk age in five years.
It's up to the parents
The fact that rotavirus is the most common cause of dehydration and the reason why children end up in hospital is confirmed by MUDr infectologist. Peter Mikolášek from the Department of Infectious Diseases at the Children's Hospital in Brno. According to him, not too much predict the course of this infection in children.
"Some children can overcome it without much difficulty and this disease will strengthen their immune system, but some just destroy the disease in such a way that they need to spend several days with us on the ward to improve their internal environment and refill fluids. Of course, this experience is not pleasant for them or parents. We need to put it in a vein, which can be difficult for young children, and sometimes infusion cannula can be injected several times. At the same time we draw their blood for a basic examination. Parents usually want to be with children, but when they have other people at home or an incomplete family background, they struggle with where they should be, "said MUDr. Mikolášek.
The decision whether to protect children with vaccines rests primarily with parents and their assessment of the situation. For example, depending on their family background or where they live and how far they are to the nearest medical facility. "Vaccination is highly recommended for children who are weakened by other diseases, such as a variety of congenital diseases not only in the digestive tract, short bowel syndrome, food allergies, or premature children whose course can be much worse," added an infectologist.
The infection is very contagious
The Czech Vaccine Society recommends vaccination of all healthy babies in the Czech Republic and also recommends vaccination of premature babies. Rotavirus infection is highly contagious, transmitted through touch, orally, from feces, but is likely to be transmitted through the air and in most cases the whole family becomes ill. Most cases of rotavirus infection are reported by doctors in February-May.
"This infection usually lasts for two to seven days. If the course is more severe, it can dry the baby in a few hours and cause severe dehydration with interference with the internal environment. Parents need not hesitate to bring children, "MUDr. Mikolášek.
Infection spreads rapidly in children's wards, kindergartens and nurseries. "It's very possible that despite vaccination, the child becomes sick with rotavirus infection – but of course it is always milder, rarely with the need for hospitalization," MUDr added. Mikolášek. Doctors estimate that around 16% of children are vaccinated against rotavirus infection in the Czech Republic.
Hundreds of children are dying
In Europe, around 230 children under the age of five die every year from rotavirus, 87,000 are hospitalized and 700,000 of these children are treated every year. The World Health Organization has made rotavirus prevention one of its priorities in the Global Vaccination Action Plan in 2020. 14 European countries, such as Austria, the Netherlands, Germany and Italy, have introduced comprehensive vaccination.
The Czech Republic is not included in these countries. Therefore, in Belgium, after the introduction of comprehensive vaccinations, rotavirus complications decreased by 75%, as in Austria. In Finland, data show that free rotavirus vaccination resulted in a 93% reduction in the number of children who need hospital care.