<! –->
"The growth in real estate prices has now reached its ceiling because prices are rising faster than wages," said Petr Makovský of Reality.iDNES.cz.
Note that flat prices have long been reported by big cities. At Brno, however, speed has slowed significantly in recent months. "Everything shows that the moment when prices went up," said Executive Director Trikaya Alexei Vesely.
During the first half of this year, the price of one square meter in a new apartment in the second largest city in the Czech Republic has fallen to 75,000 crowns.
Even in other regions, real estate prices have reached the ceiling. "They are no longer in the Moravian-Silesia and Olomouc regions or in the Highlands. Significant stagnation or even decline has also been registered in the Zlín and Ústí regions," said Martin Fojtík, Operations Director of Fincentra Realita.
Price declines at Ústí nad Labem confirm data from the Trigema developer company. In its analysis, the average price per square meter of new flats in the ístí nad Labem region fell by almost six percent compared to the second quarter of this year.
This analysis also carries other signs to cool the real estate market – the average price also falls from year to year, in the South Bohemian and Liberec regions. A similar scenario, however, certainly does not expect the real estate market in Prague. Even here, on the basis of a comparison of year to year, it can be seen that the increase in apartment prices began to slow down in recent months.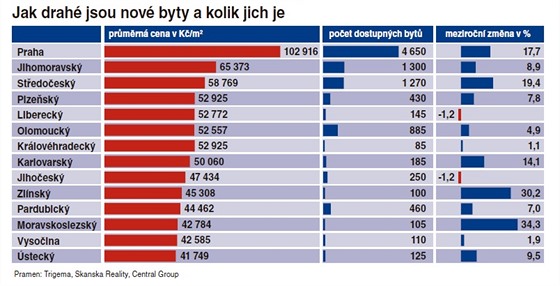 From July to September, it was 15.5 percent, with 24 percent in the previous quarter. This is the result of data from the developer of the Central Group, Skanska Reality and Trigema. The average price of one square meter in a new apartment in Prague thus exceeds 100 thousand crowns. But with the purchase of new apartments, there is no point in waiting, prices will likely continue to grow.
"Selling prices are in line with the current limited offer of new projects. In addition, the central bank has hit the market, setting new rules for mortgages. Estimates now reach a third of fewer applicants," said Central Group Executive Director Michaela Tomaskova.
New rules from the Czech National Bank have been on the market since mid-year. The most discounted flat appeared in June, the Valuo.cz platform, which collects and evaluates data from leading domestic real estate servers.
"This month, we see 5,057 reduction in claims by sellers, which is 12.7 percent of our advertisements advertised," said Radek Šiter, founder of this site. The average discount for apartments this month reached 184 thousand crowns. In June CNB announced that it would tighten the criteria for mortgage applicants, which could motivate owners to accelerate sales. In October, for example, there were only 2,195 discount flats on the market, less than half of them.
Buyers can no longer pay more
Tight mortgage rules have been in effect since October, and they feel more and more on the market. "There are some people who are interested in several properties. Where there are seven on average, there are now three, and sometimes we have to wait for buyers," said Pavel Hassman of 4You Re / Max Real Estate.
Bidli real estate real estate agents also see a decline in interest in mortgages. "I add that people who are interested in housing expect that CNB regulations should cause prices to fall," explained its director, Ondřej Mašín. However, according to him, the majority of localities have not declined.
"The steps of the Czech National Bank can be characterized as limiting artificial demand, which of course leads to a fall in real estate prices, but this has not happened," said Milan Roček, head of the portal CenováMapa.org, which has monitored real estate prices in the Czech Republic .
"Maybe the current economic situation. We are going through the richest period in the last three decades. There is no high unemployment in any area, and income is growing everywhere. In this situation, there is no pressure on the market, the desire or need to sell real estate at lower prices, "explained Roček.
However, it was recognized that prices in all regions began to stagnate. According to him, the fact that more and more residences are being sold is also underlined. "There is no inventory on demand. We find ourselves in situations where sellers do not want to cheat and buyers no longer want or cannot pay more," Roček said.
Downstream sales developers register. "The biggest decline we recorded during the last three months was where the market had grown unprecedented. This is the Jihomoravský, Středočeský and Olomoucký region. Sales of new flats dropped by about half," said Radek Polák, Trigema spokesman.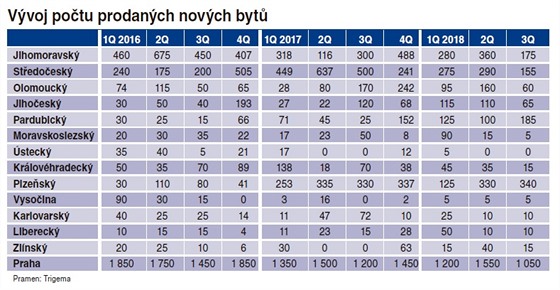 What is very significant is the reduction of sales in the metropolis of South Moravia. "Sales of new residences in Brno continue to decline. This year's data from January to September shows a year-on-year decline of 35 to 40 percent," said Alexej Veselý, Trikaya's executive director at Brno.
Prague is still ongoing
The mismatch between the buyer and the seller's idea of ​​real estate prices means that the apartment is traded less. "We are observing a slow and sustained decline in market activity this year. Freezing sales have occurred in the Czech Republic," Roček noted.
However, real estate professionals do not expect this situation to be reflected in the decline in prices in the near future. For something similar to happen, it will require a truly important event.
"For significant price corrections in the order of tens of percent, there must be something very big, like the economic crisis. Adjusting conditions by CNB will not have a strong impact," said Makovsky of Reality.iDNES.cz.
The fall in prices on the market is likely to appear first in more expensive real estate, such as large apartment apartments available 4 + 1 and larger. "We know from the past that it will first be bigger and more luxurious real estate. Owners have high expectations that no longer turn into a particular market," Hassman explained from Re / Max 4You.
Regarding the development of property prices next year, most experts expect general stagnation or a modest continuation of growth in the largest cities. "We hope that only in a few locations, such as in the center of Prague or Brno," said Masin from the fact Bidli. "I'm afraid Prague will be in the real estate bubble for a while," said Fojtik of Fincred Reality.
"Also Brno or Pilsen is known for the effect of its long inertia. If the economy continues to grow and these cities continue to grow, we expect a slight increase next year," added Martin Fojtík.
<! –->
Source link