Since 2007, the European Standard NSN EN 15221 has been applied, the first two parts have developed into 7 parts now. In the spring of this year, ISO 41001 "Facility Management" was officially issued, which culminated in the first stage of completing the ISO 41000 global standard.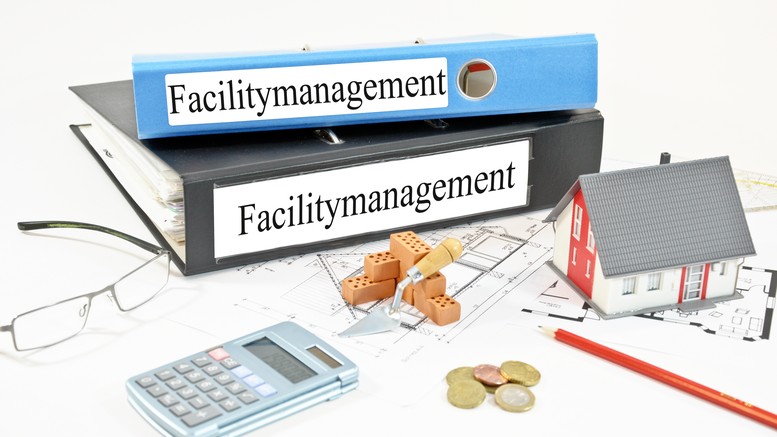 © Fotolia.com
Abstract
Since 2007, the European Standard CSN EN 15221 has been in force in the European Union, the first two parts have gradually developed into 7 current sections. The Slovak Republic and the Czech Republic are at the forefront of the practical use of this standard. In the spring of this year, ISO 41001 "Facility Management" was officially issued, completing the first phase of completing the global standard ISO 41000. It has completed the autumn section ISO 41011 – "Facility Management – Glossary" and ISO 41012 – "Facility Management – Guidelines for Agreements and Strategic Agreements ". These three parts will replace the first two parts of CSN EN 15221. These are not completely identical substitutions, but individual differences can be considered as "cosmetic" modification and addition of EU standards.
1. Introduction
ISO 9000 "Quality Management System" has long been applied. Many companies have long regarded this standard as a "whip" for documentation, management, approval, etc. However, most have already escaped the objectives of this standard to ensure the QUALITY of THE PRODUCT / SERVICE. According to this standard, companies are certified to verify their main production management system, namely how steps are taken towards the quality of output made by these companies as their added value. In manufacturing companies, it is far easier to evaluate products produced than companies whose output is service to clients. Here, ISO 9000 has struggled with several inconsistencies that have not been addressed.
2. Standardizing product quality is currently in accordance with ISO 9000
ISO 9000 company certification always mentions problems or improvements in supporting the main production process, but this support process has been largely suppressed in the background because there is no time or certification body concentrating on what directly affects the main process to value added (product / service) . Most facility managers or property managers are in secondary schools, and they are rarely asked for certification. Conclusion of certification therefore varies in the main process areas and the main financial flows (purchase / warehouse / production / income) and in the area of ​​support is largely reflected as "overhead", which is considered "necessary evil". The recommendations are often to "reduce overhead costs", but no one deals with how to achieve this. The management organization then issues an order to reduce the cost of support (asset management) and a good facility manager, to find out how you can.
3. New ISO 41000 to standardize support service management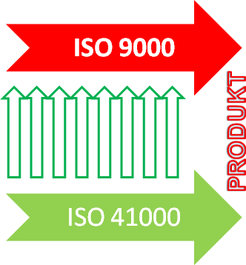 However, now, the new "ISO 41000 Management Facility" is present. Many have the impression that this ISO is intended for FM providers. This is a big mistake. FM providers must also be certified according to ISO 9000 because the provision of FM services is their core business. Their "production" product is CUSTOMER SERVICE, so the quality must be certified by ISO 9000. However, at the same time, their new internal management support, as in all other organizations, also applies to the new ISO 41000. This figure shows that ISO 41000 is a "partner" for ISO 9000 and both of these standards together form the future backbone of the management of any organization.
Similarly for ISO 9000, it is necessary to determine market demand for the product and to determine the quality of the product (if that does not happen, no added value will be added at the end of the chain), and ISO 41000 asks at the beginning what supports the main process requires. This support consists of a number of services that are larger or smaller, but they must be based on the reality of the main activity. If this fact is not precisely determined, the results of support services can significantly affect not only product quality / output but also work productivity.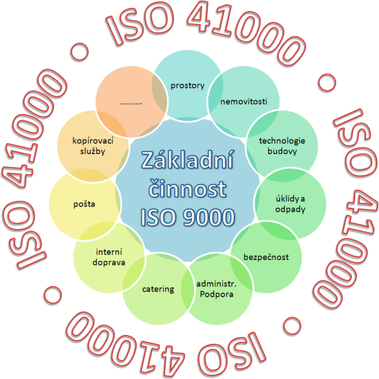 It is not unusual to refer to such advertisements as commercial media tabloids. I don't mind mentioning the latest series of reality TV Nova programs called Unseen Chief. In this program, the directors of the selected companies are controlled so that their employees are not familiar with them, and in this disguise they "propose" for several places, especially in work positions. This program is based on the fact that they detect the mistakes they make as company management and who remain in their position (of course, some disadvantages are also due to certain obligations that are not well met by their company employees). However, if you think about the output of this program, most of the shortcomings will not come from poor production, but from a poor work environment in the workplace and a lack of "small service" for employees. In the end, the manager's "satire" and necessary corrections occurred. However, this show shows how almost every company shows a significant gap in supporting workers and the work environment.
Of course, there is no ISO in the world that can solve "grandeur" in the organization. By combining ISO 9000 and ISO 41000 certification, however, the process can substantially "recover" in the company. The combination of these two standards can be imagined as interest in the center where ISO 9000 is located and the petals are a management system of various support services in accordance with ISO 41000. The second ISO certification must in the future lead to the elimination of ISO 9000 certification (concentrating on the company's main processes ) and certification of integrated support in accordance with ISO 41000 (increasing support for workplaces, workers and company organization background).
4. New improved quality certification for support services
The certification standard for ISO 41000 is still in design and individual parts of ISO 41000 are not yet in Slovakia or Czech. However, it can be said that when all this is done, many organizations will begin to take action against the combination of these two certifications. The question is how many companies will be able to obtain ISO 41000 certification. As a small test, try to find out in your company whether individual support services are managed uniformly, namely:
Are support services included under one director?
Do they conclude with the same contract (FM Framework Contract and SLA for Individual Services)?
Are their qualities tracked by a series of the same qualitative parameters (KPI / CPI)?
Are all properties, places and support processes registered in the appropriate SW system (CAFM)?
Can employees issue requests that are relevant in the demand system and can monitor their performance?
Does company management have time to test the quality of the work environment and employee satisfaction (this is not intended from the point of view of the union, but in terms of efficiency and productivity)?
5. Conclusion
Several companies in the Czech Republic have consolidated their FM processes (Siemens, Innogy, Philip Morris, most banks and telecommunications companies). These companies will qualify for ISO 41000 certification. It might not be a problem for them to complete the analysis of real needs specifications. Here are some companies. Instead, companies tend to copy past assignments rather than always exploring actual direct and future needs as required by ISO 41000. For companies that have left their field of support services unwittingly (somehow it works and works), for them certification ISO 41000 will require deep reflection and may be a substantial change. These companies may look like directors on the Nova reality show.
Review comments
Dock. Ing. Alena Tichá, Ph.D., Engineering University, Faculty of Civil Engineering
This article discusses current issues related to the issue of new international standards for facility management. It outlines the relationship between ISO 9000 for quality control of products or services and ISO 41000 standards for managing activities that promote the quality of products or services. This article is equipped with an illustrative diagram, in which the author expresses his views on the relationship between the two standards. The importance of the article is above all in the informative field, because it draws attention to new international standards when translations into Czech or Slovak are not finished. This is one of the first articles that deepened the deepening of certification at ISM by the company.
English Synopsis
Importance of ISO 41000 for further development of facility management
Since 2007, European Standards NSN EN 15221 has been implemented. The first two parts have developed into 7 parts now. In the spring of this year, ISO 41001 "Facility Management" was officially issued, culminating in the first phase of completing the ISO 41000 global standard.
You might also be interested
Where to go
Source link