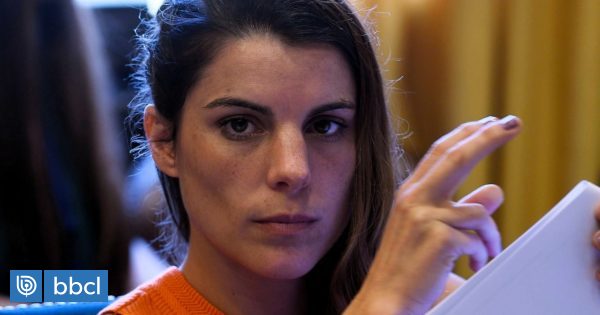 "When people are tortured and killed, as happened in Chile during the dictatorship, of course people have the right to defend themselves. You cannot be asked to let yourself be slaughtered. They cannot be asked to give up basic human rights. In the face of massacres, as we live under dictatorship, the the right not to be killed. And that is something that is not only raised by the left, but also Christian humanism, because it is minimum ethics and common sense ".
With these words, Deputy Maite Orsini (RD) responds to consultation BioBioChile after an article published this Thursday by La Tercera, entitled "Session in which Maite Orsini claimed violence as a mechanism of political action", which interpreted statements of parliamentarians at the Commission on Human Rights and Indigenous Peoples in the Chamber of Deputies of the House of Representatives. December 19th.
The foregoing, as a result of an explanation of his voice against indications delivered by RN representative Diego Schalper and Cristóbal Urruticoechea, within the framework of the project on incitement of violence, which was finally rejected by 7 votes against 6 and attempted to combine a new article in the Criminal Code which stipulates that "people or those who, by any means, promote, justify or advocate violence as a political act, will be punished with light prison sentences in the middle class and a fine of 40 to 60 monthly tax units".
Against this, Orsini was the only one of seven opposition deputies to debate his decision and pointed out in the session that the changes proposed by his RN colleagues "did not show context", although "there is a context in which violence as a means of political action is legal."
"When you are persecuted and when you are tortured and when you are killed by your way of thinking, I think it's justified to defend myself, as a legitimate defense, from criminal political actions. So, because there is no context in this indication, I think it is inadequate, that's why I chose to oppose, "he said in that line.
After the publication of the article, after 1:00, criticism began on social networks. While some criticized him for allowing him to be carried away by the editorial or for his protected meeting in France – along with representative Gabriel Boric, last September – with former verdict Ricardo Palma Salamanca, condemned as the author of the murder of the founder of UDI, Jaime Guzmán, others chose to defend him.
Among the voices emerged even columnist Teresa Marinovic, openly opposed to the position of the opposition, came out to emphasize that "Maite Orsini does not justify violence as a method of political action. He explained that, in a very specific context, violence might be needed in terms of self-defense. "
"I am not a fan of Orsini. In fact, that difference has allowed me to make a different trial for the murder of Jaime Guzman rather than the attack on Pinochet. And I do not claim the second, I just believe that the context forces us to make certain nuances," he added. "The interpretation made of what he said was openly dangerous," Marinovic said.
Maite Orsini does not justify violence as a method of political action. He explained that, in a very specific context, violence might be needed in terms of self-defense. https://t.co/yWrZjdf28s via @atercera

– Tere Marinovic Vial (@tere_marinovic) December 27, 2018
Other comments on the network point to the article editor, Ximena Soto, who in the past was responsible for the press team of the UDI representative caucus.
Fake news: From the race against Vallejo
What happens with Orsini is the second consecutive episode where misinformation or fantastic interpretations are disseminated in media and social networks.
This Wednesday took the fame of Gonzalo de La Carrera, who in his program on Radio Agricultura gave room for mistaken accusations against Camila Vallejo's representative (PC), where he pointedly wrongly supports pedophilia.
In particular, the discussion began after quoting a post on Twitter from a news source that was clearly wrong, which he called MPs to provide an explanation.
In particular, in the text this quote is quoted something that Vallejo never said, supporting the thesis in the use of T-shirts with pictures of Simone de Beauvoir, historical characters of feminism where other well-known sites publish false news – They show that they support pedophilia.
Then and because of the many comments and criticisms he received, questioning the truth of the publication, the radio conductor decided to delete the post. After that, De la Carrera dedicated a few minutes to apologize for what happened, stating that "if Camila Vallejo did not say that pedophilia is the right to recover, I apologize for retweeting something I might not know was wrong".