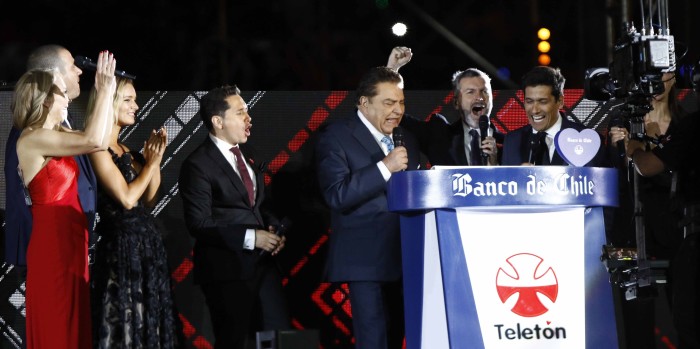 It was November 31 and December 1 that traditional Telethon was held, which this year experienced one of the most tense days. This is because just before midnight the goal of 32 billion pesos was exceeded.
Despite being a long time ago, on Thursday, the Telethon Foundation and Banco de Chile announced the total amount collected in this 27 hours of love in 2018.
This crusade of solidarity, which for 40 years has served children and youth with disabilities to achieve their integral rehabilitation and inclusion in society, exceeded the goal and the collection finally reached $ 37,954,551,757.
This figure includes collecting money in additional boxes and mailboxes that are not counted at the close of the television program, in addition to the formalization of contributions made.
According to figures shown, people's contributions represent 74.4% and company contributions, 25.6% of the total collected, which shows a permanent commitment. According to Mario Kreutzberger, leader of the solidarity campaign "We are grateful for 40 years of support for this solidarity campaign to make real the needs of people with disabilities, and invite us to continue working for the next 40 years."
While the executive director of Fundación Teletón, Ximena Casarejos, added "Chile continues to respond proudly and confidently to Telethon's call. This year everyone surpassed their own goals, which invited us to continue the challenge of maintaining quality service and first-rate rehabilitation".
Collection through the branch and auxiliary bank of the Chilean Bank, which was activated from Arica to Puerto Williams, reached 48.2% of the total collected, while contributions through remote channels – which included internet, mobile banking, POS, Cajas Chile and ATM – represented 17 , 9%. Whereas the auxiliary boxes and mailboxes add the remaining 7.9%.
Eduardo Ebensperger, general manager of Banco de Chile, expressed his satisfaction at having surpassed this year's goals, highlighting the values ​​that this great work instilled in Chile: "Respecting and welcoming diversity, giving without expecting to receive and placing our talents to serve others, makes us truly human. Thanks to Telethon, we see how these values ​​reappear, because often we let them be a little forgotten."
Ebensperger also thanked more than ten thousand Banco de Chile volunteers who "contributed their time and efforts to receive millions of people who, once again, showed their great generosity with this extraordinary solidarity crusade".