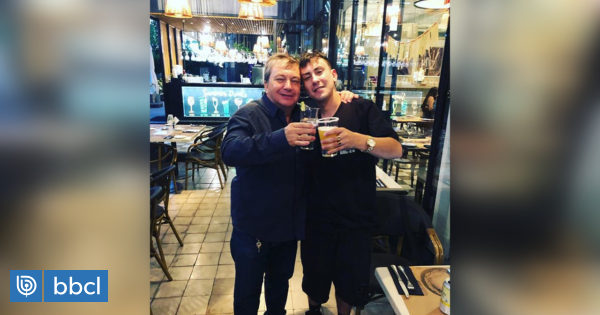 In the early hours of this Thursday, Manuel Jesús Gómez Díaz (58) with his son Manuel Gómez Roco (25) They destroyed one of Kasino de Talca's incomes when they broke their vehicle, after a dispute with one of the cashiers and guards at the place.
Outside the Court of Guarantee for the Maule capital, Gómez Díaz explained to the press that he was suffering from decompensation due to diabetes, which would have an impact on the car at the place, said morning La Red.
Yesterday both were arrested by the Carabineros and were charged with damage, threats, and driving while intoxicated. However, when they are formalized, they only have precautions and restrictions on approaching any casino in the country for three months of investigation.
At the trial, prosecutor Gabriela Vargas explained that the two were "regular customers of Casino Talca" and that they were also known as "Conflict when they are under the influence of alcohol".
"At the same time, M.G.R. threatened people who would go with a gun and I would do it make bad luck all of them A few minutes earlier, gunshots were heard outside the casino, regarding two suspicious people accompanying the defendant. The damage amounted to $ 5 million, "said the prosecutor.
Decompensation
When expanding his explanation, the Volvo driver stated that everything would come because he went to ask for two drinks, which were rejected by the clock. Then, when consulting about the citizenship of the Venezuelan cashier, he added that he was "I should respect Chile more, we open the door for them here". An offended woman will call the guard, who drops her to the floor and then takes her out with her son.
"I was operated on, I had 7 heart attacks, I lost control of the vehicle, I left, I was wrong. I experienced decompensation and even my son tried to change the change and that's why the vehicle went back and forth (…) I lost- … I had hypoglycemia, I have diabetes (…) I have 3 bypasses, I can't make strength ", convinced Manuel Gómez.
The defendant for driving while drunk added that "when the glass broke, they hit us. You me you see his face, I'm all purple. They issued a symbol po & # 39;. I broke all Volvo glasses. Volvo mine is your new (…) you think that I will hit my car that costs $ 25 million? What is of interest do the strip a showcase? "
Cocaine
Gómez Díaz too convinced the channel that Talca casino guards were selling cocaine. "For $ 10 thousand you buy a piece of paper, for $ 20 thousand you buy two pieces of paper and for $ 50 thousand buy more … The one who handles this situation is the guard", he explained.
"Each of us has taken the Absolute Raspberry, no more, a glass … You will see in the end what will happen. Follow the situation no longer. And I want you to be clear: in casino cocaine sold," he finished angrily.
This article describes the ongoing judicial process
It is possible that the charges will be terminated at the end of the investigation, for what reason The accused is not considered guilty until the Chief Justice orders the punishment of him.
(Article 04 of the Criminal Procedure Code)