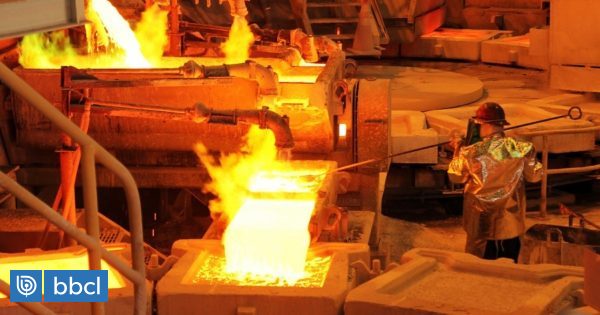 The trade war between China and the United States during 2018 resulted one of the assets most affected is copper, which recorded a significant decrease in value.
The metal hit a 2018 high in June, when the pound was quoted at $ 3 with 29 cents, far from $ 2 with 69 cents closed Monday on the London Metal Exchange. With this, there is a 17% decrease.
Nonetheless, the Chilean Copper Commission (Cochilco) assured it next year pound copper will exceed $ 3, because demand will grow and there will be a metal deficit. That could trade at 3 dollars with an average of 5 cents in 2019.
However, economists and academics from Central University, Manuel Rivera, questioned this projection and ensured that tariff confrontation between the United States and China would determine the variation in metal prices.
"I praise optimism, but copper prices depend on China's economic activity", he denied.
https://media.biobiochile.cl/wp-content/uploads/2018/12/rivera.mp3
Instead, the Minister of Mines, Baldo Prokurica, highlighted Cochilco's estimates and assured that the 3.2 billion dollar investment that Collahuasi Minera would make was one of the many ways in which industrial reactivation materialized.
https://media.biobiochile.cl/wp-content/uploads/2018/12/prokurica.mp3

This week, Doña Inés de Collahuasi Mine Company entered the Environmental Impact Assessment System as an initiative to ensure the continuity of operations for another 20 years.

With an investment of 3,200 million dollars in five years, the Infrastructure Development and Productive Capacity Enhancement project aims to increase concentrator plants from 170 to 210 thousand tons of daily ore processing.