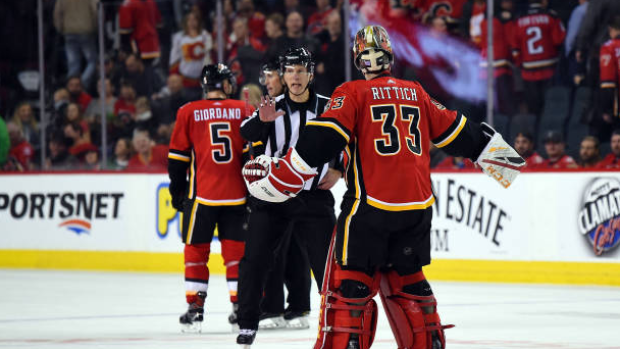 Goalsender Calgary Flames David Rittich believe he might have to stay on the ice to attract call interference after he was cut Jamie Benn before Star Dallas scored their winning overtime goal on Wednesday night.
Benn cuts behind Rittich to chase the pieces in the extra frame and make contact with the goaltender's right leg, move it out of the fold. Benn then concentrates the pieces for Tyler Seguin, which defeated Rittich's glove side.
The drama was reviewed, but Rittich's specified replay was given enough time to recover for Seguin's shot. Rittich flicked his wand at the pole when the decision was announced.
"He hit me so I managed a little, but I wasn't 100 percent ready for anything," Rittich told reporters after losing 4-3. "Everyone saw it – I had little time, but it didn't fully recover from the shot.
"Maybe next time I'll lie down for half an hour."
Rittich, whose record dropped to 8-2-1 with an overtime defeat, halted 24 of 28 shots. The Star Outshot Flames 33-28.
"Whenever you go to reviews, it's a little scary, right? You don't know how that will change, "said Flames head coach Bill Peters. "It can work in any way, and you might agree with that, maybe.
"They say there is enough time between contact and the ability to make a save and reset on the shot … That's what you can discuss all night."
Flames, now 14-9-2, still sits above the Pacific Division with 30 points through 25 matches this season.
"It's always difficult when you lose," Rittich said. "We did some good things, but that wasn't enough."