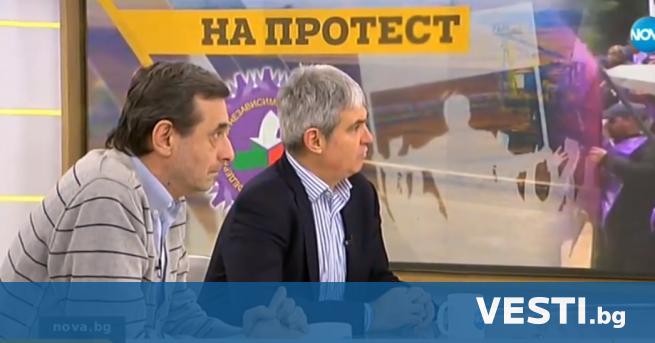 "If the complex is closed, we will be left without electricity. If we happen to have it, it will be very expensive. There is no alternative and no one will offer us electricity at a lower price than we produce," said Podkrepa, president of CTK Dimitar Manolov, to Nova, "Hello, Bulgaria".
Miners and energetics protested in Sofia. This rally was organized by the Podkrepa Labor Union. The miners in East Maritsa and TPP Maritsa Timur 2 yesterday gathered at Radnevo with the urge to clarify how the energy complex will continue to work.
"Energy has formed on the subject coalition of affected countries and we insist Bulgaria is part of it. Among the countries concerned are Germany and Poland, "he added.
"Miners and energetics clearly say what they are fighting for. They want a future for Bulgaria's energy heart. There is about 45% of the electricity produced," said CITUB president Plamen Dimitrov, adding that there was a meeting with Prime Minister Boyko Borisov and President Rumen Radev.
"This mantra that dirty TPP is a lie. We drink coal and wood in households. The European Commission has criminal procedures against Bulgaria because of fine dust particles, which are above the norm. If there are negative decisions with coal-fired power plants, disposal this will be even greater. That is, environmental arguments are not successful, "said Dimitrov.
He argued that if there were no sustainable solutions for coal-fired power plants, Bulgaria would not bear other electricity supply scenarios. The President of the Confederation of Independent Trade Unions (CITUB) added that if there were no decisions until February, the next protest would be in Brussels.
The mission will begin at 13 hours and will pass through the streets of Sofia by stopping at the main ministry that can solve the problem. On Friday, KT Podkrepa and CITUB representatives' meetings are expected with the president and prime minister.
Nearly 50% of Bulgarian electricity is produced by coal-fired power plants and all regions are supported by this sector. TPP must meet higher environmental requirements and risk placing coal in history.
"It is very outrageous and unacceptable for the country to disarm two of its biggest energy companies, generating more than 45% of the country's electricity," CITUB said.
The statement sent to responsible institutions said that the state of the main state electricity companies in our country was getting worse, which again caused anxiety. "Recent efforts to save Maritza East from deep financial deficits are not credible – on the one hand, a proposed solution that will only lead to the transfer of problems to stable companies and on the other hand is discussed too far in time," the statement that.
Trade unions are very urgent for an adequate position country to ensure the development of a complex future for depletion of coal reserves. There is a need for a new energy strategy with horizons from 2030-2050, as well as for the country to make a lasting commitment to regulate a mechanism to compensate for the carbon emission losses of East Maritsa 2 TPP.
It also became clear that Maritsa East 2 TPP had a BGN obligation of 1.199 billion.
Follow us anywhere and anytime with the Vesti.bg mobile application. You can download it from Google Play and AppStore.
For the latest news from Vesti.bg, follow our page at Instagram