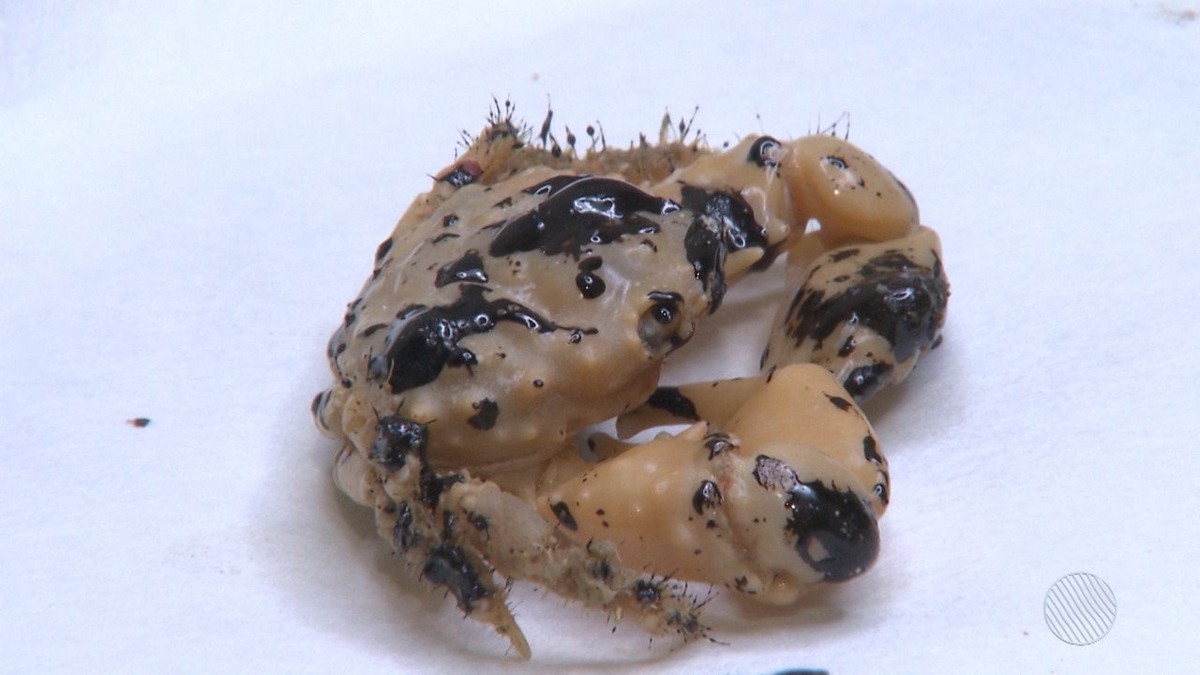 Researchers from the Federal University of Bahia (Ufba) found the presence of oil that reached the northeast of the country in the digestive and respiratory tract of fish and shellfish collected at affected locations in Praia do Forte, Itacimirim and Guarajuba.
Oil Spots in the Northeast: What is Known About the Problem
The survey data was released Thursday (24) by professor and researcher Francisco Kelmo, director of the Institute of Biology (Ibio) of the educational institution, who led the study.
Gosh G1The professor said that 38 animals, including mollusks and crustaceans, were collected last weekend for research and that they all had oils in their bodies. 12 other animals captured in the same area are still being analyzed.
Researchers say it is still not possible to say whether the load is contaminated because it depends on chemical analysis, but they advise people not to feed animals from areas affected by oil as a precautionary measure.
"We recommend to the population to avoid consuming fish and shellfish, especially from beaches affected by oil. Siri, crabs, shrimp, octopus, oysters, oysters, all these animals are analyzed here at the institute and we detected" There is oil in the animal's body -this animal. We found fish too, fish that contain oil residues in their respiratory system, "Kelmo said.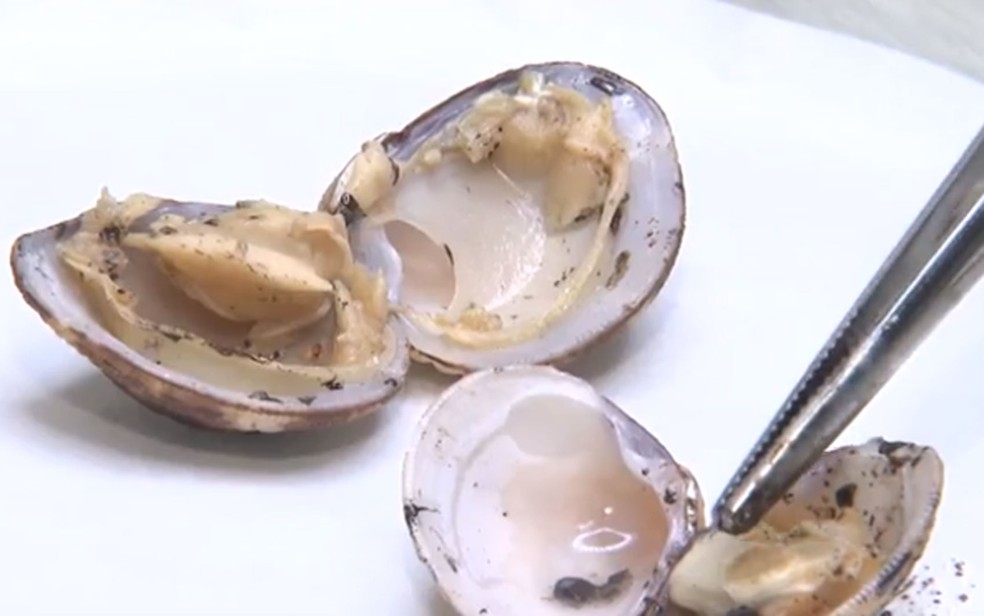 Oil found on a scooter in Bahia – Photo: Reproduction / TV Bahia
"Depending on the sensitivity, the person may experience a mild allergic reaction when in direct contact with the skin, and in the case of breathing vapors, they may experience coughing, hoarseness, nausea and even breathing problems, breathing difficulties," Kelmo said.
"In the case of consumption, all the symptoms of foodborne infections. However, because this compound is hydrocarbons and also has heavy metals, we are talking about crude oil, this can have long-term consequences because this material will be stored in the bodies of people who consume it," he added .
The professor emphasized that this research was carried out with the help of graduate students and that the results of the analysis would be forwarded to Ibama. "We will forward the results to Ibama from tomorrow or later. What we have seen gives us a feeling about what is happening, this acute stressful situation," he said.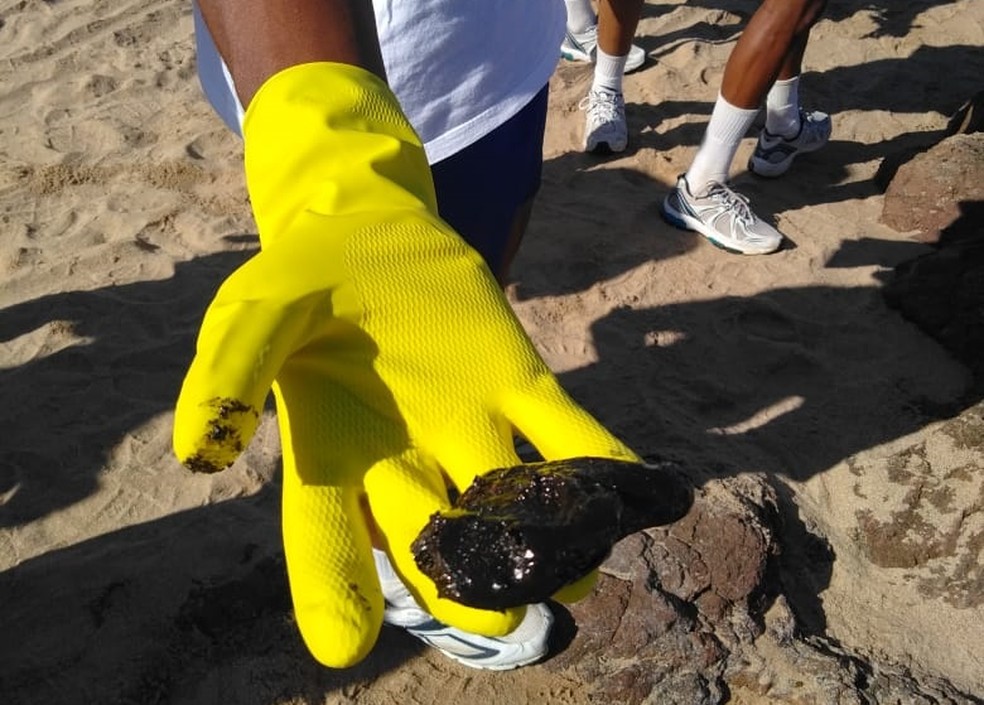 Oil stains found on the coast of Farol da Barra in Salvador (BA) this Thursday – Photo: Divulgação / Marinha
Bahia Pesca estimates that around 16,000 fishermen were directly or indirectly affected by oil spills in the Salvador, Itaparica, Vera Cruz and beaches on the North Coast, to the border with Sergipe.
Only in Salvador, according to a report on Wednesday (23) the city, an agent from the Urban Cleaning Company (Limpurb) has released 104 tons and 800 pounds of oil from the coast, since Thursday (10), when the spots appeared in the capital.
According to Bahia Pesca, the direct impact is the presence of oil in fishing areas, which hinders fishing activities. The indirect impact, on the other hand, is reflected in the decrease in the volume of fish sales, because consumers are more careful in oil-stricken cities.
Bahia Pesca technicians have been evaluating since the beginning of October the impact of oil spills on fisheries and workers. One of the defined actions is the collection of fish and shellfish for laboratory analysis and reporting to the Bahia State Sanitation and Environment Supervisory Board, which will determine whether this fish is suitable for consumption or if it is contaminated.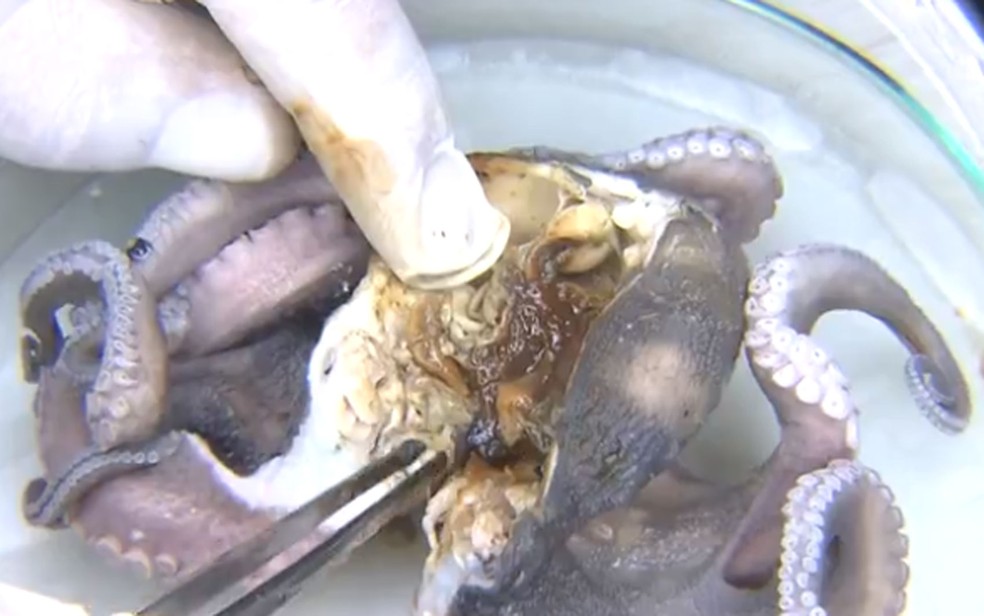 Ufba's research also analyzes mollusks, such as octopus – Photo: Reproduction / TV Bahia
According to Bahia Pesca, the collection is carried out in four stages. In the first, engineer Bahia Pesca identified the area affected by the oil spill. They then visited the fishing community affected by this oil.
According to the agent, the two steps are still in the process, because new oil spills continue to reach the country. The fishing areas that have been surveyed are in Conde, Esplanade, Entre Rios, Mata de Sao João, Camaçari and Lauro de Feitas.
The third stage is the collection of individuals and delivery to the laboratory for safety analysis of fish consumption. This step is also ongoing and must be completed by November 1.
According to the agency, nearly 200 people will be gathered in six regions of the state: Jandaíra (on the Real River), Conde (on the Itapicuru River), Entre Rios (Subaúma River and Sauípe River), Camaçari (Jacuípe River), Lauro de Freitas (River River) Joanes), Itapuã (at sea) and Santiago do Iguape (control area, not affected by oil).
Fish sales fell 60% at the Boys Fish Market in Water because of oil
Traders working at the Salvador Fish Market complain that sales have fallen more than half after the appearance of oil on the beach. They say they believe consumers are afraid to consume products for fear of contamination.
"With this oil business there, it has dropped by 60 to 70%. I now buy myself a little, because before I bought 400,500 pounds and now I bought 100,200," said dealer Marcio Freitas.
However, what few consumers know is that 90% of fish sold locally come from states that have not registered the presence of such substances, such as Pará, Amazonas, Sao Paulo, Espirito Santo, and Santa Catarina. Most of the fisheries produced in Bahia are artificial and made on the coast and in the São Francisco region.
Place of Oil in Bahia
Oil stains hit Ondina beach in Salvador – Photo: Rafael Alves / TV Bahia
Slick oil began arriving in the state on October 3, almost a month after problems began in the country. More than 200 beaches have been affected by oil throughout the Northeast. In Bahia, there are at least 49 locations. The state is the last to receive substance.
Because of that problem, the Federal Government recognizes the emergency situation in Bahia. The situation was recognized in a decree published in the Official Gazette this Tuesday (22).
Last week, the Federal Prosecutor's Office (MPF-BA) and the Office of the Public Prosecutor's Office (MP-BA) proposed public action against the Union and the Brazilian Institute of Environment (Ibama) on oil. The agencies said they saw "negligence" in the delay in adopting protective measures and had filed a lawsuit "because of the environmental consequences and risks of oil spills."
List of locations reached
Morro de São Paulo (2nd and 3rd beaches);
Boipeba (beach);
Garapuá (beach);
Marau (250 km – south low)
Tres Coqueiros Beach (beach)
Barra Grande (beach)
Taipu de Fora (beach)
Itaparica (Itaparica Island – RMS):
Vera Cruz (Itaparica Island – RMS):
Jaburu Beach
Barra Grande (beach)
Barra do Pote Beach
Tairu (beach)
Piata (beach);
Flamengo Beach (beach);
Valentine's Garden (beach);
Kebun Alah (beach);
Placaford Beach (beach);
Buracao (beach);
Ondine (beach);
Pituba (beach);
Boca do Rio (beach);
Stella Maris (beach);
Barra Lighthouse (beach);
Lauro de Freitas (bordering city – RMS):
Ipitanga (beach);
Vilas do Atlântico (beach);
São Joanes River (river);
Arembepe (beach);
Guarajuba (beach);
Itacimirim (coastal and mangrove swamps);
Jaua (beach);
Forest of St. John (61 km – RMS):
Praia do Forte (beach);
Imbassai (beach and mangrove);
Santo Antonio (beach);
Costa do Sauipe (beach);
Subauma (beach);
Port of Sauipe (beach);
Massarandupió (beach);
Baixio (beach);
Mamucabo (beach);
Inhambupe River (river);
The Subaúma River (river);
Barra da Siribinha (beach);
Barra do Itariri (beach);
Sitio do Conde (beach);
Puddle (beach);
Coconut trees (beach);
Dry mangrove (beach);
Three coconut trees (beach);
Costa Azul (beach);
Itapicuru River (river);
Rio Real (river);
Itacaré (390 km – south of BA):
Tiririca (beach);
Itacarezinho (beach);
Marau (250 km – south BA):
Barra Grande (beach);
Taipú de Fora (beach);
Three coconut trees (beach);
Saquaira (beach);
Cotton (beach);
See more country news at G1 Bahia.
[Ouça o podcast que explica sobre a limpeza das praias atingidas e o que ainda precisa ser feito]
Oil stain in the northeast
Source link