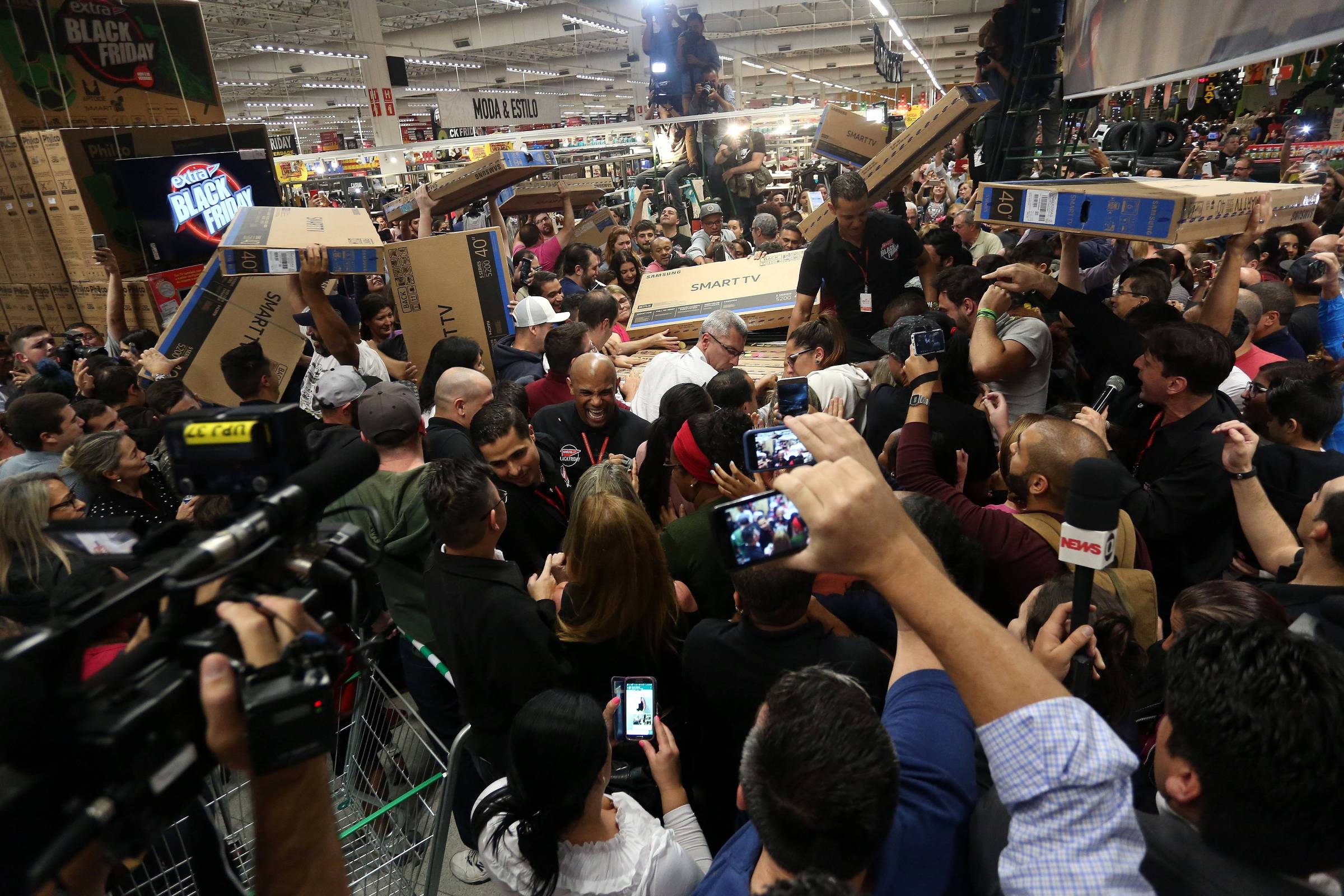 Retail bets on Black Friday, dates imported from the US and held for the eighth year in a row in Brazil, are high. After the termination of truck drivers, the World Cup and general elections, events that slam sales, trade wants to make up for lost time.
The Brazilian SPC survey shows that people are more willing to open portfolios this year. Six out of ten consumers (58%) will make purchases during the promotion date, 18 percentage points more than 2017.
In addition to more people buying, the average cost should be slightly higher: R $ 1,268.63 in total purchases – last year, this amount was R $ 1,047. Another survey, conducted by Ebit / Nielsen, stated that average expenditure for purchases is estimated to increase by 8%.
"Black Friday can give hope [para 2018]. We used to say that Children's Day was an exercise for Christmas, but this year it happened well in the midst of elections, and bad sales, "said Marcela Kawauti, chief economist at SPC Brazil (Credit Protection Service).
For him, some time after the election tends to make people more hopeful and consequently more willing to spend, regardless of who is elected.
"The economy might start opening from November, and Black Friday might be a good date," he said.
Ebit / Nielsen Research projects a 15% expansion in e-commerce billing, to R $ 2.43 billion.
With consumers more likely to spend, Black Friday starts earlier in some companies. Retailers such as Extra hypermarkets and Lojas Americanas will open their doors on Thursday (22) at night.
Casas Bahia and Pontofrio went further and expanded the appeal of Black Friday for a full month, with offers changing every day.
Promotions at Extra start from this Monday (19), on selected items. This network offers more attractive prices in the application.
On the night of Black Friday, the network will open at 8pm with all shops being promoted. "Despite anticipation, the network is focused on Friday discounts," said Christiane Cruz, marketing director Extra.
The network executive director, Alberto Calvo, said that the date recorded the highest number of items sold in one day. To get an idea, last year they sold around 800 thousand plastic pots and 220 thousand underwear and underwear.
The hope is that growth is double digit compared to 2017.
At Lojas Americanas, 33% of the companies will open at midnight on Thursday and there will also be extended working hours, according to Carlos Padilha, chief financial officer and investor relations officer.
A more aggressive anticipation promotion strategy has worked well at The Beauty Box, the multi-brand Grupo Boticário.
According to Guilherme Reichmann, general director of the brand, in one of the "flash promos", sales on this site reached five times. In stores, the increase is 20%.
The network also began offering store-bought e-commerce products.
"During the promotion, I had a shop that registered twice as many consumers, because people who went looking for packages," he said. In the offer, which lasts several hours, $ 30 items sell for $ 4.
According to Reichmann, the idea is to attract new customers to the brand. "This is the time when consumers shop at new stores."
The hope, he said, is for new consumers to return to Christmas shopping.
According to SPC research, 30% of consumers will do Christmas shopping on Friday.
However, consumer excitement is also a concern in the still high unemployment scenario.
For Marcela, from SPC, the most worrying data in entity research is that which shows a lack of financial planning.
Among those interviewed who went shopping, 25% said they usually spent more than they could and 21% had some arrears – of them, 69% were dirty.
"The idea that you can't miss a chance is a big villain," said FGV financial management professor Ricardo Teixeira. For him, the country is still alive, and this is not the time to shop without thinking.
Purchases must be made only when you have absolute security that there will be money to pay them, he said. And the server may not count 100% by the 13th, given the state crisis.
Marcela, from SPC, agrees. "Many people buy the term because of excitement. And what is very cheap can be more expensive than full value if the consumer cannot pay the bill for the card."
Source link