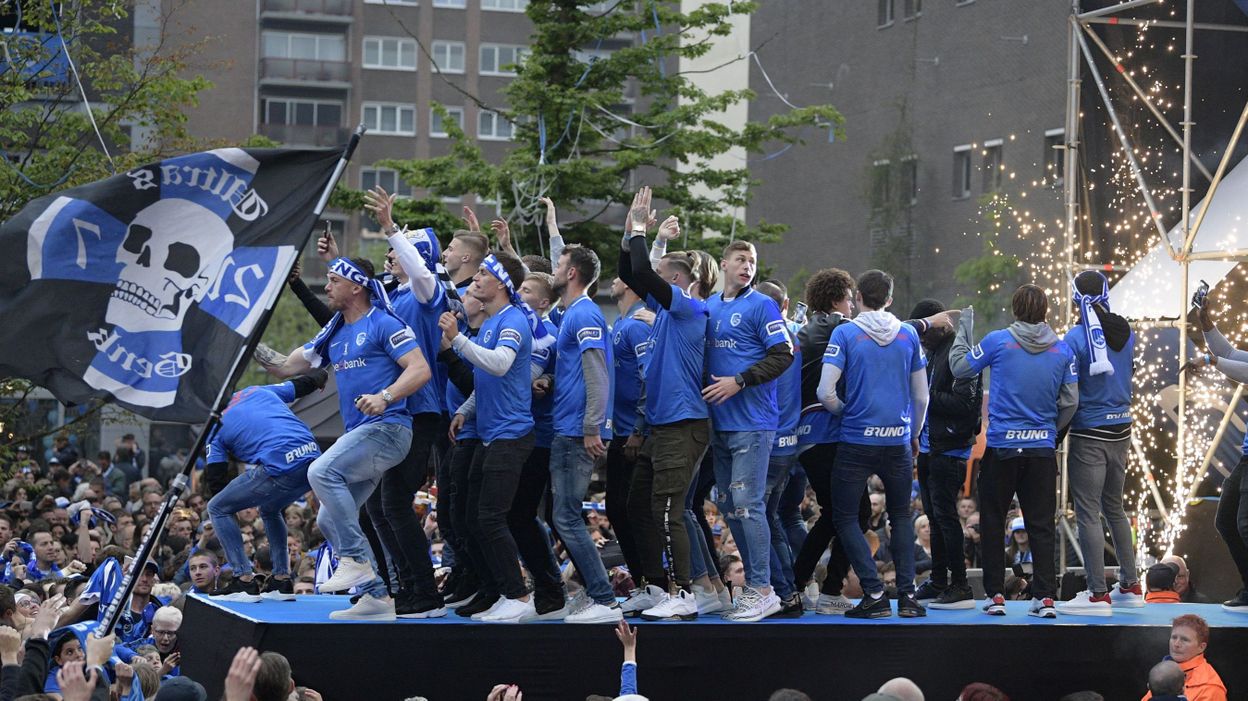 Thousands of supporters celebrate the title at Stadsplein Genk – © YORICK JANSENS – BELGA
Genk Stadsplein is crowded Friday night to celebrate the fourth KRC Genk Belgian title. No fewer than 8,000 fans can celebrate their heroes positioned on the podium in front of the town hall at 8:15 p.m.
Around 6:30 p.m., support groups arrived at the Belgiek cafe. They can see open champion buses that make a short trip through the city center of Genk. Flags also float at Misery Square, at the train station and at the Stadsplein. Rain does not calm the spirit Genkies: blue-white umbrellas and hats are in the game.
In all cities, people can hear "by the champion"and"We love you Racing"Especially when the bus is parading." At the City Hall, fans formed an honor guard to accompany the champions at the entrance, while the rain fell, Genk fans gathered at the Stadsplein, around 8:30 a.m., 8,000 fans were present, and the players first enjoy a glass of fresh beer at City Hall, while the mayor of the city of Wim Dries (CD & V) pays homage to the crowd. During this time, fans continued to sing in heavy rain at the catchy rhythm of a DJ on the podium.
At 8:15 a.m., Genk fans were rewarded for waiting a long time. Under the standing ovation and fire of Bengal, their heroes climbed to the podium. The players go up one by one on the podium to perform. Dieumerci Ndongola has, among other things, shown once again all his ambiance talents. The audience had a standing ovation for coach Philippe Clement, who was eager to see him stay at the club.