Nine, the publisher of The age and The Sydney Herald, obtained video of one of the interviews and audio of another.
The former road worker was sentenced in 1996 to seven consecutive life sentences for murdering seven backpackers whose bodies were found in makeshift graves in the Belanglo state forest of New South Wales in the 1990s.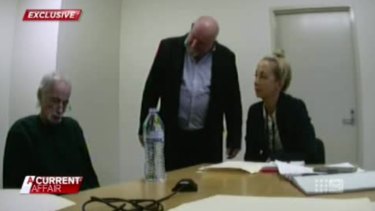 All were killed after Milat picked them up hitchhiking: Melbourne couple Deborah Everist, 19, and James Gibson, 19; German traveler Simone Schmidl, 21; German couple Anja Habschied, 20, and Gabor Neugebauer, 21; and British friends Joanne Walters, 22, and Caroline Clarke, 21.
He was also a suspect in the murders of Cool Rowland, 20, Peter Letcher, 18, and Dianne Pennachio, 29. The serial killer was also named a person of interest at an inquest into the disappearances of Leanne Goodall, 20, Robyn Hickie, 18, and Amanda Robinson, 14.
"You could bore me eyes out with a blowtorch and I still can't … could not tell you one word about any of those missing people in that Newcastle area," he told investigators in one of the interviews.
"Whether you believe me or not is up to you, I don't count … immaterial to me … But I know in my heart, in front of God or wherever, I'm quite, quite happy when I say this. "
As Milat's death drew near this reporter spoke with the families of victims Caroline Clarke and Deborah Everist.
With their permission, segments of their interviews were shared with the Strike Force to play to Milat, in the faint hope they would elicit a final confession.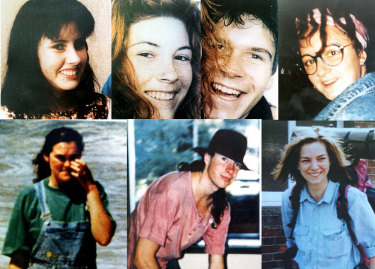 "What do you want me to watch this for?" he told detectives after viewing the interviews.
"They only say what you expect them to say … I don't feel sorry for them … Why should I feel sorry for them?"
When Milat was diagnosed with esophageal cancer earlier this year the NSW Homicide Squad formed a Strike Force, its sole aim to garner a confession.
On eight separate occasions detectives quizzed the 74-year-old inside Long Bay Jail and at his bedside at Prince of Wales Hospital.
Two brothers of serial killer Ivan Milat maintain he is innocent of murdering the seven backpackers he was serving life sentences for the time of his death.
Bill Milat said he saw his brother for the last time on Friday in Long Bay jail hospital, and was given a one page letter sealed in an envelope, which he has yet to open.
He said Milat did not discuss the murders he was convicted of but spoke about how two female detectives from Newcastle had questioned him about unsolved murders in the state's Hunter region.
Bill Milat also said his brother was happy to die and spoke of how it would be "relief".
"(Ivan) said it would be a relief as his sentence would be over. He said it would be a relief," he told Nine News.
Richard Milat "always thought [Ivan] was a great fella, "he told Nine News at his Hill Top home, an hour south of Sydney on Monday.
When asked what life had been like being the brother of Australia's worst serial killer he said, "I never thought I was the brother of a serial killer so I was laughing '".
Detective Chief Inspector Wayne Walpole led the Strike Force.
"The man's pure evil and he just showed no remorse," Detective Walpole said. "He showed absolutely no concern for their feelings, showed absolutely no remorse … a completely cold evil killer," Detective Walpole said.
After the last interview detectives concluded Milat cared nothing about his victim's families' grief.
"I don't care," he told them. "That's it."
Detective Chief Inspector Walpole says the strike force tried its best. He contacted all seven
backpacker families to inform them the Backpacker Killer was edited.
"The only person Ivan Milat was concerned for was Ivan Milat".
Source link